Hunting across various landscapes can be a completely new and enjoyable experience if you're familiar with all the different types of hunting boots and which one to choose.
Everyone carefully picks out hunting knives, their gun, their ammo, even their camouflage clothes; but boots are often neglected.
Rather than simply choosing the cheapest option that will get you from point A to point B, invest in a pair of boots that will last for years and give you all the comfort and protection for the hunt!
Different Types of Hunting Boots
Like there are all different types of hunts, dozens of different types of hunting boots enhance your experience with each area. Some have more traction, others more support.
Let's discover the difference between different hunting footwear and how it can affect your experience!
Mountain Hunting Boots
There are a few things that make mountain boots different than others. First, they include a full rubber rand that will protect the upper and extend the longevity of your boots.
Secondly, you'll want an aggressive outsole made from mountain-worthy rubber to give yourself traction on that rocky terrain.
You want to make sure your mountain hunting boots have solid cast lacing hardware with lace lock, nylon insoles, and premium moisture-wicking fabric liners.
Each of these components makes sure that your boots are comfortable for long hikes. Also, they ensure your feet stay dry and warm while in higher elevations.
Upland Hunting Boots
When you're headed out in the fields or the highland grasses, you want a reliable pair of upland hunting boots. These boots need to be flexible as most of this hunting requires you to on your feet for long periods.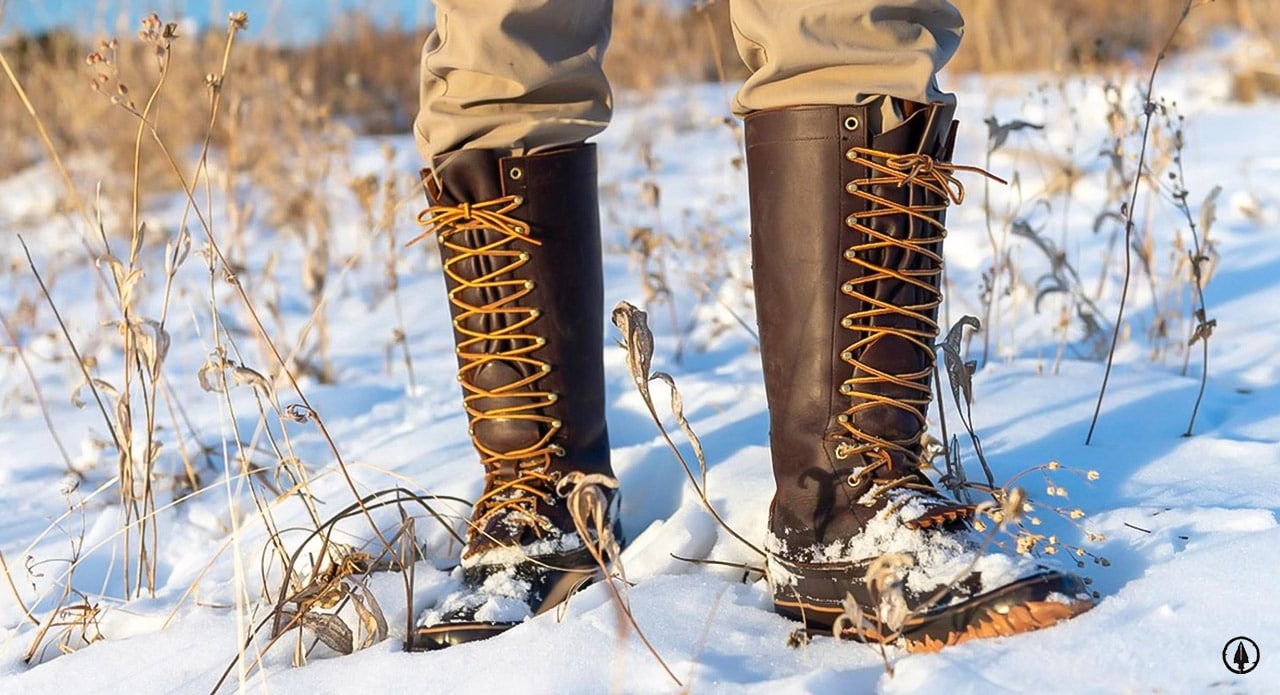 This type of footwear should be flexible and comfortable. Most traditional brands are lace-up so that they can be adjusted to your particular needs.
Included are a lot of sections of heavy-duty nylon mixed with soft leather that gives excellent support without wearing out quickly. Durability, flexibility, and comfortability are the hallmarks of a great upland hunting boot.
Snake Boots
Encountering snakes while hunting can be frightening. Preparing yourself with a high-quality pair of snake boots can be a lifesaver.
Snake boots extend up your calf so you can be protected from rattlesnakes, cottonmouths, copperheads, and coral snakes out in the grass and brush.
The market is full of different types of snake boots, from lace-up, pull-on, or zip-up. Ensure that your next pair of snake boots are waterproof, so you'll also keep your feet dry while out in the wild!
Rubber Boots
Rubber boots have evolved over the years to become a catch-all for any type of outdoor work or play, including hunting.
They're durable, abrasion-resistant, and waterproof, but also scent-proof to give you an edge when out hunting.
Due to a process called vulcanization, rubber boots' outer pieces are all one section. This keeps the boots waterproof and prevents fading, chipping, and peeling throughout the lifetime of the boots.
Rubber boots tend to be heavy but keep your feet warm and dry no matter what type of landscape you're hunting in.
Leather Boots
Leather boots are highly customizable and durable. They give you plenty of options to choose from that match your hiking or hunting preference and fit your feet like a glove.
Any leather hunting boots should fit snugly around your instep and ankles while still allowing you to move your toes.
Look for boots that are insulated and waterproof so you'll be warm and comfortable throughout the day no matter the terrain you find yourself in.
Things to Consider When Looking for Hunting Boots
Heading out on a hunting trip requires a lot of equipment, but one of the most critical pieces is often overlooked: your hunting boots.
Most importantly, a hunting boot is only as good as the conditions they're up against.
Whether you're fighting up a mountain in the snow or slogging through a swamp, you want to carefully consider the type of conditions your boots will encounter before investing in a good pair.
Terrain
Traveling through rocks, hills, valleys, swamps, or grassland all require different specifications for footwear.
Heading up the mountain to hunt for a big game will require a boot that is extra support to keep your ankles safe and help you navigate tighter terrain.
Low ground like swamps or marshes requires footwear that can stand up to the moisture and keep away snakes.
Don't plan to head up on the mountain with boots designed for swamps. You also don't want to head down to the swamps with non-waterproof boots intended for rocky terrain!
Season
The weather changes from season to season, and your footwear should rotate with those changing seasons!
Milder temperature seasons like early-season deer hunting or spring turkey hunting won't require the heavily insulated boots that harsh winter hunts demand.
Boots for different seasons are measured in grams; the more grams, the heavier the insulation.
Sitting in a tree stand or blind where you won't move much or get your blood pumping might require a more heavily insulated boot as well, regardless of the season.
Weather
You never know what you might encounter when it comes to a hunt in any season. In many locations, the weather can change in an instant.
You can never go wrong with waterproof or water-resistant boots in any style or location!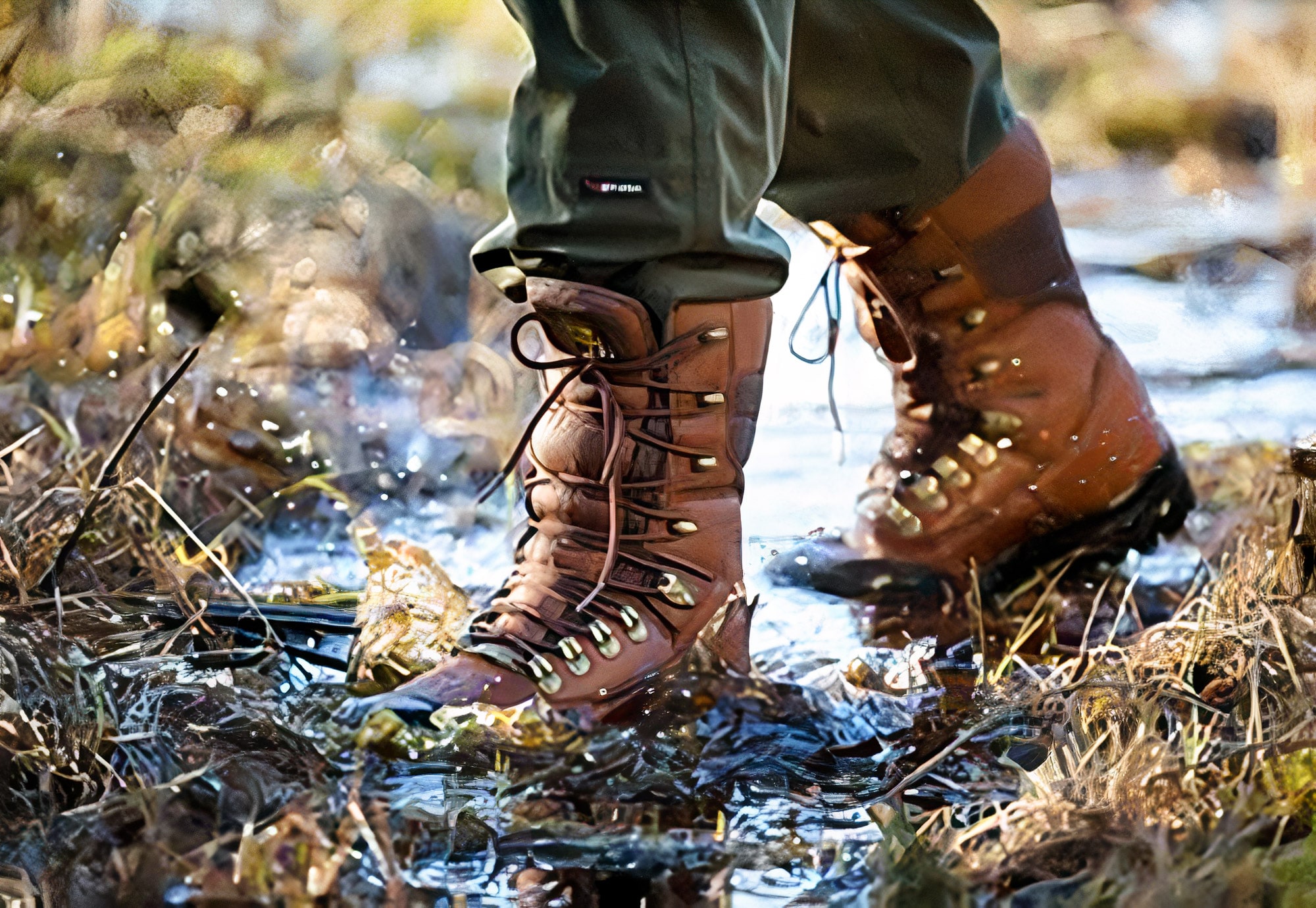 Rather than being caught in the rain, sleet, snow, or ice without proper protection, almost any boot style can be shored up to ensure that it works.
Insulation
No matter where you trek, you may end up encountering some unpredictable weather. It's in these extreme conditions where insulated boots will make all the difference.
Milder weather and easier terrain will typically have you looking at hunting boots between 0 and 200 grams. This will keep your feet warm and protected without making you sweat your toes off!
Chillier weather along with snow and rain should direct you toward picking up boots anywhere from 400-1000 grams.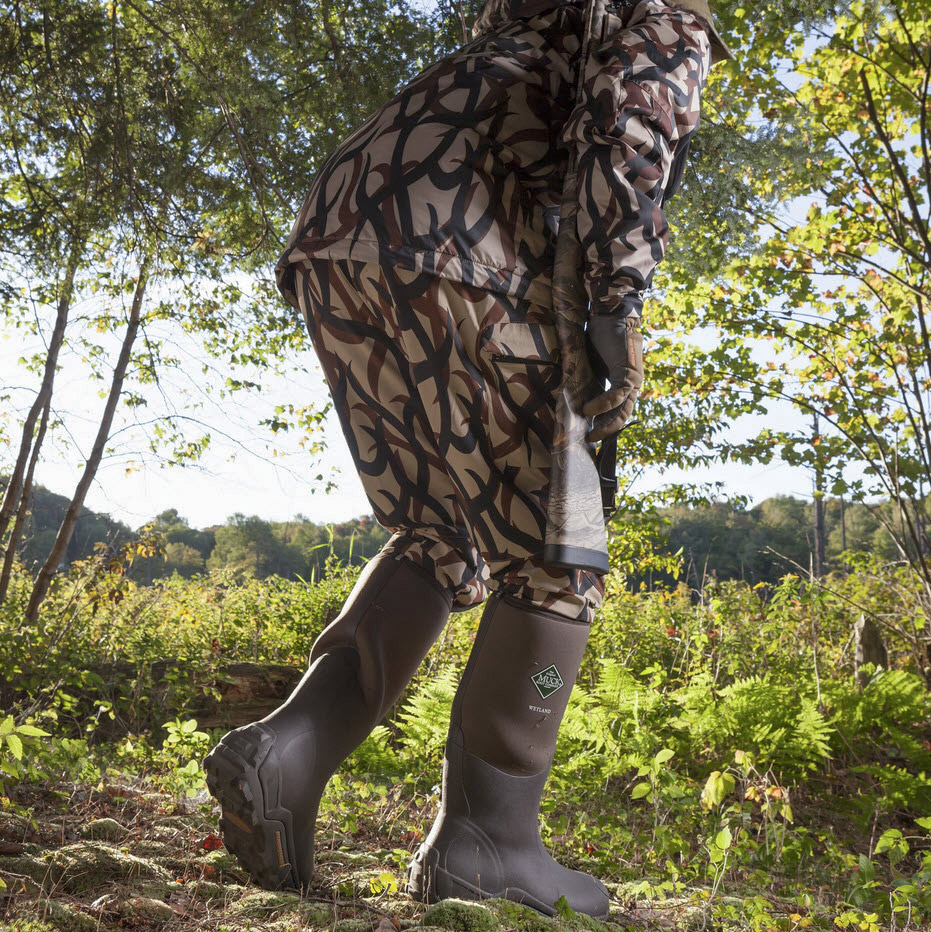 The lower end of the spectrum from 400-800 grams works well for cold weather where you'll still be moving quite a bit.
On the higher end, from 800-1000 grams plus, the boots work for frigid weather and any situation where you might be sitting still.
Weight
Trekking up the side of the mountain is challenging. If your boots weigh an extra 20 pounds, it'll be even more difficult!
Finding a lightweight hunting boot that keeps your feet protected can be a challenge. Depending on the season, terrain, and weather, your boots vary in weight and durability.
Lightweight boots come in any style or type. However, the most commonly upland hunting boots are the lightest, while boots designed for swamps have a heavier weight.
Heavy boots work best to protect your feet but will wear you out more quickly. If you're planning to do a lot of walking, you'll want a lighter boot that still gives protection without weighing you down!
Frequently Asked Questions
Do I need waterproof boots for hunting?
That all depends on the season and type of hunting you want to do! If you're in a swampy area, bringing down waterfowl, or slogging through the snow, waterproof boots are your best bet.
Are insulated boots good for winter?
Absolutely! They'll keep your feet warm and snug while also keeping out the snow and cold.
Insulated boots tend to be heavier. While they work great for winter hunts or work, they're difficult to transition to warmer weather or early spring hunts.
Are Irish Setter boots a brand or a type?
Irish Setter originally began as a style of boot designed with a shallow sole that wouldn't pick up mud and debris. Farmers who also engaged in upland hunting chose these boots as they worked well both at home and on the hunt.
Over the years, it developed into a brand of its own. Today, they make several different types of hunting boots!