Choosing the right throwing knife is a combination of gut feeling, budget, and the information you have to hand. We'll talk about all that in this complete guide for throwing knives.
There's nothing quite like watching a knife you've just thrown hit a distant target, especially when that target is moving. It takes practice, a lot of practice. But that sensation of sheer accomplishment is like no other feeling I know.
The art of knife throwing is not just a hobby. It requires a great level of dedication, persistence, and concentration to gain a skill that will impress pretty much anyone.
Sure, any knife can be used as a tossing knife for practice. But it won't have the precision and accuracy of a specially designed throwing knife.
Top 10 Best Throwing Knives
Here is my review of what I consider to be the ten best throwing knives available right now. If you do feel the urge to get into the whole knife throwing pastime, I've added some helpful characteristics to get you started.
Product

Image

Overall Length / Blade Length

Blade Material

Specifications

Smith & Wesson Throwing Knives #SWTK8BCP

8 inches
4.26 inches


2Cr13 stainless steel

Weight: 4.1 ounces

Browning Throwing Knife #122BL

8.5 inches
4 inches


440 stainless steel

Weight: 2.60 ounces

Buck Throwing Knives Kinetic Series #0073SSSVP-B

9.875 inches
5 inches


420HC stainless steel

Weight: 6.98 ounces
Blade thickness: 0.19 inches

Cold Steel La Fontaine Throwing Knife #9000625

14 inches
8 inches


1050 High Carbon

Weight: 14.6 ounces
Blade thickness: 0.195 inches

Kershaw Throwing Knife Set #1747

9 inches
4.5 inches


3Cr13 stainless steel

Weight: 4 ounces
Construction: Full tang

Armory Replicas Martial Arts Throwing Knives Set

6.5 inches
3.5 inches


440 Stainless Steel

Weight: ~3 ounces
Blade thickness: 0.098 inches

Smith & Wesson Throwing Knives #SWTK10CP

10 inches
5.5 inches


2Cr13 stainless steel

Weight: 6.40 ounces
Blade thickness: 0.14 inches

Master Cutlery Perfect Point PP-869-3 Throwing Knives

9 inches
5 inches

440 stainless steel

Weight: 4 ounces
Blade thickness: 0.125 inches

Under Control Tactical Throwing Knife

5.5 inches
~3 inches


440 stainless steel

Weight: 1.1 ounces

Falcon Throwing Knives Set

6 inches
~3.5 inches


440 stainless steel

Weight: ~1.85 ounces
Let's review each one of these knives one by one.
1. Smith & Wesson Throwing Knives #SWTK8BCP
You can't go wrong with this pack of 3 throwing knives, whether as a gift or for yourself. Each knife has a length of 8 inches, while the blade measures 4.26 inches.
With a weight of 0.31 pounds, these knives are superbly well balanced and comfortable in hand. You'll also receive a black polyester sheath that can attach to your belt.
2. Browning Throwing Knife #122BL
I really like this 8 ½ inch throwing knife from USA company Browning for several reasons. All Browning products are made with high-quality materials and attention to detail.
This particular knife has a blade length of 4 inches made of 440 stainless steel. Additionally, the blade has an attractive black satin finish. It comes with a nylon sheath with a pocket clip for your convenience and safety.
3. Buck Throwing Knives Kinetic Series #0073SSSVP-B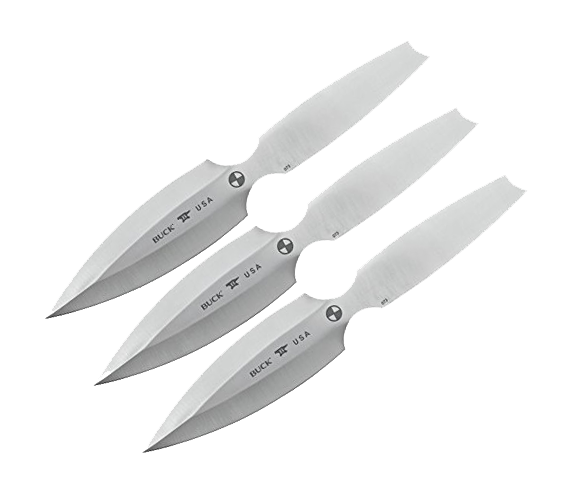 Although these knives were designed back in 2005 by Buck, they're only now being made available to the public.
Both the blade and handle are constructed from 420HC heat-treated stainless steel with a total length of 9.875 inches and a weight of 6.6 ounces. The blade is 5 inches long.
Beautifully balanced, these knives are designed for pinpoint accuracy. If only the price were lower, place #1 would have been guaranteed.
4. Cold Steel La Fontaine Throwing Knife #9000625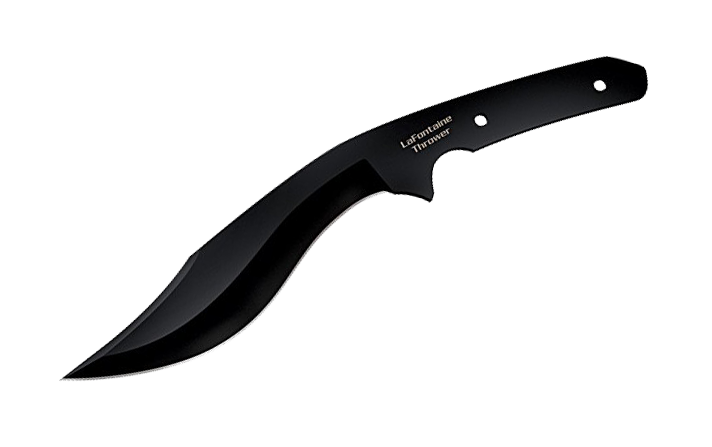 This knife from Cold Steel Inc. has a blade length of 8 inches. It's named after Luke La Fontaine. He is an expert in Japanese sword arts and a Western legend, too.
You know that if he's had anything to do with designing this knife, it'll be good. This unusual knife is curved with a sharp cutting edge and pointed tip.
The finger guard protects your hand from the sharp edge. This versatile knife can be used for cutting and slashing when you're not throwing it.
5. Kershaw Throwing Knife Set #1747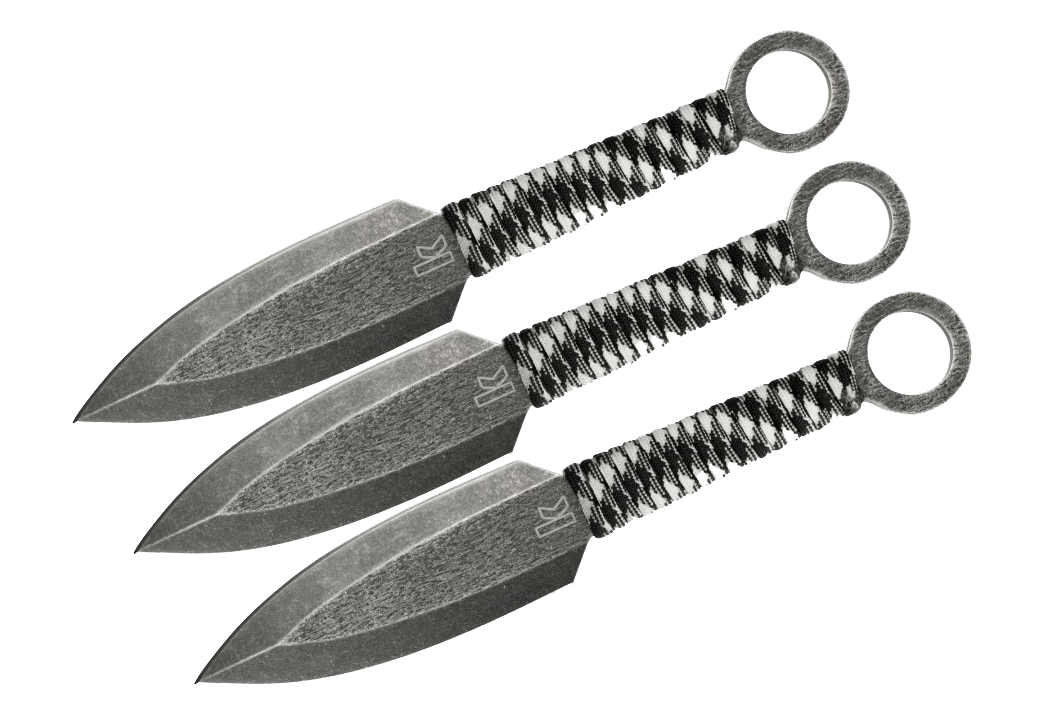 This throwing knife set from Falcon consists of three full tang double-edged knives. The spear-point blades have a black oxide finish and are manufactured from high chromium 3CR13 stainless steel.
Therefore they exhibit superior strength and corrosion resistance, not to mention edge retention. The handle is covered with a sure-grip paracord. The rear of the knife has a ring for balance and for attaching a lanyard.
6. Armory Replicas Martial Arts Throwing Knives Set
These throwing knives are forged from 440 stainless steel. They're 6,50 inches long. The handle is 2,5 inches with four balanced cutouts, offering superb grip and enhancing the control.
The blade is double-sided with a tremendous thickness of 2,5mm. The set includes 12 knives in a folding nylon case. You'll be throwing like a Ninja in no time with these well-balanced, first-rate throwing knives.
7. Smith & Wesson Throwing Knives #SWTK10CP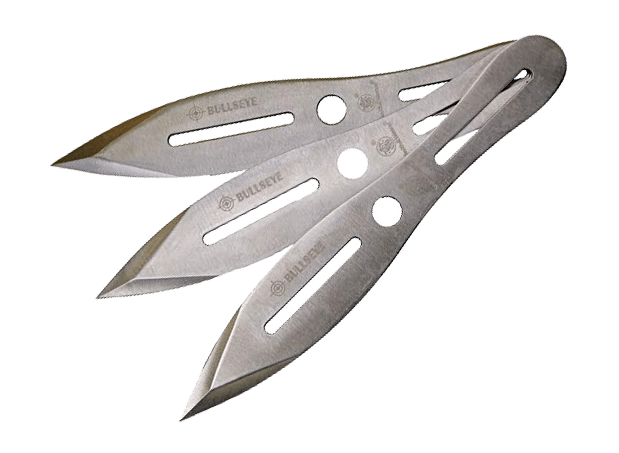 This is another high-quality product from Smith and Wesson and is made of reliable 2Cr13 stainless steel. The knife has an overall length of 10 inches and a blade weight of 7 ounces.
One thing to notice is that the edges are too sharp, so you'll have to be careful. You'll receive a set of three knives inside a special nylon belt sheath with your order.
8. Master Cutlery Perfect Point PP-869-3 Throwing Knives
This great little knife set from Perfect Point consists of three black-bladed knives. The blades are stainless steel, so they are corrosion resistant and long-lasting. The handles, on the other hand, are wrapped in cord for exceptional grip and non-slip control.
These knives will give you a well-balanced delivery every time, no matter what the target. They're nine inches long and come with a black nylon protective sheath.
9. Under Control Tactical Throwing Knife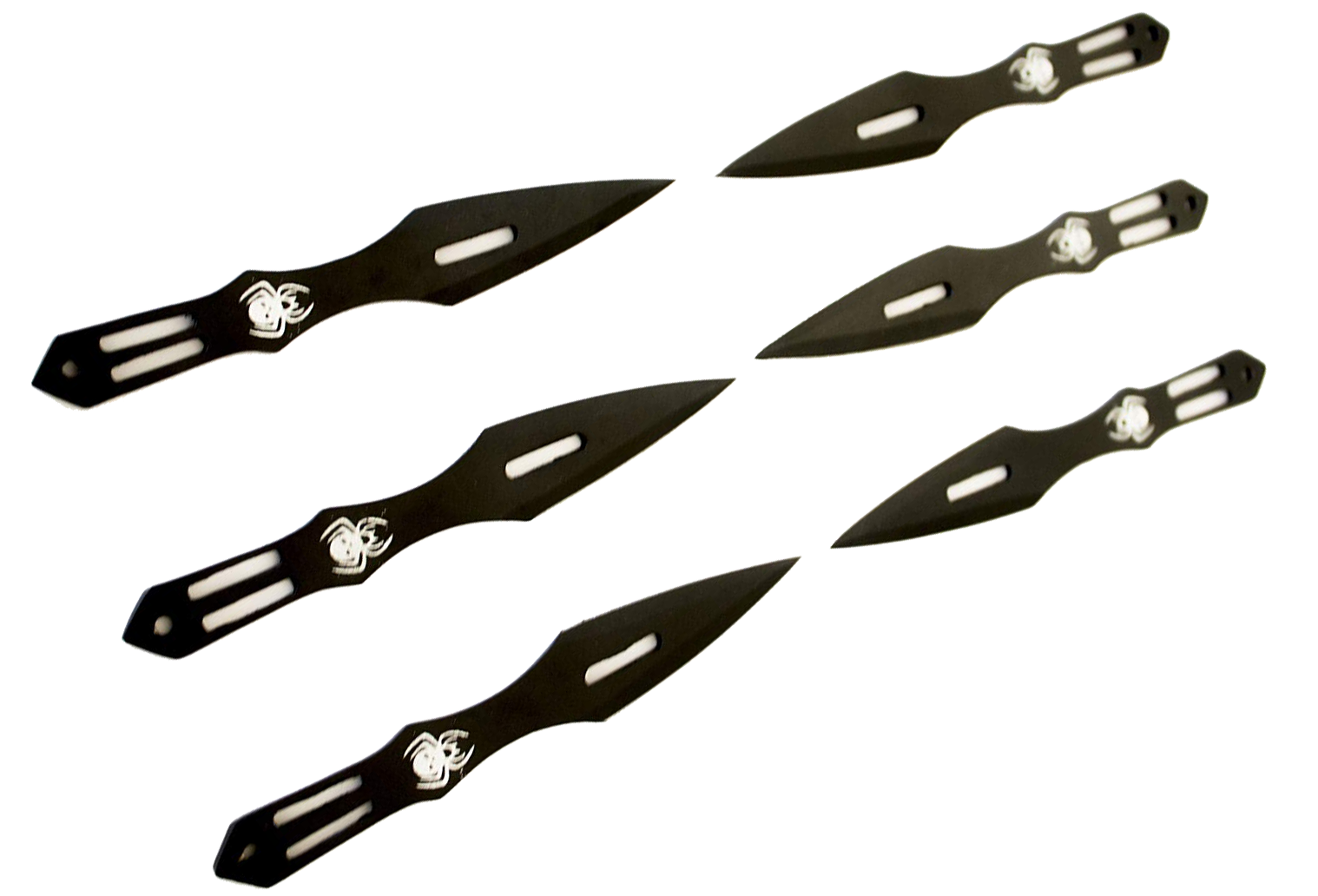 This set of six knives is rated as one of the best for competition throwing. They're crafted in the traditional Kunai knife tradition and weigh just 1.1 ounces.
Each knife is 5.5 inches long and boasts an extremely sharp blade that flies through the air with very little wind resistance. They come together with a black nylon wrist sheath and a 100% satisfaction guarantee.
10. Falcon Throwing Knives Set
Falcon brings you this knife set featuring six 440 stainless steel knives. What's special is that they come in a thick nylon sheath that straps onto your leg, making them safe and convenient to access.
The overall knife length is six inches, and they weigh in at 13.6 ounces each. A green cord wraps the attractive handle for non-slip control.
What Are the Qualities of a Good Throwing Knife?
A quality throwing knife should not be ultimately sharp. Sharp edges can cause unnecessary injuries, even if you're not holding it by the blade.
A thrown knife could bounce back and hurt you or anyone around you. Injuries lurk when cleaning or handling the knife, too.
The only feature necessary for a throwing knife to be effective for target practice is a sharp flat tip. It doesn't have to be broad, just strong enough to not flatten with the force of piercing the target.
Fancy handles aren't necessary either.
If you're new to the art, I recommend all-steel throwing knives. Not only for the sheer visual appeal but because the handles are sturdy. They are not easily prone to break during a practice program.
Smooth round shapes are also recommended as they are easier to throw and fit easily in hand. Plus, they won't hook onto your fingers when you throw.
In my opinion, a good weight for a beginner is around 200g. The lighter the knife, the more they tend to wobble in flight and require a high level of accuracy to hit the target.
Heavier knives require more strength to be thrown properly, so they are not ideal for training purposes.
As your personal taste develops, you can change to a weight that suits your personal style and distance to the target. A good length for a 200g throwing knife is anywhere from 7-8 inches long.
How to Check the Balance of a Throwing Knife
Lay the knife across your index finger and adjust the position until it stays there without you holding it.
A quality throwing knife will have its center of gravity (COG), also called the center of mass, smack bang in the middle. Give or take half an inch either way.
A well-balanced knife soars in flight with a smooth, round motion.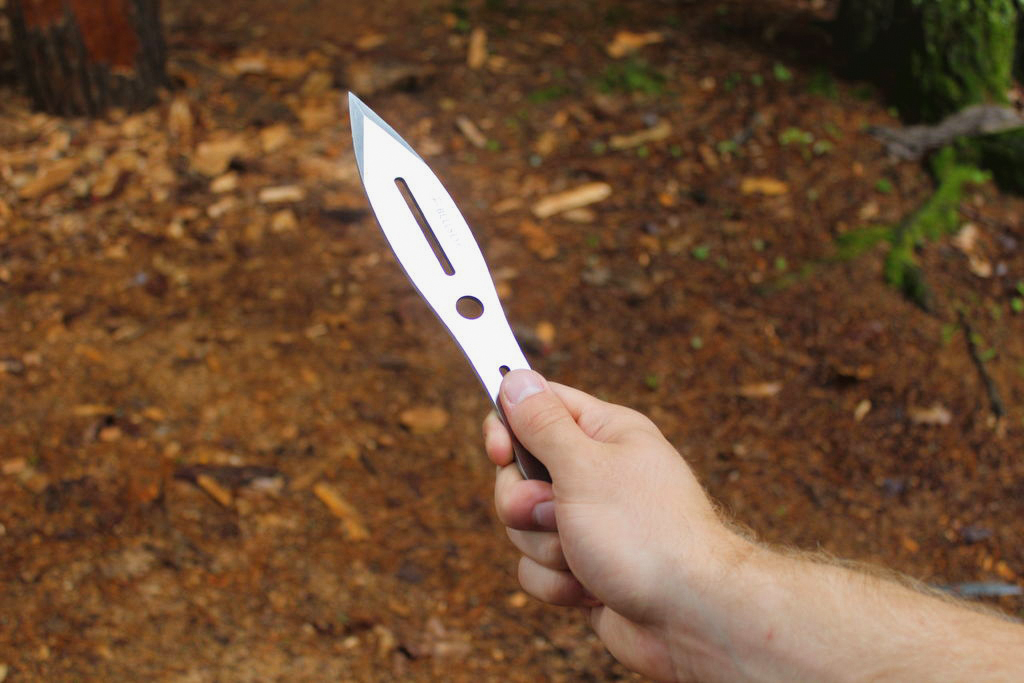 An unbalanced knife, i.e., more weight at the handle, rotates unevenly. It makes taking aim and planning the trajectory a lot more difficult. Centrally balanced knives are easier to launch from both the handle and the tip.
Of course, some people like to throw unbalanced knives. They consider it an additional challenge. In my experience, however, most people prefer throwing centrally balanced knives.
There are two main reasons for this. The first is that using multiple blades all balanced the same makes it easier to switch between knives. The thrower has to change their throwing style and stance and develop a new feel each time with off-balanced knives.
For people who prefer to use off-balanced knives, the golden rule generally accepted by knife throwers is to grip the light end. Therefore, you can throw a knife that has a weighty handle by gripping the blade.
How Heavy Is a Good Throwing Knife?
As I mentioned previously, a throwing knife for the beginner should be around 200g. Lighter knives (sometimes called floaters) are harder to control and frequently bounce off the target.
Heavier knives, around 250g or more, work well over distances of 5m. Just be aware that they do require strong fingers and a lot more practice.
You can test the weight of your knife by holding the handle between your thumb and index finger. Let the blade point down towards the ground.
Move your arm abruptly in a safe direction to see if the handle wobbles between your fingers.
If it does, or if the knife falls to the floor, it is probably too heavy for you. But no worries. All this means is that you'll need more practice to get used to the weight.
Heavier knives tend to be more stable in flight. But not all throwers have the strength to launch them accurately.
I recommend beginning with lightweight knives to get the feel and develop the sensitivity required. Switching to heavier weights later on is always an option.
Choose a Throwing Knife that is Best for You
First, I suggest visiting a local hardware or weapons store that sells knives. Ask permission to handle the knives on display. Get 'the feel' of them.
You're looking for a knife that fits comfortably in your hand when gripped at either the blade or the handle.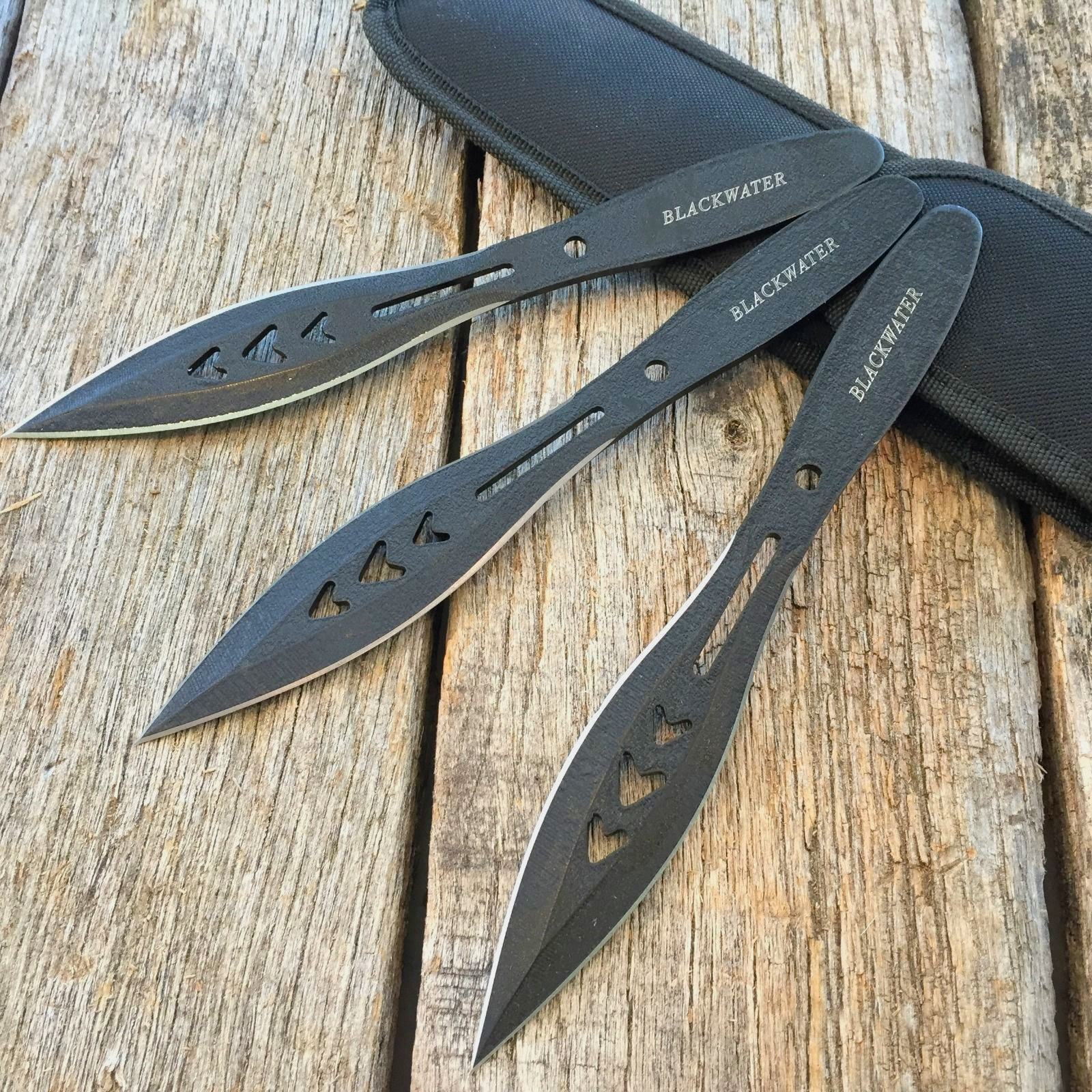 When you find one that feels just right, consider buying it. In fact, once you remember the brand and the model, check online markets for better prices.
I also suggest you purchase not just one but three. This way, you can make multiple throws without interruption. You'll be able to correct your angle and stance without having to walk to the target after each throw.
Experiment for a while. Once you have found the right type and make of knife that suits your throwing style, you can source stock and find the best prices.
Beginner's Guide to Throwing Knives
To master a hobby requires a lot of hours put into practice. Knife throwing is no different sport. It takes a lot of patience until you become an expert in it.
In addition, I'll try to cover the throwing knife basics here. However, if you want to learn more about the art of throwing knives, read the full guide here.
Holding the Knife
Start by holding the knife performing the "hammer grip". It's the easiest and safest way to throw the knife for beginners.
The knife in your hand should feel like you're holding a hammer. In fact, here's a visual representation of it:
Open your arm and place the handle of the knife on it. After that, your four fingers should be placed around the handle.
Your thumb will be placed up, holding (gently) the side of the handle. The grip should feel like holding a hammer in your hand.
Get Into Proper Stance
To make a proper stance, put your non-dominant leg in front of you. Most of your weight should be placed on the leg behind, which is the dominant leg.
The range you should start with is the medium range, which is from 6-10 feet. The arm should be raised at a specific angle, which depends on the range of the target.
For medium-range targets, the ideal movement will start with the arm placed straight forward. Then, slightly bend the elbow and start raising your arm, up until somewhere above your head.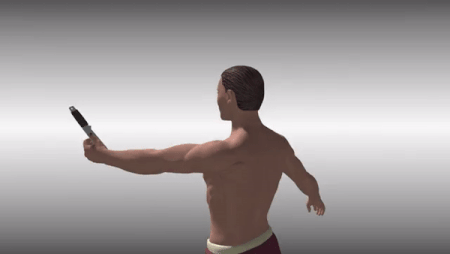 Most importantly, keep your head, arm, and body-safe. Focus on the knife and watch out for injuries.
Releasing the Knife
The process begins with transferring the weight from the non-dominant leg to the dominant one.
After you've performed the arm movement described above, place your arm normally in front of you.
Once you've managed to swing the knife forward with this movement, you should release the knife.
It is important to release the knife as softly and skillfully as possible. The knife should "escape" your arm tenderly, sliding gently through it.
If the knife starts moving horizontally after the release, then you've performed a good knife-throwing movement.
Let Your Instinct Guide You
Knife throwing often becomes second nature, and you'll be able to do it without much planning or thought. Similar to riding a bike. I advise newbies not to try too hard and not let their thoughts get in the way of the throw.
Pointers such as "release when the knife is pointing directly at the target" help get the correct feel of the throw.
With a little practice, you will instinctively release the knife at the right moment. Plus, your intuition will automatically adjust your stance for a more accurate throw.
A Few Words in Conclusion
A pointed tip works well even without sharp edges and can easily pierce most wood. Lightweight knives wobble when thrown and can be harder to control at first.
Simple handles and blades work better than elaborate designs – simple shapes rule. Multiple blades increase training time and throw development, rather than your walking skills.
Any knife can be thrown, but only a quality throwing knife is built to withstand the high impact. Centrally balanced models are more predictable but are not necessary to start.
Finally, remember to care for your throwing knives. Clean them well and remove any dents to ensure they last a long time.