If you want your feet to stay dry on your next outing, you are going to need a quality pair of rubber hunting boots.
The rubber prevents water from soaking through your boots and making your socks wet. Almost every hunter has had this experience, and it can really put a damper on the mood.
I've assembled an extensive guide on how to choose the best rubber boots that will serve you perfectly for hunting. I'm pretty confident that you will find something in this article that you love, so make sure to stick around!
What Are Rubber Hunting Boots?
Brands design these types of boots to keep water from soaking through to your feet. They keep you comfortable and dry, so you can focus on the hunt – no matter what the weather is like outside.
There are tons of options when it comes to your new hunting footwear as well. You can find boots with added insulation, additional waterproofing, scent-free materials, a large top to keep out water, and more.
You will want to invest in a quality set of rubber hunting shoes if you plan on spending a lot of time outdoors during the rainy seasons. Your feet will thank you for them.
Top 10 Best Rubber Hunting Boots
If you are tired of soggy socks while hunting, you will want to check out my picks for the best rubber boots.
They are much more than just a pair of waterproof shoes; you will not want to be without them. OK, that last part was likely an overstatement.
Anyway, these are the best rubber hunting boots that you can buy right now:
LaCrosse Alphaburly Pro 18″ Rubber Hunting Boots
The LaCrosse Pro Hunting Boot is 100% rubber and neoprene. The sole is made from rubber, and the shaft of the boot measures 18 inches high.
The neoprene inside is flexible, scent-free, waterproof, and best of all – comfortable. This version even comes with a liner on the inside that assists with circulation. This process keeps out moisture and allows your feet to dry quickly if they get wet.
Plus, the rubber is multi-layered at the toe. This gives you the benefit of having more support and stability inside of your hunting shoe. If you are interested, there are four different color options to choose from as well.
This product was very highly rated by users, giving it the number one spot on this list. It can be a little bit pricey, but if you consider it an investment to your comfort while hunting, you will find that it is entirely worth the price tag.
Plenty of users mentioned that the item was durable and held up well in the most challenging terrain, keeping them dry and comfortable to focus on the game they were following. It is worth mentioning that the liner is not removable, so you can not take them out if they have to dry.
Irish Setter Rutmaster Insulated Rubber Boots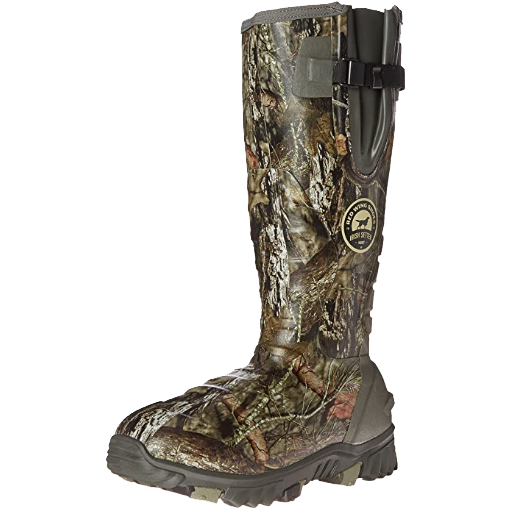 This rubber hunting boot is 100% vulcanized rubber and 3.5MM neoprene. They have a rubber sole and a 17-inch long shaft that can adjust to your leg. The boots are waterproof and extremely durable.
Many users felt that it was quite hard to get on their feet. However, if you are in a swamp, mud, or other mucky areas, you will appreciate this feature. The brand designs the boots to be tight around your ankle so that they do not pop off when you step out of thick mud.
Users also mentioned that they loved how warm the boots kept their feet. They also said that you might want to get one half a size bigger than you normally would so that you can fit socks inside of the boot too.
There also seems to be an issue with holes tearing in the bottom. If you plan on traveling through rough terrain often, these may not be the best choice for you. After a few months, there is a chance that they could tear.
ArcticShield Waterproof Insulated Neoprene Rubber Boots
If you are on a budget, you might not be able to afford the top pick I covered above. However, these ArcticShield insulated rubber boots are a great option that is considerably cheaper. They are made from rubber and have a sole made from that same material.
The brand states that the 7MM neoprene used in their product is the best you can find on the market. Plus, the inside of the boot has a protective rubber inside. They are warm and comfortable, not to mention extremely waterproof. Your feet will be sure to stay dry.
Customers who own this item mentioned that the size does tend to run a little bit big, but this does give you the space to wear warm wool socks inside the shoe. Users have spent plenty of hours wearing them, doing everything from hiking and hunting to fishing in the water without leaking.
Overall, this pick is definitely a close second to the option I mentioned above.
TideWe Waterproof Multi-Season Rubber Boots
These rubber hunting boots are comfortable, flexible, and provide you with the waterproofing and anti-slip soles you need. When you are out in the mud, I'm confident that you will greatly appreciate those features.
The uppers are made from 6MM neoprene and natural rubber. The brand states that these materials allow them to create an "extra tough, 100% waterproof design". I appreciate they added more support to the sole as well.
The brand did this by installing what they call a steel shank between the insole and outsole. This reinforces the toe and heel section of the boot. Plus, they are easy enough to get in and out of.
These boots come in three different color options if you are curious. They are brown, black, and camo. I recommend that you get the camo option if you plan on using them for hunting. However, these are technically a multi-function boot. You can use them for anything outdoors.
In user reviews, many people brought up that they loved how waterproof these boots were. They compared them with much more expensive options, with this model working just as well – at a much, much lower price.
Kamik Men's Icebreaker Cold Weather Rubber Boots
These Kamik boots are 100% rubber and have a synthetic sole. They should be able to reach your knee (depending on your height) and have an adjustable drawstring that creates a cuff. That way, you can keep out water, even if you have to wade in it a bit.
The brand states online that the item comes with a "self-cleaning outsole," although they do not say what this means. The boots are waterproof, so they are already easy to keep clean, anyway.
I ranked this option highly for the unique drawstring cuff. It is advantageous if you expect to be in swampy, wet areas. This feature also makes it easier to get on since they come with a broader opening. If you often feel like you are forcing your foot into boots, this option will benefit you. Simply tighten the drawstring once you are in.
One user recommended that you take the liner out and wear it like a sock as you put your foot in the shoe. That way, it ends up snug inside the boot, with less effort on your part. Users also brought up how dry and warm their feet stayed during their expeditions.
Muck Boot Woody Max Rubber Hunting Boots
This option is a bit expensive, although the company provides you with pretty high-quality materials. The boot is synthetic and comes with 5MM neoprene, which is flexible. You can get 6 or 7MM neoprene for less with the other listed options, which is why this product ranked at number 5.
However, what stood out to us, was the shock absorption abilities this boot comes with. This feature is good to have if you plan on spending a lot of time trekking outside. Plus, the brand says that its design helps to prevent blisters and chafing on your feet.
The boots come with a soft fleece lining, making this item a great option if you spend your time hunting during the colder months. The lining is warm, able to handle temperatures between -40 and 40 degrees F.
Users did appreciate the lining, although they warn that you will be way too hot if you use them in weather that is over 50 degrees. That would make them best suited for late-season hunting.
Guide Gear Mid Bogger Waterproof Rubber Boots
If you need a budget option, this is a great choice for under 40 bucks. They only come in black, and the company does not say what most of the boot consists of. Just that they have rubber soles. They are not as tall either, so do not expect this boot to be useful in creeks.
The sole is durable. Many users mentioned wearing them often outside and working on projects that would wear out their other shoes. The boots would instead last a long time and provide them with more warmth and protection from water.
If you want a good quality boot but do not want to empty your wallet, this would be a decent choice. They only come in black, however. You will not find a camo pattern to help you blend into the scenery while hunting.
If you have wider feet, you might have some issues getting them on. The longer you wear them, the more uncomfortable they get as well. If you have big feet, it would definitely be worth going up a size if you want to try out these boots.
LaCrosse Grange Waterproof Hunting Boot
These LaCrosse boots come in three different colors. You have your muddy green, mossy oak camo, and a more traditional camo pattern color option. The company made these rubber hunting boots from 100% rubber, with a strong rubber sole.
They are waterproof, scent-free, and provide you with reliable protection. The brand says that their materials used will resist tears and abrasions.
They come with two layers of rubber along the toe and heel, adding more durability to the product. The boot also comes with a fitted ankle section, so the footwear does not slide off if you sink into the muck. Finally, the top strap is adjustable so that you can tighten them to your liking.
Overall, this is a pretty standard hunting boot that is well-liked by users. They mentioned staying dry and warm; plus, they last a pretty long time.
The only real downside to these boots is that other pairs are a lot cheaper and made from the same materials.
Irish Setter Rutmaster 4882 Uninsulated Rubber Boots
These good-looking Irish Setter hunting boots are made from 100% neoprene and rubber, with a sturdy rubber sole.
These boots are incredibly lightweight, thanks to the Irish Setter RPM technology. The composite material used to produce the outsole significantly reduces the weight of the boot.
But the most sophisticated thread in the Irish Setter boots is their ExoFlex technology. It allows you to move freely by expanding and accommodating the back of the foot.
Most users had positive things to say in their reviews of this product. They are great for walking through wet grass, pond areas, or mud, so you should be able to find a use for them year-round.
However, users mentioned that the boots tend to split on the back of the foot, leaving a hole below the logo. Many customers also said that these are not the perfect boots for cold weather.
Muck Boot Arctic Pro Hunting Boots
This option comes in four different color selections. You can choose between bark brown, mossy oak, brown with a steel toe, and another camo pattern. Plus, it comes with a warm fabric lining.
The rubber is 100% synthetic and imported. The neoprene is 8MM, which provides you with a comfortable and protected fit.
This feature also gives you excellent shock absorption and waterproofing. The brand designs the boot to retain your body heat and adjust to the shape of your foot over time.
However, not many users rated this option highly. Many people thought the quality was not as good as it should have been and that the boots were difficult to remove.
They are designed to fit you snug, but they do not come with a heel kick or removal tab that other boots usually have.
Factors that Determine the Best Rubber Hunting Boots
When trying to buy a high-quality pair of hunting footwear, you want to be sure that you are getting boots with all of the features you need. You want them to be waterproof, of course.
Otherwise, you will be miserable on a cold and rainy day – which might shorten the time you want to spend hunting.
However, there are other aspects that you need that are less obvious at first. I will be covering all of them below. You will want to think about how you will be using these boots and what time of year you are most likely to wear them.
That way, you can feel confident in the shoes that you decide to purchase.
Waterproofing
The most important factor is waterproofing. Your rubber boots should be able to withstand all types of wet conditions. That way, your feet can stay dry and comfortable- allowing you to focus on the hunt.
Wet socks can be reason enough to end a hunting trip early. So, you will want to ensure that the boots suit your needs. All of the options I listed above are waterproof.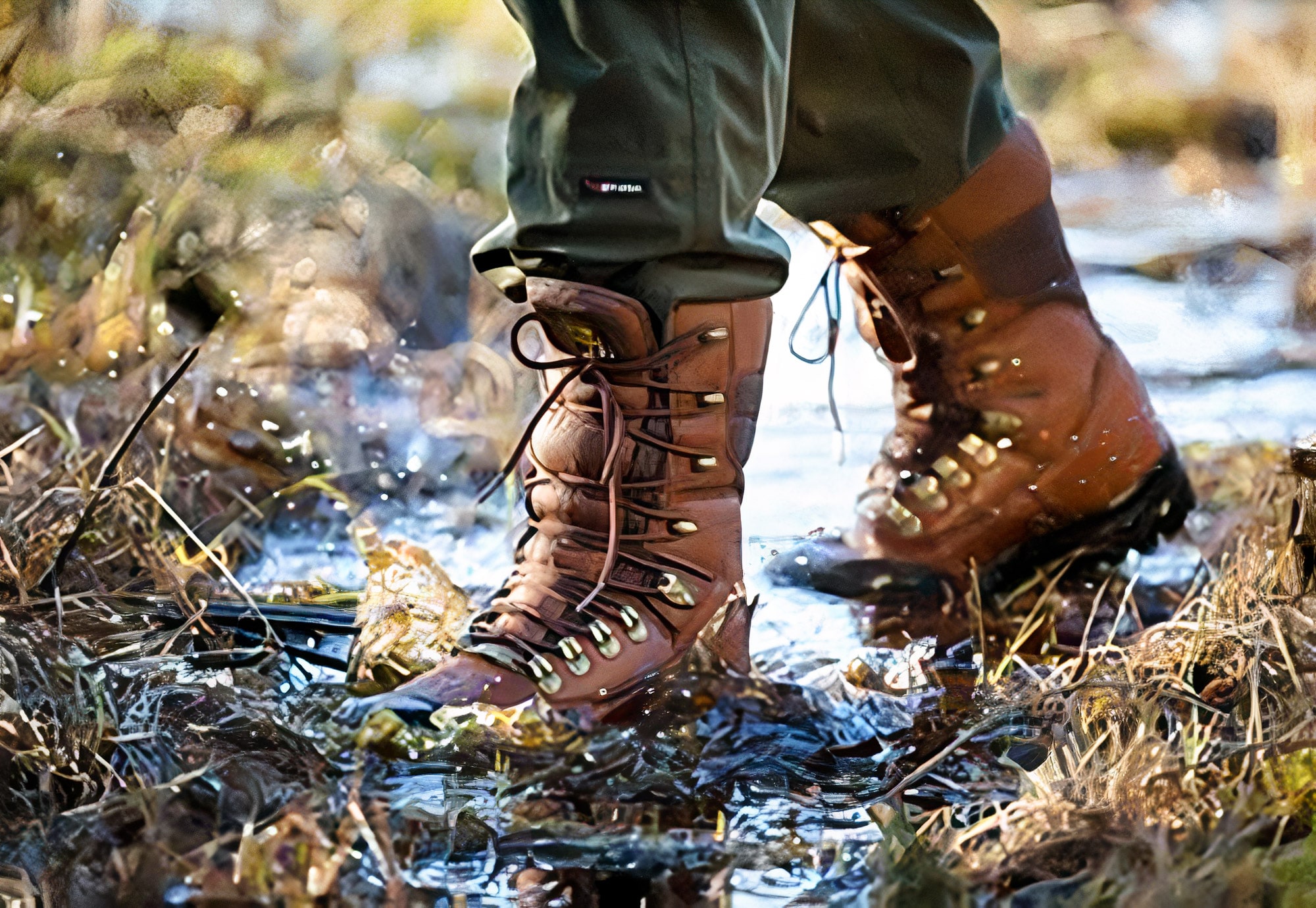 You will only have to consider the shaft size you need since water may leak through the top if it is not tall enough.
Overall, I think that finding a sturdy waterproof system should be your priority when buying new hunting shoes.
Durability
Next, you are going to want to consider durability. If the material is not strong, then your new purchase will not last you very long.
As hunters, we all tend to be tough on our equipment. You need something that is not going to be completely ruined after your first two outings.
Premium boots are made from vulcanized rubber, a process known as vulcanization. This material is extremely tough and made using the treatment of sulfur.
If you find a brand that uses this material, feel confident knowing that they will be a good investment.
Comfort
Comfort is another essential factor that you will need to consider. If the rubber hurts your feet, you will not want to wear them, making them a waste of money.
The best option here would be to check out what people are saying about the product online.
If they seem to run small or tight, you may want to try to get at least half a size bigger. Sometimes, you might even need to go up an entire size.
Remember that some footwear needs to be broken in before they start to feel comfortable. However, you still should not feel miserable while wearing your boots.
Lightweight
Rubber does not weigh very much. If you can, you will want to make sure that the boots are lightweight, making them much easier to move around in.
Heavy footwear is easier to lose in the mud. You do not want to struggle to put your rubber boot back on when your game is right in front of you! Trust me, you do not want to ignore this factor.
When you have light footwear on, you can make longer trips outside since you do not carry even more weight on top of the rest of your hunting equipment.
More lightweight boots also tend to be more comfortable than heavy ones.
Scent-free
This factor is one that very few people take the time to consider. Rubber hunting boots that are scent-free do not carry a smell through the air – hiding your scent from the game.
Other materials, such as leather, have scents that animals can detect with ease. Rubber is an excellent material that does not hold onto smells so that you will be more hidden from the game during your hunt.
Even if the brand does not mention it, most rubber hunting boots will be scent-free.
Other Things to Consider
There is more that you want to consider when it comes to finding the best rubber hunting boots.
If you do not take the time to think about the below factors, you might find that your new purchase really is not a great fit for you.
Overall, you want to think about the height and size, plus what season you plan on using them the most. Whenever you are buying a new item, thinking about the price is also a good idea.
The following are some more aspects that you will want to consider when purchasing new hunting footwear.
The Height
The height of the shaft of the boot is going to influence what areas you travel in. If you have a knee-high boot, you will be able to go to more places. Muck, mud, and swamps can be traversed with ease since you will not have to worry about water getting inside.
However, you might not need a boot that tall. You might be able to get away with a boot that is a foot tall, possibly less, if you only plan on walking through areas with low levels of water.
No matter what, though, you will want to consider the height of the item. If you buy one that is too short, you will be uncomfortable when water leaks inside of the top.
The Size
Of course, when buying any new footwear, you will need to think about the size of the shoe. With boots, you have to be able to get your foot through the opening. Plus, many of these rubber hunting boots are snug so that they do not slide off of you.
Because of this, you will pretty much want to consider getting a boot that is half a size bigger than what you normally wear.
Even if it turns out to be a little bit too big for you, you will be able to wear thick, comfortable socks inside of them.
If the boot fits just right, you might have problems when trying to get a sock inside. So, overall I recommend that you always try to size up with rubber hunting footwear.
The Season
Next, the season you want to hunt in will have a major impact on the type of rubber boot you purchase. If you plan to use it during the colder months, you can find boots with a cozy lining inside of them.
If you plan on going in the spring, you will want to have a boot that you can close at the top. That way, no water will be able to drip inside the opening. The fall is also rainy, wet, and muddy, depending on the area that you live in.
Ensure a Good Fit for Your Hunting Boots
We mentioned this earlier, but a good fit is essential for staying outside as long as you can. When your boots are too tight or awkward to wear, you will want to get them off ASAP.
These are some tips to ensure that you get a good fit for your new hunting boots:
Choose a boot that is designed for the season you want to hunt in.
If going out in the cold, make sure you buy one size larger. That way, you have room for a fleece lining or thick socks, or maybe both.
If you have flat feet or feet with high arches, you may want to add insoles to give you additional support.
Your foot may swell or change sizes when hiking for long periods. Always go a little bigger to make up for this change.
Spend time breaking in the rubber before your first big hunting session.
When shopping online, check the reviews to see if the footwear runs large or small. Ensure that there is a return policy offered by the company.
Wrapping It Up
So, if you are tired of wet socks ruining your hunting trips and sending you home early, I recommend you invest in one of the best rubber hunting boots that we discussed above.
Rubber is a waterproof material, so as long as the footwear fits you properly, you will be able to move around comfortably. However, you want to consider a lot of factors when searching for the perfect rubber footwear.
The height, size, durability, comfort level, and scent-free nature of rubber all factor into the perfect boot. If you consider your needs based on the terrain and weather that you plan to be outside in, I'm confident that you can find the best option for yourself.
Finally, keep in mind that you do not have to empty your wallet for a high-quality pair of rubber hunting boots. You should be able to find a pair that fits all of the factors above while still staying on a budget that works the best for you.
I made sure to list all of the best rubber boots here. If you have any questions, feel free to comment. I enjoy hearing from readers and would love to assist you if you have any questions.
Frequently Asked Questions
Is rubber a good insulation material for boots?
Yes, rubber is a good choice, especially for hunters. It helps to prevent animals from smelling you and is waterproof. Rubber is also very good at absorbing shock, taking some of the impacts off of your feet and ankles.
What are some of the best types of hunting boots available?
There are plenty of different types of hunting boots out there. As long as you consider the season and terrain that you hunt in, you will find something that fits your needs.
For example, rubber boots are best for wading and keeping your feet dry. Mountain hunting boots offer great traction for hiking upwards, and upland boots are best for grassy, flat land.
Are insulated boots wearable for snow?
Yes, but only if they are waterproof. Snow will melt when it touches you, leaving you uncomfortable, even if the footwear is insulated. You will want to ensure that you use a rubber insulated option if you plan to spend a lot of time outside in the winter.
Should I go for lightweight or heavyweight rubber boots?
You should wear lightweight equipment when you can. They tend to be more comfortable, and you will be able to walk further without becoming exhausted.
What's the most durable material variant for rubber hunting boots?
I would have to say that it is vulcanized rubber. This material is often found in high-quality and premium rubber shoes. It is extremely durable since it went through an extensive sulfur treatment process.
How to verify if the rubber boots are waterproof?
Rubber is a waterproof material in itself, so if the boot is 100% rubber, the footwear will have to be waterproof. However, you will also be able to feel it on the inside of the shoe. Waterproof footwear tends to feel more cushioned and will often include a thick lining on the inside.
Should I go for cheap boots?
Honestly, that is going to have to be up to you. Although, I would have to say go for a boot that you are comfortable paying for. It does not have to be completely out of your budget. There are quality, low-cost rubber hunting options out there.