Finding the best skinning knives is undoubtedly a challenge one must embellish on carefully. The first question that emerges is, what constitutes a good skinning knife?
Traditionally, skinning knives have narrow-tipped blades for precision cutting. They also have a deep belly, which provides the longest cut for every stroke. Some of them have a gut hook, which greatly simplifies the skinning process.
If you intend to dress small game such as rabbits or birds or remove the skin for taxidermy purposes, you should choose a smaller and more precise skinning knife.
Both caping blades and clip-point blades will work for this job as you'll be able to make fine cuts without damaging the hide or the meat.
Top 10 Best Skinning Knives
As soon as the prey is down, the hunter's real work begins. Some people balk at skinning their prey, but the correct tools for the job help a lot.
The main thing is to have a sharp, first-rate skinning knife. You'll get the job done quickly and safely without damaging the meat or the hide.
There are a few front-runners that come to mind in the knife market today. Buck knives have been around for many years. You know you're getting quality craftsmanship with a knife from them.
Spyderco knives are also becoming more popular. Other well-known brands are Browning, Case, and Cutco. Have a look at my review of the top 10 best skinning knives for this year (in no particular order – I think they're all great!)
Product

Image

Overall Length / Blade Length

Blade Material / Handle Material

Specifications

Buck Knives #536


8.25 inches
4.5 inches


420HC blade
Dymalyx redwood handle


Full tang
Drop Point
Fixed
Leather sheath
Excellent price


Benchmade Bushcrafter #162

9.2 inches
4.43 inches


CPM-S30V stainless steel
G-10 handle


Full tang
Fixed
Leather sheath
Perfect quality


Spyderco Tenacious Plain Edge


7.76 inches
3.39 inches


8Cr13MoV steel
G-10 handle material


Plain edge
Folding
Great price


Browning Buckmark #3220271


7 inches
3.125 inches


8Cr14MoV steel
Hardwood handle


Drop point
Fixed
Great price
Leather sheath

Buck Knives #113 Ranger


7.25 inch
3.125 inch


420HC steel
Ebony wood


Full tang
Fixed
Leather sheath
Affordable price





Gerber StrongArm


9.8 inches
4,8 inches


420HC steel
Rubberized texture handle


Fixed
Full Tang
Serrated Edge
Nylon sheath
Excellent price


Schrade Old Timer 152OT Sharpfinger


7.1 inches
3.3 inches


Carbon steel
Derlin handle


Full tang
Clip point
Fixed
Leather sheath
Excellent price


Ka-Bar Becker BK2 Campanion


10.75 inches
5.25 inches


Cro-Van steel
Zytel handle


Full tang
Drop point
Fixed
Nylon sheath





Puma SGB Skinner Stag


9.4 inches
5.2 inches


Cutlery steel
Stag handle


Full tang
Trailing point
Fixed
Leather sheath





Buck Knives Skinner #0103


8.25 inches
4 inches


420HC Steel
Phenolic Handle


Full tang
Fixed
Leather sheath
Good price

Owning a high-quality skinner is an essential thing to do for all field hunters. In addition, I will cover in details each of these knives:
1. Buck 536 Fixed Blade Skinning Knife
This fixed blade from Buck is one of the best skinning knives out there and is certainly my favorite. Buck knives are known for their top-quality products.
That being said, they proudly announce that this is a USA-made product. The company puts its integrity on the knife, offering a lifetime warranty for this product.
It features a razor-sharp drop point blade. It's 4.5 inches long, made of 420 high-carbon steel. The overall knife's length is 8.25 inches.
The dymalux redwood handle speaks for the quality craftsmanship here. It provides a comfortable and superior grip feeling, offering extra stability and balance for hard tasks.
The knife is easy to carry, with an overall weight of 4.9oz. If that's not enough, it also comes with a genuine leather sheath with a handy belt loop attached.
It's the best choice when you have to get right into all those arduous skinning tasks. Highly recommended, especially because of its affordable price for the quality.
2. Benchmade Bushcrafter #162 Skinning Knife
This Benchmade Bushcraft #162 is one of the best hunting knives you can find on the market. It's not cheap, but if you consider its durability and the high-quality it offers, it's definitely worth it.
It has an overall length of 9.2 inches and a weight of 7.72 ounces. The high-quality CPM-S30V steel blade holds its razor-edge corrosion-resistant and remarkably well.
The blade's length is 4.43 inches, and the thickness is 0.164 inches, but it appears incredibly strong. It is a full tang, drop point, and well-balanced skinner, making it easy to skin the animal and cut up the meat.
The handle is durable and waterproof. It's made of G-10 material and features an ergonomic, resin-soaked fiberglass body that's invulnerable to moisture. This skinning knife also comes with an attractive leather sheath and D-ring to sweeten the deal.
Benchmade Bushcrafter 162 is made in the United States and is one of their best field knives. Should it need sharpening, Benchmade will do it for you under their LifeSharp service deal.
3. Spyderco Tenacious Plain Edge Folding Knife

Spyderco's folding hunting knife has an overall length of 7.76 inches, with a razor-sharp blade length of 3.39 inches. The blade is made of 8Cr13MoV steel and is sharpened along its entire length.
The black handle is made with G-10 glass-reinforced resin. It offers a secure grip for the user, and the handle feels good in the hand. Also, the knife is pretty light-weighted, or precisely 4.1 ounces.
This folding blade skinning knife does not use an assisted opener. To close the knife, you have to push the silver spring steel to release the blade's tension. When closed, the knife's length is 4.45 inches.
Although most of Spyderco's knives are made in the US, this one is made in China. It holds a good edge but needs to be sharpened more often than some of the other skinning knives I've reviewed.
4. Browning Buckmark #3220271 Skinning Knife
One of the best knives by Browning is the Buckmark model. It is made of 8Cr14MoV steel, which makes it compatible with all field tasks.
This fixed drop point skinning knife features anti-slip grooves on the blade's spine, which is 3.125 inches long. The overall length of the knife is 7 inches, and it weighs just over 6 ounces.
The handle is hardwood, which makes it highly durable and slip-resistant. It also has a pronounced index finger that ensures an excellent grip.
The knife features a lanyard slot at the base of the handle. It's worth mentioning that this skinner comes at a very reasonable price and is also supplied with a leather belt sheath.
5. Buck Knives #113 Ranger Skinning Knife
Here's another quality steel, American-made, fixed blade knife from Buck Knives. This drop-point blade is, probably, the best skinning knife that is used by a lot of field and hunting professionals.
Coming in at just 7.25 inches overall length, it's ideal for a skinning knife. It's also lightweight, weighing just 5.2 ounces.
Its razor-edge blade has a thickness of 0.120 inches, it's 3.125 inches long, and is manufactured from top-quality high-carbon steel. It features an ebony wood handle and comes with a sheath.
As all Buck knives come with a lifetime warranty, this is no exception. This high-quality skinning knife comes at an affordable price, too. What a good deal!
6. Gerber StrongArm Fixed Blade Knife

Gerber knives are amazing. I love most of the Gerber knives (especially Ghoststrike), but this one is superb quality. It's made in the United States and comes at a really affordable price.
This skinning knife is 9.8 inches long from handle to tip. It has a 4.8 inches half-serrated blade made of top-quality 420 high-carbon steel.
The knife has a ceramic blade cover and a rubberized texture handle. There is a lanyard hole at the base, which helps you hit and break hard surfaces.
This art piece comes with four mounting sheath pieces. There's one for the belt, the leg, and one for mounting on molle.
7. Schrade Old Timer 152OT Sharpfinger Skinning Knife
The Schrade Old Timer is a renowned blade manufacturer, and their skinning knives are known for their good quality.
This clip-point skinning knife has a blade length of 3.3 inches and an overall length of 7.1 inches. It's made of high-quality carbon steel, full tang.
The dark-brown handle is made of Delrin, a high-performance acetal resin. It's supposed to be durable and effective since it's ideal for replacing other high-weight materials, like metal.
It has a lanyard hole at the bottom of the handle, too. However, people seem to be having difficulties with the handle quite a lot.
Also, the knife comes at a really affordable price. To top off the deal, it comes with a durable leather sheath.
8. Ka-Bar Becker BK2 Campanion Skinning Knife
This is another proudly "made in the USA" skinning knife. It's designed by Becker and manufactured by Ka-Bar knives. The knife has an overall length of 10.75 inches and weighs 16 ounces. Yeah, it's a bit heavy!
The blade is made from 1095 Cro-Van steel, which provides durability, endurance, and stays sharp for longer than normal steel. It has a blade length of 5.25 inches.
The knife features a black Zytel-made handle, which provides a high-quality grip. Considering the high weight, that's a perfect choice for a handle. Finally, it comes with a black nylon belt sheath.
The blade is corrosion resistant and very strong. The knife has a nice black color touch.  It's also very sharp, as it keeps that perfect 20 degrees angle blade. It's a great buy for hunting, camping, or even chopping.
9. Puma SGB Skinner Stag Hunting Knife

All the way from Solingen in Germany, this excellent quality skinning knife from Puma has a blade of 1.4116 German cutlery steel and a blade length of 5.2 inches.
The overall length of this full tang skinner is 9.4 inches. It's a classic trailing point blade, with an overall weight of 5.6 oz.
It comes with a genuine stag handle with a length of 4 inches and a high-quality leather sheath. Maybe not for everyday field tasks, but certainly the best skinning knife for those extra special trips.
10. Buck Knives #0103 Fixed Skinning Knife
Buck uses 420HC steel for all its blades and skinning knives. It means that you get the wear resistance of high carbon alloys without corrosion. It also means that the blade is very easy to sharpen.
Although most of Buck's knives can be used for many cutting chores, my opinion is that this knife is best used for skinning and caping.
But this particular full tang skinner is featured on this list for a reason. The knife's blade has a narrow tip and a wide, curved belly and is 4 inches long.
The overall knife's length is 8.25 inches and weighs 4.3 ounces. The shape helps the hunter sweep through the deeper skin layers without doing any damage to the hide.
The handle is shaped for comfort and a secure grip with an aluminum guard. In fact, the handle material is made of Phenolic, ensuring that the hunter has a solid grip. The knife also comes with a sheath.
It's worth mentioning that Buck knives have a lifetime warranty. What's better is that it's actually made in the USA, another high-quality factor for this skinning knife.
How to Choose the Best Skinning Knife
I hope these reviews have been useful in finding the best knife for your needs. Just remember that a hunter needs to choose a skinning knife that best suits their necessities.
The right tool for the specific job you have in mind is always the way to go. I advise trying out a few different types and models before settling on which to keep as a favorite in your hunting kit.
By definition, skinning knives are professional tools. The best skinning knives will usually have a strong, short, and wide blade without much spring or flexibility.
It's important to remember that a skinning knife is not a weapon. It is a vital hunting tool.
Blade Length and Thickness
When you're choosing a skinning knife, it can be useful to know a few things you should avoid. For example, stay away from long, heavy blades. These will cause your wrist and hand to tire quickly during the skinning process.
Also, long blades won't allow you to make the crucial, precision cuts when separating the skin from muscle tissue. Your best bet is to go for a short, thin, lightweight knife.
Durability
Replaceable blades are the least durable. They aren't meant for twisting, prying, or pounding. That makes them far less durable than a standard blade.
That said, replaceable blades are usually more reasonably priced than standard blades.
Fixed blade knives will always offer more durability than folders. Even if you purchase a really expensive, good quality folder, it will never be as strong as a fixed blade.
That's because the point where the blade joins with the handle has a pivot, and that pivot is susceptible to breaking.
Also, any good quality fixed blade skinning knife will be full tang, which means that the blade runs the whole length of the knife as one solid section. There are no moving parts, which means there are no weak spots either.
A composite steel blade combines the best of stainless steel and carbon steel. They provide the corrosion resistance of stainless with the hardness of carbon steel.
Carbon steel is the most durable blade material, but it is prone to rust. It, therefore, requires higher levels of maintenance.
Blade Sharpness
When skinning a big game, you don't want to stop in the middle of the process to sharpen your knife.
For this reason, you should avoid a low carbon stainless steel blade, like the 440 stainless steel, for example. The 440 is difficult to sharpen properly and won't hold its edge for very long.
Instead, always look for a stainless steel skinning blade with high carbon content.
Fixed Blade vs. Folding Blade Skinning Knives
A lot of hunters prefer fixed blades to the folding kind. However, the choice is based on personal preference, and there is no clear way to say that one is better than the other.
Some hunters like to carry both fixed and folding blades to simplify their work. They use the folding knife for the initial belly incisions, cut down and around the legs and the anus.
This way, the edge on their fixed blade knife can be reserved for the hide removal.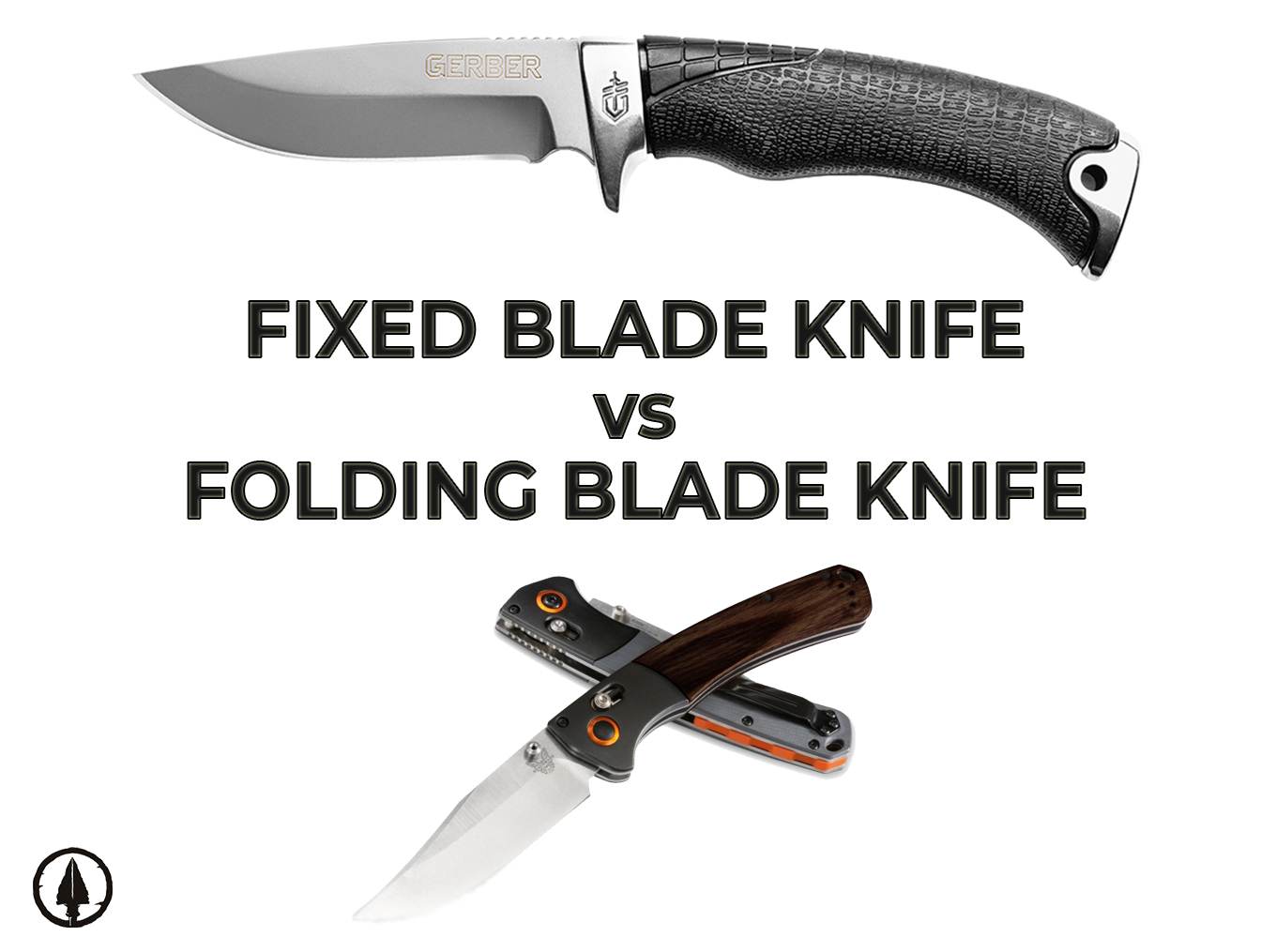 Fixed blade knives are rugged and durable. However, they aren't as portable and compact as folders.
Choosing a folding knife also means that you'll have to decide on a locking system. Lock-back knives exhibit a lock bar, which is located at the knife's rear.
They're a common choice among hunters, but other options like frame locks, liner locks, and button locks also exist. The most important thing is to establish what style or option works best for you.
Remember to keep the locking system clean to ensure its efficiency.
Best Skinning Knife Blade Types
Multi-tools are unsuitable for skinning. They have too many nooks and crannies that can trap blood, hair, and flesh. Plus, they are difficult to clean.
You should also avoid serrated blades for skinning. The toothed edge doesn't slice cleanly and leaves a jagged edge when slicing meat. Also, the serrated edge traps tiny specs of flesh and fur fibers and needs constant cleaning.
Drop Point Skinning Knives

Drop point blades with good slicing edges make some of the top skinning knives. These types of knives have a large cutting edge, making them the perfect skinners.
The point is strong and easily controlled, as well. This will make sure you make fine cuts in the skinning process.
Clip Point Skinning Knives
Choose a small, precise blade for dressing small game such as rabbits or birds or remove the skin for taxidermy purposes.
Clip-point blades work well for this kind of job. You'll be able to make fine cuts without damaging the hide or the meat.
Trailing Point Skinning Knives
Trailing point knives are usually lightweight, which gives them great control when it comes to skinning. The large belly and the long cutting edge provide extra handiness.
The only downside is that the point is usually fragile and cannot penetrate hard materials.
Gut Hook Skinning Knives
This is a special blade type whereby the spine has a semi-circular sharpened notch cut into it. The gut hook is more of a blade feature than an actual blade shape and is basically a point skinner with a hook added to the back spine.
The hook comes in very handy in the process of field dressing. It can be placed in a small cut in a carcass's underside and then pulled like a zipper to open up the skin.
The relatively small hook opens the animal's abdomen without slicing into the muscle, affecting the meat's quality.
Other Good Skinning Knife Blade Types
The best skinning knife must have a narrow-tipped precision cutting blade. They need to have a deep belly, too. It will provide a long cut with each stroke.
It may come as a surprise, but Wharncliffe knives are excellent types of skinning knives, too.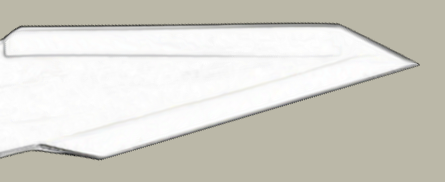 Tanto knives are unsuitable because the straight edge won't slice as well as drop points. It would help if you had that curve on the blade. Tantos are better for stabbing rather than skinning.
Spey Point is another knife type used for skinning and is mainly present in most folding pocket knives. This makes them incredibly efficient to use. Some pocket knives models come with a gut hook, which greatly simplifies the skinning process.
To learn more about hunting knife blade shapes, read this article.
Handle Design
Handle design is vital. A razor-sharp skinning knife can easily slip during the wet and bloody field dressing process. That said, smooth grips can be safe if designed with texture to prevent slippage.
The main features to check for are the finger guard and slots and some kind of texturization. These features are crucial for a good grip.
Handle Material
Remember that your knife grip will become wet when skinning your animal, but it needs to remain firmly in your hand. Skinning knives are available with handles in many different materials.
Some older knives have leather grips, but I don't recommend them. The leather is susceptible to moisture and needs a lot of maintenance. Wood, mother of pearl, stainless steel, and titanium are all popular.
Let's take a look at a few of the most common:
G10 is a synthetic material. It's made with fiberglass impregnated with a resin, which is then baked hard. In our opinion, it's the best knife handle material available today. It is moisture-proof, durable, and non-slip. It does tend to be expensive, though.
Stainless steel is durable and anti-corrosive. It can become slippery, though, and also gets very cold in extreme weather conditions.
Zytel is a synthetic material produced by DuPont, a US company. It's very strong and almost indestructible. It's cheaper than G10, too. Because of the excellent grip, a lot of hunters prefer skinning knives with G10 handles. But if you're on a budget, Zytel is a really good option.
Skinning Knife with Replaceable Blades
If you want a razor-sharp edge to make every single cut, then a knife with a replaceable blade is your best option. They are very popular among anglers, hunters, and others needing a precision cut.
However, the best skinning knife will have a fixed blade. If you're an average outdoor enthusiast, it is better to go with a standard knife.
The major benefit of a replaceable blade is that it doesn't require sharpening, which is advantageous if you'd rather not sharpen your knife in the field.
Simply pop on a new blade, and you have an instant razor-sharp edge.
Be aware, though, that replaceable blades aren't designed for twisting, prying, or pounding with the blade as they are less durable than a standard knife.
On the plus side, replaceable blades are usually more reasonably priced than standard blades.
Few Skinning Tips
Before closing, I have a few tips for you on skinning your animal. It's important to use the skinning knife sparingly. You should be able to skin a medium-sized animal using just twelve knife strokes.
The carcass is first hung up by its back legs, often from a tree branch, then the skinning knives are used to open the hide and separate it from the legs.
The hunter then pulls the hide off the carcass, working it loosely with his hands and using the knife only when needed to help.
Most of the skin is torn off the carcass, rather than cut, so the knife is only needed to cut tough membranes and remove the head.
Some types of animals (for example, wild boar) require explicit knife work because of the fat layer under the skin. That's why you need the best skinning knife for these complex tasks.
Smaller animals like rabbits just need a single incision to open the gut and remove the entrails. You have to use the knife again to remove the head and feet.
The hind legs are then pushed from under the skin through the gut incision. After that, it's a simple matter to pull the rest of the skin off with your bare hands.