You need the best hunting boots to make sure they keep your feet safe from water, the weather, and the rough terrain.
Any experienced hunter knows that wet or injured feet are a nightmare on the field. It basically halts your movement.
Hunting boots are designed to keep water out thanks to the waterproofing materials and solid rubber soles, keeping your balance stable. However, an inappropriate pair of boots for the field can ruin the whole hunting experience.
I have compiled an extensive list of some of the best hunting boots that provide good protection from on-field elements. I am sure you will find something that meets your requirements and get to learn a thing or two about choosing hunting boots.
Why Look for the Best Hunting Boots
Hunting is a serious activity. Therefore, it only makes sense that one must have the proper equipment and accessory to make the experience as pleasant as possible.
Not having the right tools and wearing the right gear can turn a situation ugly in no time. It can also impact your overall hunting performance on the field.
As a result, one must ensure that they have the right tools and gear for the specific terrain and weather conditions.
Hunting boots are one of the most important pieces of equipment for a hunter as they carry the whole weight. So if you take an uncomfortable and low-quality hunting boot on the field, chances are you won't be able to achieve much.
Therefore, you should focus on getting the best accessories and equipment before you step on the field.
Top 15 Best Hunting Boots for Men
There is a wide variety of hunting boots out there. However, not every boot is made for you.
There are several factors one must consider deciding which are the best hunting boots. Here are some of my picks that you can choose from depending on your requirements.
Irish Setter Wingshooter Upland Hunting Boots
Irish Setter Wingshooter is made from 100% leather with a rubber sole. In addition, it comes equipped with an UltraDry Waterproofing system allowing your feet to stay dry.
These hunting boots are best for the outdoors due to their uninsulated nylon lining, making them warm as well as breathable.
Easily the choice of any hunter due to their rugged yet refined design. The hunting boot also looks good as the upper dark brown leather has a vintage look.
It also has an EVA midsole that makes it light and provides underfoot cushioning for a great fit and feel. It is also extremely light on foot weighing only 2 pounds.
The shaft on this hunting boot measures around 6.5 inches from the arch, and the heel stands 1.25 inches tall.
You can also remove and clean the polyurethane footbed. The UltraDry waterproofing allows for long-lasting comfort and performance that makes it a perfect fit for any hunter.
LaCrosse Atlas 8″ 1200G Hunting Boots
The LaCrosse Atlas 1200G is not only tough but durable, supportive, and comfortable. It is made from Nubuck leather which is complemented with a molded rubber toe cap for extra protection. Also, it provides a comfortable fit thanks to the DuraFit molded rubber heel cup that locks the heel in one place.
The hunting boot comes with a DryCore lining, making it 100% waterproof. For insulation, it has a special PrimaLoft material that provides protection and warmth. The InfiniTrac lug patterns are here to aid the hunter in extreme conditions and are adaptive to all terrains, no matter how extreme. It's equipped with an LXG rubber compound that creates a strong and durable outsole for an enhanced grip.
For protection and comfort against shocks, it has a rubberized and highly durable EVA midsole that does the job perfectly. It also has a metal eyelet and open hook lace that ensures the toughness will last you long.
The added protection, however, adds some extra weight as it measures 4.6 pounds. However, the structure and shape do not make it feel like you are wearing anything heavy.
You can easily count on this hunting boot to keep you dry and comfortable in the wettest and toughest conditions. You can get your hands on it in brown color with a texture.
Danner Vital Hunting Boots
The next on the list is the Danner Vital Hunting Boots made from a mix of 100% leather and textile. The boot has a comfortable fit and light on the feet. It fulfills its purpose no matter what the terrain is like.
The rubber sole makes it durable with a 1.25-inch-tall heel and a shaft that is approximately 7 inches. In addition, it comes equipped with a lock and lacing system for a secure fit with ghillies across the forefoot.
To enhance the stability and support, Danner Vital has included a TPU heel clip as well. It also has a mesh liner layered over Danner Dry on the tongue to keep moisture away in watery terrains. Moreover, it comes with a multi-density foam pattern for protection against pinch points and to avoid hotspots. These hunting boots are also incredibly light on foot weighing just 0.9 pounds.
You can get your hands on it in three different colors: Brown, Realtree Edge, and Realtree Extra. The Realtree colors have some patterns on them to add to the look of the boot.
Irish Setter Havoc Upland Hunting Boots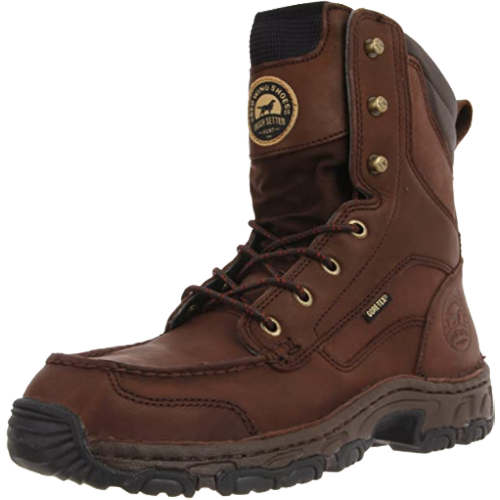 Another one from the Irish Setter from 100% leather with a rubber sole supporting it from below. This hunting boot is the best companion for the outdoors. A FlexiLock construction in the forefront gives it an athletic fit, making every step easier.
The moisture is controlled by airflow channels, keeping the feet dry.
It only weighs 1.94 pounds making it quite easy and light on the feet. Measuring 8 inches tall and 4 inches wide, it can offer solid protection against the outside elements. The rubber sole has a textured pattern that ensures a good grip on any terrain on long hunting trips. The rubber sole also expands to the toe front of the shoe to provide extra protection.
It also has Irish Setter's UltraDry waterproofing to keep the moisture away. Weighing just 1.94 pounds with so many features, it is a pleasure to hunt on wearing them. You can get your hands on it in brown color only. (Inclined towards the darker shade of brown)
LaCrosse Alphaburly Pro 18″ 1600G Hunting Boot
Most hunters consider Alphaburly Pro 18 one of the best hunting boots. It offers a mixture of quality, comfort, and several other features. The core is made from hand-laid premium rubber that is not only waterproof but also scent-proof. As a result, you can go long hours of hunting without any moisture or bad scent getting in the way.
The hunting boot is crafted out of 100% synthetic and textile. The shaft approximately measures 16 inches from the arch, and the boot stands 18 inches tall to protect you from literally everything. To enhance the comfort, LaCrosse has added a thick EVA midsole cushioning, making it extremely comfortable. You can also adjust the rear gusset to achieve a perfect fit. Weighing just 3.1 pounds, it is a perfect accessory for any hunting trip with optimum protection.
The embossed liner allows for better air circulation that keeps moisture away and makes it dry quickly. The support and durability of this boot stay unmatched as it has a multilayer rubber on the heel and toe. A double-layer vamp further complements this. It comes in four incredible colors and designs, including Optifade Marsh, Optimal Elevated Li, Realtree Edge, and Realtree Extra.
TideWe RealTree Waterproof Multi-Season Rubber Boots
The next best hunting boots on the list are 100% synthetic that works as a multi-season hunting companion for your feet. It is both waterproof and anti-slip, thanks to the natural rubber material that offers extra protection. To make it extra grippy and non-slippery, the rubber soles have been integrated with deep tread.
Comfort and flexibility in this hunting boot have been enhanced by adding a simple and easy-to-install mesh that is extremely breathable. This significantly improves air circulation, keeping the feet cool and regulating the temperature. The neoprene uppers allow for extra comfort as the design makes it flex with your foot movements. The incredible lightweight (0.6 pounds) also adds to the comfort.
For extra support and stability, this boot features a steel shank between the outsole and the insole. You can easily put them on with the pull-on and kick tab. They are a perfect match for you if you wish to visit areas with mud, water, snow, and much more. Additionally, they come in three eye-catchy colors, including Black, Brown, and Camo.
LaCrosse Alphaburly Pro 18″ Rubber Hunting Boots
These are one of the best hunting boots that are made from rubber and also feature neoprene. The rubber sole offers high-level grip, support, and stability due to the multilayer rubber on the heel and toe.
You also get to experience Active Fit thanks to the adjustable neoprene gusset. It allows you to easily put on and off the hunting boot to provide a secure and comfortable fit. The nylon shank and the embossed liner allow for better air circulation and moisture regulation.
The neoprene core is covered with a hand-laid premium rubber that makes it water and scent-proof. It comes in five exciting colors, including Forest Green, Mossy Oak Break Up Country, Optifade Marsh, Realtree Edge, and Realtree Xtra Green.
Irish Setter Rutmaster 1200G Insulated Rubber Boots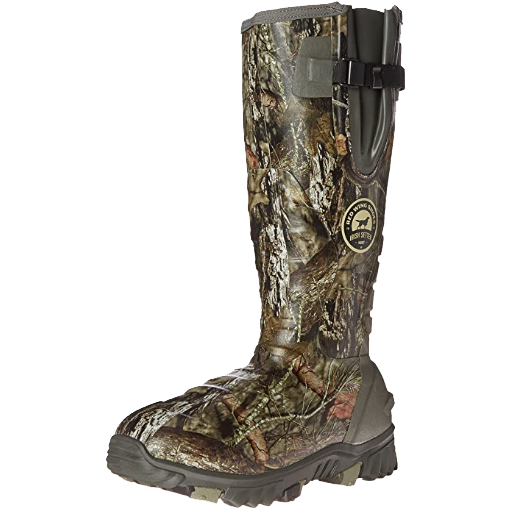 Comfort, support, sturdiness, and flexibility are all that one experiences with these hunting boots. They are made of vulcanized rubber and feature a neoprene waterproof material. Also, they yield 1200 grams of Primaloft insulation to keep your feet warm during cold and winter days.
Irish Setter's ExoFlex fit allows the foot to move freely into the boot while still providing a lock-tight grip. You can also remove and reinstall the removable polyurethane footbed as per your need.
The rubber sole features a Mud-claw self-cleaning design and does an incredible job of protection alongside water, abrasion, oil, chemical, heat, and slip-resistant. It is indeed a full hunting boot package.
The 5.25 pounds weight speaks for its durability, quality, and ability to resist extreme terrain conditions. The boots are extremely good-looking as well. Unfortunately, you can get it in just one color to keep the classic touch alive – Mod Camo.
Hisea Apollo Waterproof Rubber Boots
Hisea claims they designed these hunting boots to be the most comfortable, durable, and protective for active outdoorsmen. Their claim is proved to be true when one actually gets to wear these boots.
These are extremely lightweight and easy to carry around while providing complete protection from water, shocks, and hard terrain. The CR flex-foam booties and the four-way stretch nylon helps to keep the water out. It also features cinch buckles on the back gussets that allow you to customize the fit according to your feet.
The stretch-fit topline properly snugs the calves for optimal insulation. Moreover, it also has a breathable air mesh lining that allows for better air circulation, keeping your feet dry even under intense use. Even though a bit heavier on the weight scale (4.43 pounds), it makes up for it with its balanced structure.
The high-grade premium rubber exterior extends to the topline to provide solid all-around protection. The tough outside is complemented by the comfortable inside that features EVA midsoles cushioning. This incredible pair of hunting boots come in five breath-taking colors, including Black, Camo, Dark Green, Kanati Camo, and Camo Vista.
Rocky Ranger Waterproof Hunting Boots
Made from a mix of leather and synthetic material, the rocky ranger hunting boots are built for any task. Featuring full-grain leather is durable and also looks pleasing to the eyes. The rubber sole does not only provide a solid grip but also resistance to oils and slipping. In addition, it features a GORE-TEX waterproof to keep the moisture away.
The best part about it is the Goodyear welt construction making it a classic. It provides all-day comfort on a hunting spree thanks to the fiberglass shank that enhances stability and support. Additionally, the comfort is further enhanced by Rocky's EnergyBed LX footbed with memory foam.
All these features do come at the expense of some added weight of 5.5 pounds. However, it is worth the protection and functionality it offers. You can only get this hunting boot in a classic brown leather color that is more inclined towards a darker shade of brown.
Danner Bottomland Recurve Waterproof Hunting Boots
Another one from Danner on the list made from a combination of Leather and Nylon. This hunting boot features the top-quality craftsmanship and technical innovation that the company is so proud of. The design offers the best of both worlds with a modern touch to the classic vibe.
For comfort, support, and maximum rebound, the boot features a Vibram SPE midsole. The footbed is extremely comfortable and fitting due to the open-cell OrthoLite cushioning. The nylon shank stands between the insole and outsole, adding to the overall support and stability. The TPU frame on the hell further enhances this. The 3.75 pounds of this boot is a perfect balance for the features it has to offer.
The boots also have the Danner Dry waterproof protection for the rough terrain that shows no mercy to anyone. The outsole is a Vibram Recurve that features a mega grip technology that allows for high-class grip in both dry and wet terrains. It comes in two classic colors, including Brown – Full Grain and Suede and Mossy Oak Original Bottomland – Full Grain and Nylon.
Timberland White Ledge Waterproof Boots
The uppers on these hunting boots are 100% premium full-grain leather that is also waterproof. It features a seam-sealed construction to keep the water out. The tongue is fully gusseted to make a comfortable and secure fit.
Comfort is further enhanced on this one with an EVA footbed and midsole cushioning. The solid rubber on the outsole provides the extra protection needed against extreme terrains.
The rustproof speed lace hardware has hooks at the top to provide secure lacing. It weighs only 1.1 pounds, so you can imagine how easy it is on the feet. You can get them in three interesting colors, including Medium Brown, Black, and Wheat.
Irish Setter Realtree Edge Hunting Boots
These hunting boots are best for hunting or hiking due to their high-performing features. They are made from a combination of full-grain waterproof leather and nylon that is abrasion-resistant. The rubber sole features a bi-directional lug pattern to offer solid balance and traction. As a result, it makes it a perfect match for traction on rough terrain due to the durability and incredible day-long comfort.
To make it a more pleasant experience, Irish Setter has also included a Scent Ban Odor Inhibitor. For added comfort, it is equipped with the CuShin Comfort tongue technology that eases the pressure felt on the shin from the top of the boot tongue. You can also remove and reinstall the memory foam footbed as per your need.
It weighs a bit on the heavier side, but it is worth it for the features and protection it has to offer. Moreover, the design does not make 2.87 Pounds feel much. You can get it in four different colors, including Mossy Oak, Realtree Edge, Realtree Edge 1, and Stone 1.
Danner Men's Powderhorn Hunting Boots
These hunting boots have all the standard features that Danner Men's boots have alongside other incredible stuff. They are made from 100% full-grain leather and feature GORE-TEX waterproof lining that makes them breathable for the feet. You can feel the attention to detail of the workmanship while walking in this hunting boot.
It is equipped with 1000G Thinsulate Ultra Insulation to keep the temperature optimal for your feet in rough conditions for insulation. The best part is that the boots are handcrafted and feature a stitch-down construction that improves stability and strength.
The footbed installed is a cushioning open-cell OrthoLite that allows for a comfortable and secure fit. It weighs 5.42 pounds allows them to offer top-class protection in any kind of terrain. The heavyweight is compensated for by the Bi-Fi stability board. You can get them in just one color: brown.
Muck Boot Pursuit Shadow Hunting Boots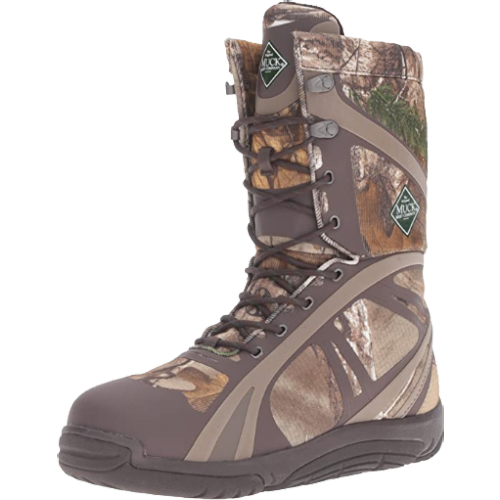 If you want the best hunting boots with an excellent fit, build, and are lightweight, these should be considered. Made from both rubber and neoprene, it offers both durability and comfort.
It has incredible flexibility thanks to the 5mm neoprene. You can make it as comfortable as you like by adjusting it to your foot shape to avoid chafing and blisters. It also features fleece lining for extra warmth when you have cold feet in the snow.
To keep you feel fresh during the hunt, it comes with Inscentable Scent Masking technology and agion fresh. The 1.4 pounds weight is the highlight feature of this hunting boot as it makes it one of the best lightest insulated and waterproof hunting boots on the market.
Things to Consider When Looking for the Best Hunting Boots
Getting the most expensive or full of features hunting boots don't always work. Sometimes one has to consider several factors before finding the best hunting boots. Some of these factors include:
Terrain Usually Determines the Material
It is vital to consider the terrain or various terrains you will be hunting on wearing the hunting boots. Not all hunting boots are best for all types of terrain.
For instance, the sole quality impacts the performance as it comes directly in contact with the terrain. As a result, the sole material should be sturdy enough to withstand long hours of trekking on the specific terrain.
If it's a relatively easier terrain and your carry weight won't be much, you can opt for hunting boots with thinner soles. However, if the terrain is going to be rough and the carry weight on the high end of the scale, you might need to turn towards stiffer and heavier soles.
Water is another aspect to be considered. If the terrain has a lot of water bodies, it is vital that you choose the best waterproof hunting boots.
Similarly, the length of the hard train also matters. If the extreme terrain conditions will be lengthy, you need extra comfort alongside a solid sole.
Usage and Specialty Type
Considering the usage and specialty type is also important since every hunting boot has features that perform well in certain situations.
For example, high boots are best for places where the temperature is on the colder side. On the other hand, if the area is relatively wet, you will need a good pair of waterproof hunting boots.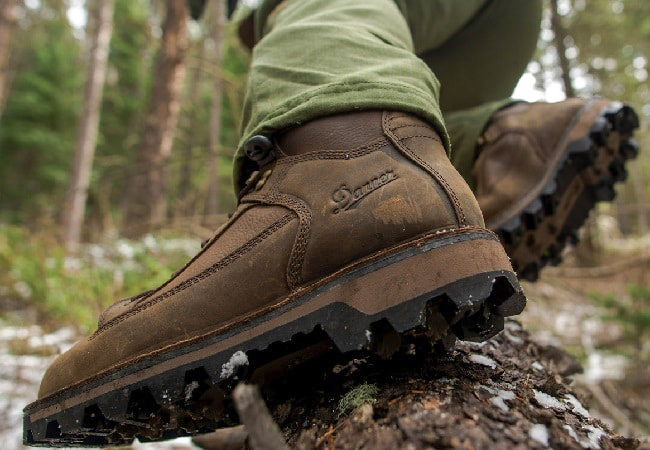 Deer hunters require taller boots, and moose hunters need hip or wading boots. All of this tells us that we should pay attention to the features we need and the ones a boot has to offer.
Getting the top featured model of a hunting boot won't do you much good if your usage requires something else.
The Weather and Season
This is more related to insulation than anything else. First, you need to ensure whether you will be using the hunting boots in cold or hot weather conditions.
Some boots can withstand slight extremes of both. However, if you are sure about the weather conditions in the hunting area, you should always choose boots specifically made for those conditions.
Imagine your feet freezing while you are on a hunt. That is only going to make the process more difficult and daunting. Similarly, warm seasons are going to make you sweat.
The boots you have on in warm conditions must have good air circulation and moisture removal materials to keep them dry.
Moreover, some hunting boots are specifically made to withstand the wear and tear of extremely cold or hot weather conditions.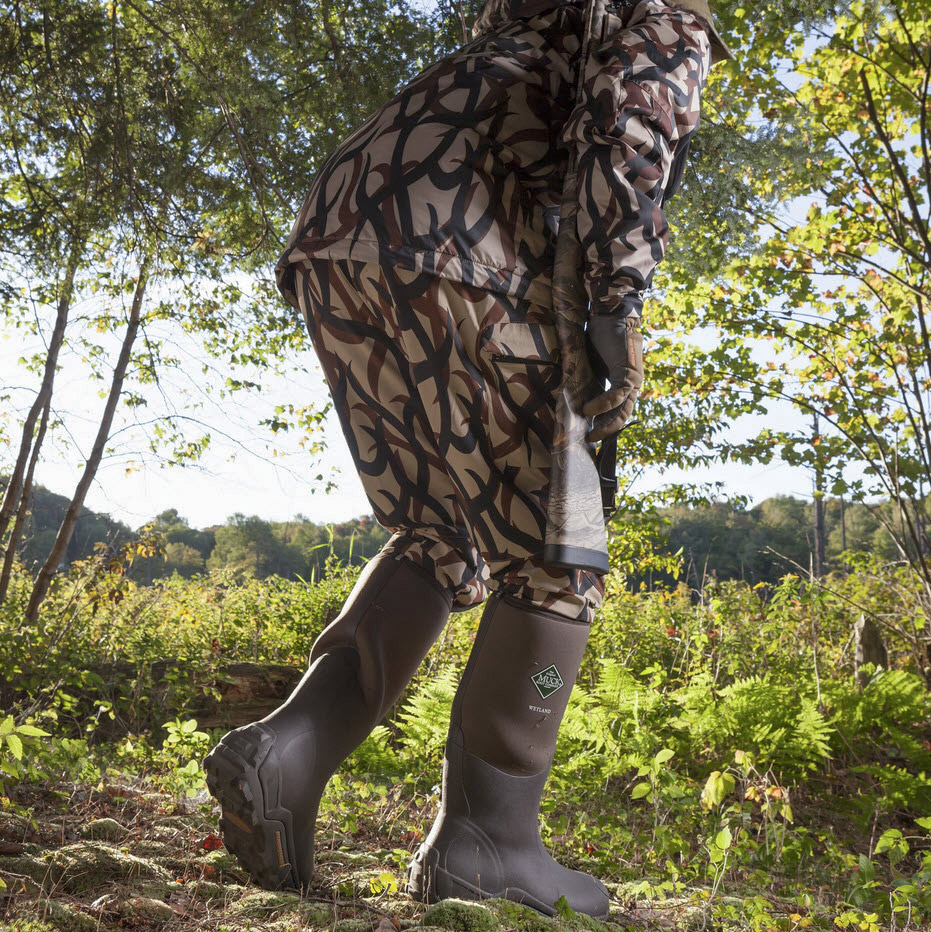 Well, insulated boots for either weather conditions also help them sit perfectly fit on your foot. So choosing the right insulation for the perfect weather conditions is a win-win situation for you.
Water Demands Waterproof Hunting Boots
All experienced hunters can tell you that spending a long amount of time in the open field can become a horrible experience if your hunting boots get even slightly wet.
This is not considering the ordeal one has to face when they get completely soaked in water or any other liquid.
It is also very true that the open field is a challenge and the boots getting wet is just one of the many possibilities that can happen.
As a result, you should definitely focus on the waterproofing rating of the hunting boot you choose.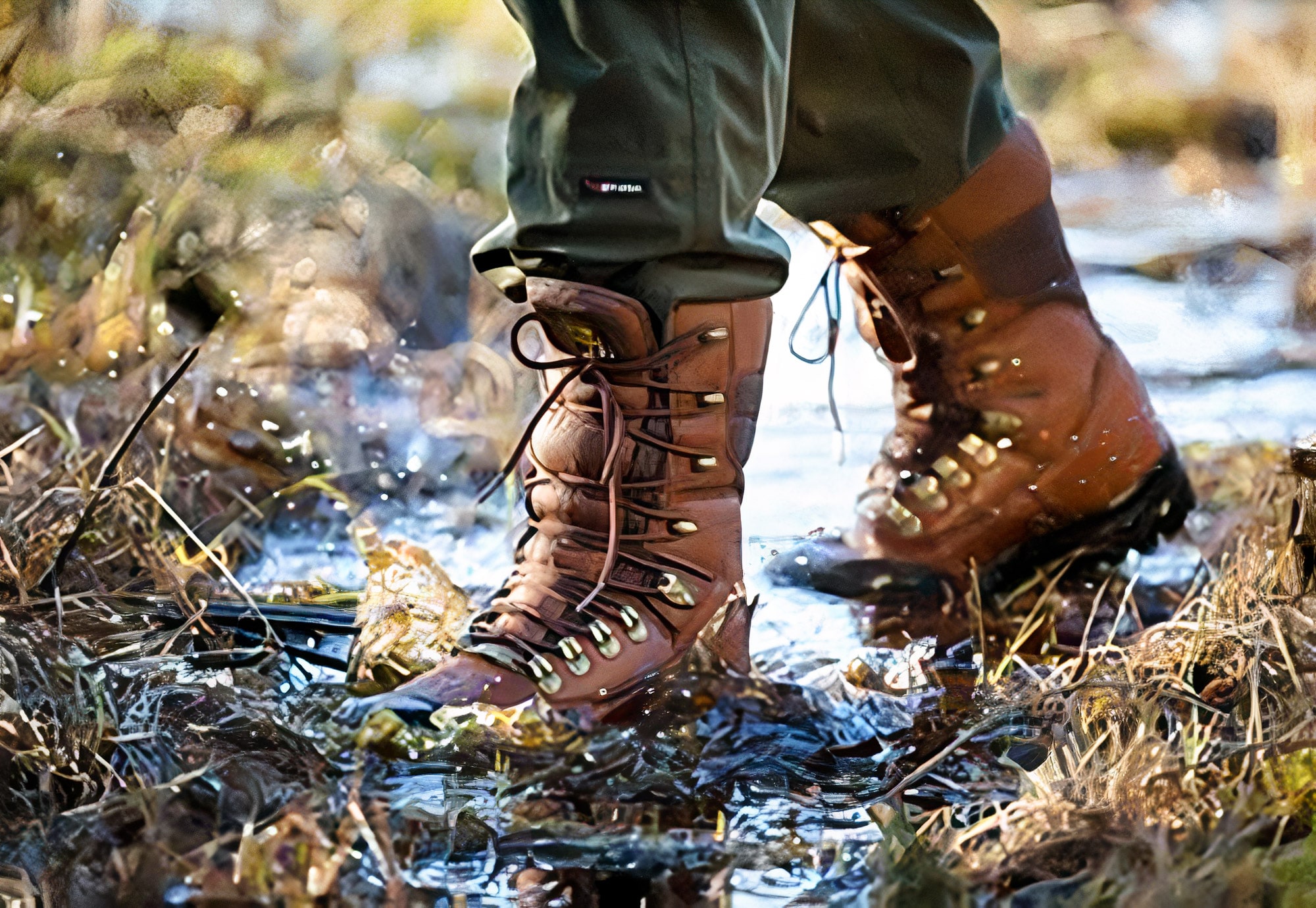 You should always go with the ones that are completely waterproof, even if the terrain does not have many water bodies. You never know what you would have to do in the open field.
A GORE-TEX lining is found in most waterproof boots. However, this often increases the cost of the hunting boots, but the extra money is worth it.
The Weight: Lightweight vs. Heavyweight Boots
This is extremely important for two reasons: if your hunting sessions are long and if you are carrying a lot of weight.
In both scenarios, wearing heavyweight hunting boots can become an added burden. The best way to deal with long hunting sessions is to get lightweight boots.
However, the lesser the weight, the lesser the protection it offers. Even then, there are some exceptional lightweight boots that can provide good protection as well.
Here you need to calculate the opportunity cost sensibly. Maybe try testing your limits and consider the maximum weight you can reduce.
In case the terrain is easy, lightweight boots will do a fine job. On the other hand, if the terrain is difficult, you must find the perfect balance between choosing the weight of the boots and deciding your own limits.
Snakes & Other Risk Factors
Since hunting is done in the open field, most of the time, these have other dangerous animals and species. You need to consider this when choosing the right hunting boot.
If the field you have chosen for hunting has risk factors involved, such as sharp plants that can tear the boots, make sure you get something solid.
Similarly, if the field is full of venomous insects and animals, ensure that the boot can withstand their attack. At the end of the day, your feet must be fully protected since they carry the whole weight and you.
Your Hunting Boots Must Be Well-Fitted
Long hours of hunting wearing boots that do not fit perfectly is nothing less than a horrible dream. You won't be able to do anything in such a situation.
To avoid this, you should always ensure that hunting boot has the technology, features, and material that allow for the perfect fit.
Not all hunting boots can fit everyone perfectly. Furthermore, wearing an unfit boot can lead you to lose focus and concentration during a task that requires utmost attention.
Remember, sometimes you never get a second chance at an incredible shot, and to have it ruined by an unfit boot is a pity.
Frequently Asked Questions
Here are answers to questions that you might be wondering about:
Why are some of the best hunting boots cheap?
The price of a hunting boot depends on the brand, the material used, the lining, insulation, etc. All of these factors determine the quality as well. Moreover, due to increased competition, more companies are trying to offer higher value for less money. As a result, many best hunting boots are sold at low prices.
Which are the best hunting boots for the early season?
Since it is the early season, you need the best hunting boots that are going to keep your feet dry and comfortable. As a result, you must go for boots that are lightweight and has excellent air circulation.
What's the difference between hiking and hunting boots?
Hiking boots are made for flatter and longer terrains to cover more miles. Hunting boots, on the other hand, have heavier construction to counter the off-trail conditions. As a result, they are often referred to as upland boots. However, the material for both is quite similar, even though the design is different.
How to clean my hunting boots?
Use standard cleaners for the materials they are made with. A wet cloth can do the job; however, for a perfect cleaning, you can wash them as well. Also, leather boots demand using a special leather boots oil or conditioner to increase their durability, color, and quality.
Are Gore-Tex lining hunting boots waterproof?
The GORE-TEX lining is a fabric made from polytetrafluoroethylene, which has properties that repel water and moisture. So, yes, any hunting boot that has GORE-TEX lining is waterproof. But, unfortunately, this is also one of the reasons why waterproof boots cost more.
What's the best hunting boots material for cold weather and snow?
Cold weather and snow call for hunting boots that are best against water and have solid insulation. Normally, an 800G insulation is preferred to keep the feet warm. This, combined with a full-grain leather upper and GORE-TEX lining, helps to keep the water out.