If you're headed outdoors for any length of time, it goes without saying that good-quality camping knives are a must-have component for your toolbox. But just what qualifies a knife to become a camping knife?
Despite the overlap in the different outdoor knife categories, the camping knife is generally described as a heavy-duty knife.
Exhibiting a blade under 5 inches in length, typically full tang, it can be used for cutting rope and cord, splitting kindling, whittling tent stakes, assisting with food preparation, clearing brush (in case it is necessary), and chopping firewood.
Just as it was for those intrepid explorers, Clark and Lewis, the quality of your gear remains the greatest definer of your camping experience.
Regardless of whether you choose to camp by the roadside with your tent pitched next to the car or if you're headed several miles into the woods for a lengthy hike.
Top 10 Best Camping Knives
Camping knives are essential hunting gear that is not only needed for food preparation but also carving, rope cutting, and other small tasks.
But since you can be spending long hours on the hunting field, survival knives should be compact and lightweight for easier carrying. But this low weight and convenience should not come at the cost of low durability and performance.
To make choosing the best camping knife easier for you, I have reviewed the ten best survival knives:
Product

Image

Overall Length / Blade Length

Blade Material / Handle Material

Specifications

Buck Knives 104 Compadre

9.5 inches
4.5 inches
Weight: 7 oz


5160 Spring Steel
Micarta handle


Full tang
Drop point
Fixed Blade
Leather sheath
Good price

Ka-Bar Becker BK2 Campanion

10.5 inches
5.5 inches
Weight: 16 oz


1095 cro-van steel
Grivory handle


Full tang
Drop point
Fixed
Glass-filled nylon sheath
Good price


Gerber Strongarm

9.8 inches
4.8 inches
Weight: 7.9 oz

420 High-carbon steel
Rubberized handle + diamond texture


Extended tang
Fixed blade
Striking pommel
Multi-mount sheath
Great price


Spyderco Endura 4


8.8 inches
3.8 inches


VG-10 stainless steel
Fiberglass handle


Folding
Back Lock
Flat saber grind blade
No sheath
Good price


Benchmade Bugout 535


7.46 inches
3.24 inches
Weight: 1.85 oz


CPM-S30V steel
Grivory handle + glass-filled nylon


Folding
Drop point
Axis-lock
No sheath
Expensive


ESEE Knives 4P

9 inches
4.5 inches
Weight: 12 oz


1095 Carbon Steel
Micarta handle


Full-tang
Drop point
Coyote brown sheath
Good price


Morakniv Companion

8.6 inches
4.1 inches
Weight: 5.65 oz


12C27 stainless steel
Rubber handle


Partial tang
Fixed blade
Drop point
Plastic sheath
Excellent price


CRKT Sting

6.85 inches
3.19 inches
Weight: 7.3 oz.

1050 HRC carbon steel
Glass contoured handle


Full tang
Fixed
Spear point
Nylon sheath
Good price


Buck Knives 110

8.6 inches
3.75 inches
Weight: 7.2 oz


420HC steel
Ebony handle


Folding
Clip point
Great price


Schrade SCHF52 Frontier

13 inches
7 inches
Weight: 30 oz


1095 high-carbon steel
Thermoplastic handle


Fixed
Drop point
Full tang
Great price

Let's dig deep into each one of these knives.
Buck Knives 104 Compadre Camping Knife
This camping knife from the industry-leading Buck Knives has everything one needs from survival knives.
It has a Cerate Cobalt-coated blade that makes it look good and helps prevent corrosion and rust. The knife only weighs 7 ounces, making it a highly portable and functional survival knife.
It features a full tang design with a blade length of 4.5 inches and is made from 5160 Spring Steel. The overall length of the fixed blade knife is 9.5 inches.
The long grip is made from natural Micarta that features finger grooves for a comfortable fit. This allows you to have a perfectly secure grip even when the handle is wet.
To top it all, you also get a black leather sheath to keep the knife safely tucked in when not in use.
Ka-Bar Becker BK2 Campanion Camping Knife
The Ka-Bar Becker BK2 Campanion is one of the best survival fixed blade knives out there. It is a perfect survival companion for those who spend time on the field, whether camping or hunting.
It performs well for both chopping onions and skinning games. Weighing a little over 16 ounces, it offers the perfect weight and strength blend to carry out all field tasks with convenience.
It features a full tang design that makes it suitable for all camping errands. The blade length is 5.5 inches, with an overall length of 10.5 inches. The blade is in a drop point shape, and it features a flat grind.
The handle is made from Grivory and provides a strong grip and durability. You can safely store it in the black nylon sheath with a hard shell that comes with it.
Gerber Strongarm Fixed Survival Knife

The Gerber Strongarm camping knife is a great tactical survival knife. It is vital for all and any on filed tasks.
The blade on this one is coated with ceramic for durability and is made from 420HC steel. The overall knife is 9.8 inches long, whereas the blade length measures 4.8 inches.
This is further complemented by a metal handle that makes the whole knife strong and durable.
The handle also has a rubberized grip featuring a diamond texture for enhanced grip. The striking pommel at the end proves to be a useful feature during emergencies.
This fixed blade knife comes with a sheath to store it safely as well as four different mounting pieces. It is also extremely easy to carry, weighing just 7.9 ounces.
Spyderco Endura 4 Pocket Camping Knife
The Japanese knife field gear maker, Spyderco, is one of the top names when it comes to the best survival knives.
The Endura 4 is an excellent survival knife that proves this claim as it features a folding design. The portability is taken to another level with an extremely lightweight of 4.64 ounces.
The blade is made from durable stainless steel with a clip point shape and a flat edge. It measures 3.8 inches and offers the reliability one needs on the field.
The overall length of the knife is 8.8 inches when open and 5 inches when closed.
The fiberglass reinforced nylon grip also helps to reduce the overall weight. However, it still does its job best by providing a secure bi-directional texturing grip.
Benchmade Bugout 535 Folding Survival Knife
This is by far the lightest yet tough camping knife I have reviewed. It weighs only 1.85 ounces, which is extremely impressive given the top-quality performance on the field.
The blade has a drop point shape with a flat edge. It is made from American-grade stainless steel and measures 3.24 inches.
The knife's overall length is 7.46 inches when open and 4.22 inches when the blade is folded.
The handle on this one is made from Grivory and features a textured grip. To enhance its durability, the handle has been molded with glass-filled nylon.
Also, the knife has an axis lock system that allows for smooth and easy opening and closing of the blade.
ESEE Knives 4P Fixed Blade Camping Knife
The next in line is a stellar camping fixed blade knife from ESEE Knives. The 4P fixed blade falls under those survival knives that are light, convenient, and get the job done.
The blade on the 4P is made from Carbon steel, weighing a little below 12 ounces. It has a blade length of 4.50 inches with 4.06 inches cutting flat edge and a drop point shape. The overall length of the knife is 9 inches.
The blade can be safely tucked inside the Coyote brown sheath that comes along the knife. It comes with a Micarta handle (high-grade tough plastic) that withstands wear and tear on the field.
The color combination makes it aesthetically pleasing to look at with a carbon steel blade, grey handle, and a brown sheath.
Morakniv Companion Fixed Blade Camping Knife
The Morakniv Companion is a fixed blade camping knife described as tough based on how it looks and how it performs.
The knife itself has a very bold look if you get it in classic black. However, there are a variety of exciting colors to choose from with a matching sheath.
The blade is 4.1 inches stainless steel, ideal for tinder cutting, food preparations, and carving. The grip allows for stronghold thanks to the pattern that keeps the fingers in place, allowing for greater safety, performance, and control in all conditions.
The knife is 8.6 inches in total length, making it extremely compact and pocket-friendly with the sheath on. It weighs just 5.6 ounces, which is incredibly light for survival knives.
CRKT Sting Fixed Survival Knife
The CRKT Sting is a reliable fixed blade knife due to the corrosion-resistant black coated blade. More importantly, the blade on this one is shaped uniquely with a dual plain edge for greater practicality on the field.
Its weight of 7.3 ounces combined with the spear point blade shape shows that it was made to get the job done. The blade measures 3.19 inches with an overall length of 6.85 inches.
The material used for the blade is carbon steel which is slightly less reliable than stainless steel. However, the corrosion-resistant coating makes up for it.
It comes with a lifetime warranty and a glass-reinforced nylon sheath.
Buck Knives 110 Folding Pocket Camping Knife
This Buck Knives blade is a folding pocket knife that is compact, durable, and practical. The knife features a clip point blade with a controllable, razor-sharp point that makes doing precision tasks a pleasure.
The size of the blade is 3.75 inches, made from high-grade stainless steel. The knife measures 4.875 inches when closed and weighs 7.2 ounces, making it a treat to carry in your pocket.
To add to the look of a solid camping knife, Buck Knives has partnered with Taylor Guitars to use brass bolsters and ebony handle inlays.
It also comes with a snap fastener attached to the black leather sheath. The nail notch on the blade allows for easy opening and closing.
Schrade SCHF52 Frontier Survival Camping Knife
Featuring a high carbon steel blade, the Schrade Frontier proves to be a solid fixed blade knife. Measuring 13 inches in overall length and a long 7 inches blade, it's perfect for heavy-duty survival tasks.
The long blade, however, comes at the cost of a heavyweight of 30 ounces. The weight is not a drawback, though, as it is evenly distributed and does not feel much.
To keep the blade from slipping, it comes with a jimping and a finger guard. For an enhanced grip, it features a thermoplastic elastomer grip that is textured.
It is based on a full tang design and has a lanyard hole. The sheath that comes along is perfect for seamless ass.
How to Choose the Best Camping Knife?
When deciding on the best camping knives and tools, you are the only person who has any idea of what you really want and need.
Different people aspire to different things in their knives, leading to a discussion that often threatens to be a never-ending one.
One of the best ways of deciding what is essential for camping and survival knives is to imagine that it's the only tool you can have in your toolbox.
This means it should be a tool that can do everything you need to be done when you're camping. So, in a nutshell, you need a multipurpose blade to help you survive in the great outdoors.
Functions of a Camping Knife
By definition, camping involves a lot of activities in the great outdoors, including fishing, hunting, and basic survival.
Other tasks like food preparation, cutting the cord, chopping firewood, and sometimes even self-defense mean that a single knife cannot complete every task. However, it can be a big help in accomplishing most of them.
Best Camping Knives Blade Length
As we imagined earlier, you only have one knife in your toolbox. It needs to be long enough to complete various tasks around the campfire. However, it also has to be easy to handle for more delicate activities such as carving wood or skinning game.
While pocket knives are comfortable to carry around and are capable of small jobs, they can sometimes feel too short to enable you to do much.
Huge, Rambo-style knives are off my list as they are far too large and bulky to handle with ease, which is an important aspect when looking for that perfect knife.
They are also heavy to carry around and can slow you down when you're backpacking. Plus, they are not easy to conceal. Believe me; you do not want to be the weird guy carrying around that massive knife in a public camping site.
In summary, the knife you need in your camping toolbox should be no more than six inches but no less than four inches long. Think of a knife like the Buck Vanguard, for example.
It's darn near perfect for meeting most requirements, and because it's from Buck, it has a lifetime warranty, which is an important factor when you consider that any outdoor blade will be prone to wearing out over time.
Strength vs. Flexibility
An excellent camping knife needs to be strong. Imagine cutting a thick rope or defending yourself against some wild animal; a penknife just isn't going to be up to the challenge.
But it should also be flexible enough that it can handle dressing tasks such as deboning and filleting.
Not all camping tasks are standard for all campers. Not everyone will be hunting. You need to think about which activities you expect to carry out frequently when in the outdoors.
Do you like to do a lot of fishing? Then you need a blade that is good for cleaning fish and maybe filleting.
If you are into hunting small animals, then a knife that can stab would be ideal. Just remember, it should still be able to handle a whole host of other tasks too.
Fixed vs. Folding Blade Camping Knives
A lot of people argue about the fixed or folding aspect of a knife. In reality, it's not all that important when compared to the other characteristics we've discussed above.
It's these traits that warrant your attention if you are really looking for a quality, multipurpose blade.
However, if you're someone who lies awake at night pondering the pros and cons of fixed and folding, here's the main difference between the two:
A fixed blade knife is better for more robust tasks, but it will need to be kept in a sheath and on your belt to save you from accidental damage. But, if you're looking for a practical option that you carry everywhere and use often, a folding blade is probably best for you.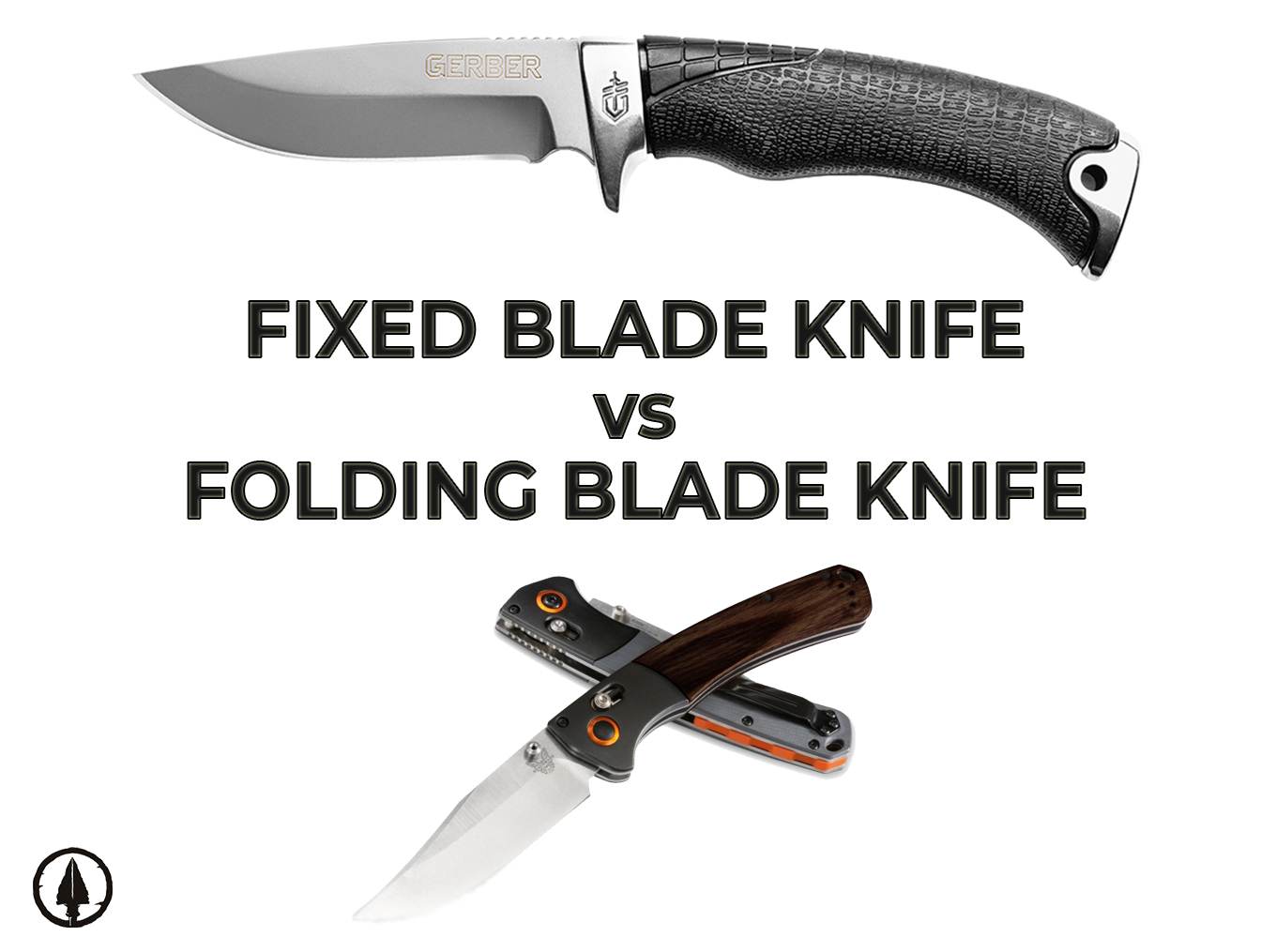 For hanging at the campsite or just walking on the trail, a good folding blade will be adequate for the satisfactory execution of most little jobs.
A fixed blade knife, however, displays superior qualities of strength, cleanliness, and safety. Fixed blades won't close on your fingers. Even folding knives with locking mechanisms have been known to fail and cause serious injury.
Fixed blade knives exhibit no moving parts, which makes them a lot easier to keep clean.
And with full tang models fashioned from a single piece of steel, fixed blade camping knives are stronger than the best folding camping knives. Therefore, they're better suited to the more demanding tasks around the campfire.
Best Edge for a Camping Knife
The only type of knife that you should have in your toolbox is a sharp one. A blunt knife is not only useless, but it is also dangerous. Always keep your blades sharp, whether you are using them daily or not.
Another highly debatable factor is the hardness of the blade. You have two options:
A soft, easy-to-sharpen knife that takes an edge fast but doesn't hold it for long, or
Blade of harder material that is quite difficult to sharpen but retains the edge for much longer.
Camping Knives Blade Angle
The angle of the blade is also critical. A good camping knife is created in such a way that each side of the edge is beveled.
This means that the best angle is quoted as half of the complete angle, so you know how to hold to get the best results when sharpening.
At an angle of more than ten degrees but less than 17, you get an edge suited to soft tasks such as filleting a fish or cutting flesh. However, the angle should be suitable for cutting through hard materials, and the blade would need repeated honing.
An edge of between 18 degrees and 25 is the most common for knives used in a domestic kitchen.
A 20-degree angle will produce a moderately sharp knife that will cut through various everyday materials well while still holding the edge for quite a while. However, care should be taken to ensure that the edge is evenly sharp along the entire blade.
In my opinion, the best outdoor knife should have an edge of between 25 and 30 degrees.
It's not too sharp, but the tasks you will usually handle around a campsite won't require an extremely keen blade, anyway. Plus, the edge will keep for much longer, even when conditions are less than ideal.
An angle of more than 30 degrees is best for axes, machetes, and hatchets. Using such tools requires some degree of force, which is not the same as how you use your camping knife.
Once again, it all depends on the kind of tasks you intend to use the tool or knife for and the frequency of those tasks.
Knife Blade Shape
Camping knives come in different shapes for different reasons. For example, edges meant for cutting, piercing, and skinning will all have specific shapes designed purely to make your work easier. Here are some common shapes for your camping knife:
The Drop Point

The drop point is probably the most popular option for survival knives and multipurpose use. In fact, most camping knives come as drop point fixed blade knives.
The Clip Point
This is one of the most used blades as it is multipurpose and is suitable for a wide variety of different tasks. The clip point is a favorite in both fixed blade variants and folding knives, as they are ideal for many piercing tasks.
The Needle Point
This type tip can be either double or single-edged. The needle point is often used as a throwing knife and can be used to hunt small animals if you have the skill for that kind of thing.
The Tanto Point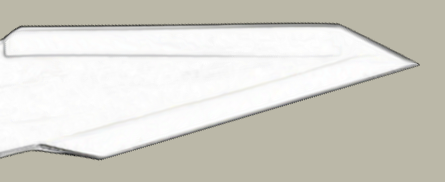 This kind of knife usually comes with a firm tip for tackling more difficult tasks. This means it can be quite a challenge to sharpen correctly. The tanto is commonly found on folding and fixed tactical knives.
The Trailing Point
Used a lot for skinning knives, the trailing point comes with a large, rounded belly. It's also great for filleting tasks.
The Sheepfoot Blade
With no tip at all, the sheep foot is used for trimming hooves, carving wood, and other similar tasks.
The Gut Hook
It is commonly used for gutting an animal since it is easy to control. When used correctly, it doesn't damage the inner organs. The gut hook is a favorite tool of many serious hunters but is notoriously difficult to sharpen properly.
To learn more about blade shapes and hunting knife designs, read my full guide here.
Blade Grind Type
The blade grind refers to its cross-sectional shape normal to the edge (to those unfamiliar with the term). It plays a crucial role in the knife's dynamic since some blade grinds are easier to maintain than others.
There are several blade grind types, but here we will look only at the ones that appear the most in hunting knives:
Hollow Grind

The hollow grind knife blade creates a concave or beveled cutting edge. This type of grind is usually very sharp but weak.
Flat Grind
The blade reduces in thickness from the spine to the edge from both sides. As a result, a lot of material is removed from the blade, making it sharper in favor of durability.
Sabre Grind
Like the flat grind, except that the bevel starts somewhere from the middle of the blade or closer to the edge. One of the most common option in hunting knives, behind the chisel grind.
Chisel Grind
Only one side of the blade is beveled, which reduces its thickness in a straight line towards the end. It means that the chisel grind has only one edged side, which makes it the most used grind for hunting knives.
Double Bevel
Adds a secondary bevel to the existing grind. This means a back bevel is put on the blade behind the edge bevel.
Convex Grind
Features a rounded curve, instead of a straight line, that creates a point at the end. The tapper is curved as opposite of the hollow grind. Less sharp, but way more durable.
Should You Carry Multiple Camping Knives?
For outdoor excursions focused on roadside campgrounds, state parks, or camping at the beach during the summer weeks, a standard camping knife will usually be sufficient.
However, if you're a dedicated fan of the extreme outdoors, regularly finding yourself in remote places known only to the antelope and the deer, you'll already know that the weather can turn bad at the drop of a hat.
It's not uncommon for a pleasant day in the woods to develop into a survival situation in under an hour.
The informed outdoor enthusiast will carry more than one type of knife on their excursions. This ensures they are well equipped to tackle situations where a standard camping knife may be deemed insufficient, but a full-blown survival knife could be seen as inappropriate.
The Bottom Line
Camping knives are crucial for open terrain and woodland gear. They are just as important as the rainfly, stove, and hiking boots.
Before setting out on the next outdoor adventure, make sure you take at least one high-quality camping knife along with you.
Your choice of camping or survival knife will depend largely on what your gut tells you about which knife is best for you. Once you've figured out what you will use the knife for, the decision will come along easily.
Remember, there is no magic knife that will accomplish every single task. You will need different blades for different jobs. Think pocket knives, machetes, and an ax for chopping wood.
These are valuable tools, and they play an important part in ensuring that you are well prepared for your next camping adventure.