No matter what hunting game you are seeking, you want to be sure that you have the best leather hunting boots. They keep your feet warm and protected as you are out in the elements.
If you plan on spending a lot of time wearing your boots, it would be a good idea to invest in a high-quality pair.
However, everyone has different shapes of feet – our arches, heels, toes, length, and width all vary. What is the best leather boot for someone else might not be the best fit for you.
There are so many different styles and brands out there, so it can be hard to find what you need.
I gathered all of the best options here for you. That way, you can stop worrying about getting cold feet and get back to hunting. There are a lot of different factors to consider, so let's get started.
Top 7 Best Leather Hunting Boots
If you search for the best leather hunting boots online, you would probably be overwhelmed with the results. There are so many different options available.
I researched and picked the top 7 options so that you have a lot less information to consider – which leads to many choosing a random boot that they may not like.
Danner Powderhorn Insulated 1000g Leather Hunting Boots
These quality boots come in brown, full-grain leather. They are 100% leather and include a waterproof lining and rubber sole, which keep your feet very dry. The footwear even comes with 1000g Thinsulate insulation and foam cushioning.
If you want to support, the boot can assist with pinch points, according to the brand. They are a bit pricey, but you would be getting the best leather hunting boot for men that is currently available.
The cost may also come from the fact that the boots are handcrafted. They are stitched down for added support as well.
I also appreciated the outsole since it provides a great amount of traction. This feature is extremely beneficial if you are going to be hunting during intense weather. The traction helps with ice and snow.
Users felt that the gear was incredibly warm and built to last. They also mentioned that they were very heavy, although that is likely due to their thick insulation. Users mentioned that the boots required no breaking in and that they were comfortable.
If you plan on being out in freezing weather this season, the 1000g Thinsulate will keep your feet very warm without any hassle.
This insulation level may be too warm for certain hunting conditions, but I would recommend it for the colder months. The added waterproofing also helps.
Irish Setter 8o8 Wingshooter Waterproof Leather Hunting Boot
These boots from Irish Setter are a great alternative to our top pick.
They are also 100% imported leather, have a rubber sole, and great waterproofing in place. They come in a light brown or dark brown and have a shaft that is about 8.5 inches from the arch.
The boot's opening is about 13 inches around, making it easier to get your foot inside and tighten it to where you need it to be. Wingshooter's footwear is lace-up, meaning it is possible to make it very snug or leave it a bit loose.
The footbed is made from polyurethane and is removable, which will allow you to clean it much easier.
Users also appreciated how durable the boot was. That way, they could use it for various types of hunting and outdoor activities.
Users also felt that they were not too bulky or heavy and offered them the support they needed. The only part that they ever had to replace was the strings since they had dried out. The sole was never a problem, even though it is one of the first parts to have issues in a boot.
These Irish setter hunting boots are decently priced, too, especially for the high-quality material you get with your order.
Rocky Ranger Insulated 800g Leather Boot
These brown leather hunting boots contain a mix of synthetic materials on top of the natural ones.
The brand says that they are waterproof and made from a breathable Gore-Tex fabric. The outsole is even resistant to oil since it is rubber.
The hardware components are antiqued brass, and it comes with a fiberglass shank. Users said that the leather was already oiled, so you could wear it right out of the box if you wanted to.
Although, I recommend that you add at least one layer of mink oil for added protection.
The boots' size on the website is a little large, so you may want to choose half of the size lower than normal. You should still have enough room to fit comfortable socks inside.
The insoles are cushioned and sewn into the upper part, not glued like most modern footwear. This small detail will make them last much longer for you since the soles will not lose the glue over time and come off.
Users mentioned that this hunting boot kept their feet very warm and dry, plus it had great traction. If you plan on going hunting during the cold months, this would be a great option because of all of those features.
Kamik Men's Nationplus Cold Weather Leather Boot
This is a fairly priced snow boot that comes in nine different colors. You have plenty of choices- dark brown, tan, navy, camo, and more. They are made from 100% leather and are rated for -40 degrees F.
They include a quality, durable rubber sole, and the shaft is tall enough for deep snow, at 10 inches from the arch. I appreciated that the hunting boot was waterproof and completely sealed.
A majority of users rated this product very highly online. They felt that they were not too hard to put on, and they fit well. You can expect the footwear to be true to size, so you will not have to worry about sizing up or down.
Users also said that you do not need to worry about fitting socks inside since they are incredibly warm.
The most significant issue that users had was with the rubber. It would tend to crack after heavy use. They also felt that the sole was not flexible enough and did little to offer any support.
Overall, most users loved these Kamik men's boots. They felt that they were warm and did everything that they needed to.
Kenetrek Mountain Guide Insulated 400g Leather Hunting Boot
These boots are a bit expensive, but you are getting premium full-grain leather, with added waterproofing systems.
The brand reinforces them with triple stitching and hardware that resists corrosion. That way, you can feel confident that your purchase will last you a very long time.
The brand stated that they added more stitching in areas that tend to wear out faster. They come with Windex membranes for providing a breathable waterproof and 400g Thinsulate for added warmth.
The rubber sole includes additional support and traction so that you can wear them in any tough condition. They are stiff enough to help you avoid foot fatigue and still light enough to be worn for long periods.
The biggest downside to them is the price. While you are getting a high-quality boot, they do seem to be a little bit too pricey.
Rocky Sport Utility Leather Boots
These 100% full-grain leather hunting boots have a rubber sole and are waterproof. They also come with 600g of Thinsulate and a sport traction outsole.
Users bought them for hunting trips, but also hiking and camping. They stood up well with heavy use on challenging terrain.
Their construction is high-quality, and the boots feel very durable. They are insulated, so you will only need to wear thick socks during the fall and winter since they may be too hot. Users also felt that they offered plenty of support in the ankle.
However, they are bulky and on the heavier side. You will also want to keep in mind that the boots run a bit large.
If you do not plan on wearing thick socks, you may want to size down about half a shoe size. That way, they will fit you much better.
Some customers did have trouble with the customer service of this brand. There were issues with getting refunds, even though the warranty should still have been in effect.
Still, the boots are comfortable and heavy, but you will want to be certain that you want to buy them.
Danner Element Insulated 400g Waterproof Leather Boots
These hunting boots feature full-grain leather, waterproofing, and a Realtree edge design.
They come with Thinsulate ultra insulate and a cushioned footbed. They feel light when you wear them, and users said they were comfortable.
Danner also brought up that there was no need to break in the boots; they were perfect for taking out hunting right away. The midsole is made from rubber EVA, which is quite comfortable.
Users did not have anything negative to say about this option. Overall, it is decent quality, and you can get a pair at a good price.
What to Look For in Leather Hunting Boots: The Basics
There are a lot of features that you will want to find in a quality pair of hunting boots. You want them to be lightweight, durable, and waterproof.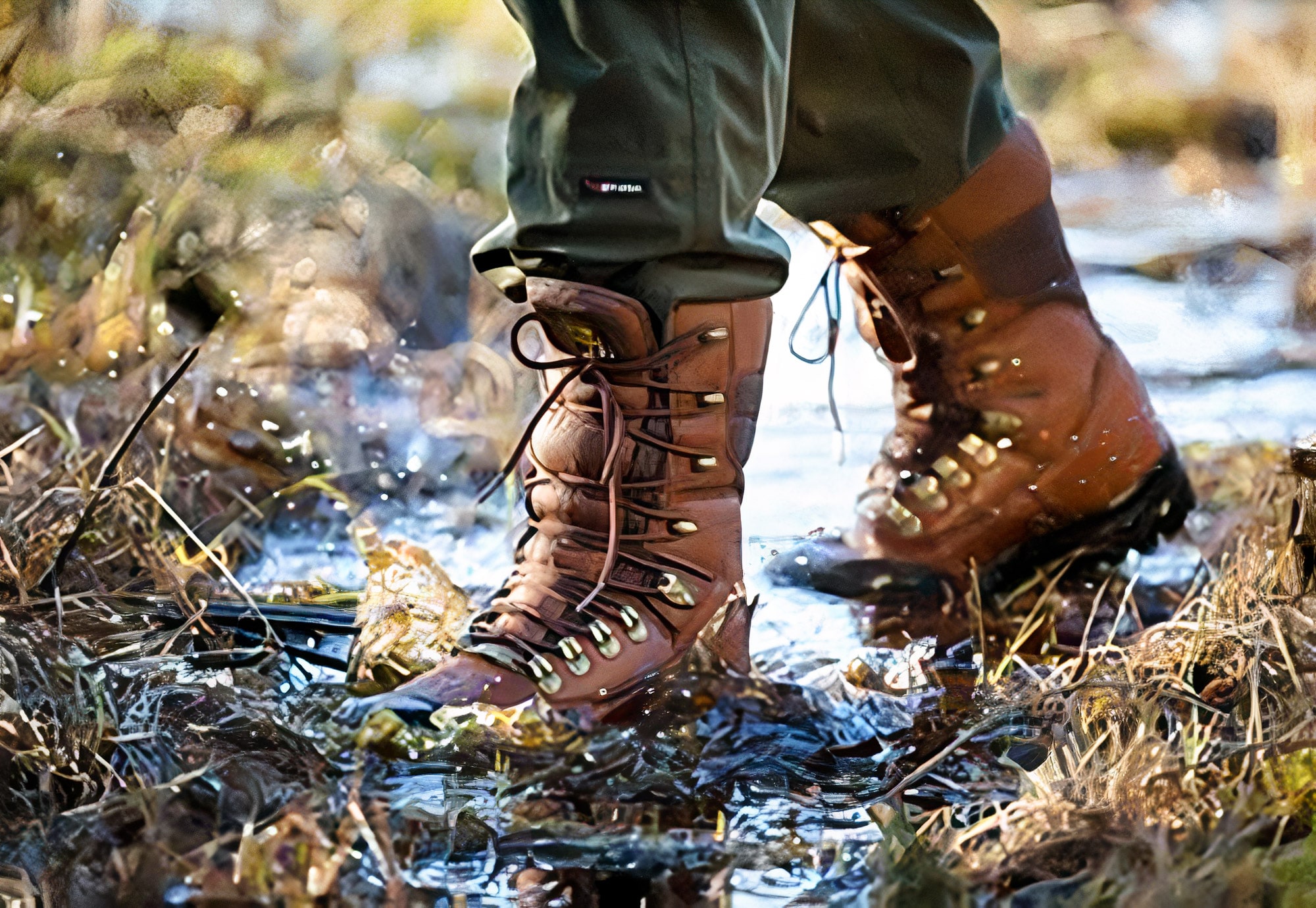 Plus, you will need to ensure that they are comfortable and designed for cold weather. The following is what you want to look for in leather hunting boots.
Look for Full-Grain Leather Boots
Full-grain is the strongest part of an animal's hide. It is just below their fur and is not sanded or corrected in other ways. It means that it will better resemble natural leather. Full-grain leather is also very tight, making it the best option for resisting water.
Full-grain is much smoother than the other types, making it the most popular type. The fibers in the material are more durable since they are not buffed by companies, allowing them to give your boots more strength.
Since full-grain leather is so tough, it is great for boots that see a lot of rough use. If you know you will be using them often for hunting, it would be worth your while to invest in boots that have full-grain.
Top grain is a good alternative. It is a bit less durable and breathable, but it still works well for hunting gear.
Top grain leather comes from the outermost portion of animal hide. It is usually sanded or buffed to remove blemishes, which does take away some of the support.
Overall, full-grain is going to be your best option. It is a high-quality and durable material that will help your hunting gear last for years.
Make Sure They are Comfortable
Next, you will want to ensure that your footwear is comfortable. You will likely be spending a lot of time moving in them, so you need to know that they are flexible and do not give you blisters or foot fatigue.
However, most boots need to be broken in, which is normal. You will want to spend some time wearing them before you take them out on a long trip. It may also be worth adding cushion inserts, as they can add more support.
It is worth reading reviews of the boot you plan to buy a pair online. Users will often mention how well the boot fits them, so you can determine if the size runs big or small.
Lightweight Leather Boots are Better
It is also better to purchase lightweight boots over bulky, heavy ones. They allow you to stay focused on your hunt and do not hurt your mobility too much.
Heavier boots may be loud and make you feel a little bit clumsier than normal.
Lightweight options will keep you moving, making them best for hunting. However, if you plan on staying in one spot for long periods, you may not be too bothered by a heavier leather hunting boot. Overall, I recommend that you use a light one when you can.
Lightweight boots also tend to cost a little bit less since they have less material packed onto them. They may also be easier to break-in.
You could wear them around your house before taking them out for the first time, helping you stay more comfortable and focused.
Buy Insulated Leather Boots for Cold Weather
Insulated boots will often have materials that can hold in your body's heat. This material is usually sheepskin or a synthetic known as Thinsulate. The layer may be thick, thin, or even removable.
You will need to have insulated leather boots for hunting in cold weather. They hold your heat in, keeping your feet warm. If you will be outside for a long time, it is a feature well worth getting. Otherwise, you could have to end your trip early, due to the freezing weather.
Insulation will protect you from frostbite, which is crucial when you are out for a long time in the cold.
If you plan on investing in a quality pair of boots for the upcoming season, make sure that you include insulation as one of your features. I know you would regret not having it when you are outside in freezing temperatures.
The Advantage of the Removable Liners
There are many benefits to using removable liners in your footwear. They provide you with additional insulation, which keeps your feet warm in the cold. However, they can do more than just that.
Removable liners are easy to replace. You can carry many with you while on a hunting expedition. If your liners were to become wet, you could easily replace them with another set. They take up little space, so they are not hard to carry around.
You could bring multiple sets of liners with you, so you do not have to go back to change them out either.
Finally, removable liners are easier to clean. You simply take them out and follow their cleaning instructions, which are not hard. That way, you know that your boots will stay smelling nice and fresh, even if you wear them often. Removable liners are a great feature to have, so you may want to make sure your boots come with them.
Go For Rubber Outsole Leather Boots
Rubber is safer since it is more durable. If you were to step on something sharp, it would not be likely to harm you. Plus, the rubber is very waterproof. You can expect to stay drier since water would not be able to seep into the bottom of your boots.
Even when the rubber is thick, the material is still flexible. That way, you can still move easily without feeling too heavy. Rubber will also absorb some of the shocks if you are moving quickly across the ground.
They also provide you with more reliable traction. This feature allows you to trek through wet, muddy, slippery terrain with ease. You will need to have a reliable traction source if you plan on hunting during the winter, as other materials may cause you to fall on ice and snow.
Rubber treads can usually help you avoid falling and provide you with an additional sense of stability.
Choose Gore-Tex Lining
Gore-tex is a material that helps your footwear deal with sweat while also keeping you scent-free. That way, your game will be less likely to detect you. Gore-Tex can also repel water, is lightweight, and designed by the brand for use in all weather.
The unique design allows water vapor to pass through the material. That way, sweat does not build up inside of your footwear. Aside from not being detected by animals, you also will get the benefit of being more comfortable.
Gore-Tex can offer you superior breathability, although it does tend to make your boots cost a lot more. It is worth buying if you know you will need the additional benefits Gore-Tex offers while you are on the hunt.
In short, Gore-Tex is one of the most popular forms of waterproofing today. You can find it in the form of membranes and fabrics.
Leather Types to Consider for Hunting Boots
There are many different types of leather. However, certain ones are best suited for hunting footwear. These are the options you will want to consider for your leather hunting boots:
Cowhide Leather
Cowhide is the most popular material used to make footwear. The leather consists of tight grain, giving you the waterproofing that you need while outdoors. The material is often thick and includes natural fibers that make it more durable and sturdy.
These features make cowhide one of the best choices for hunting boots, but there are other hides that also work nicely.
Buffalo Leather
This type of leather is also quite strong and grainy. It is durable as well, making it a great choice for boots. People love this leather for how it feels since it is very soft and comfortable.
It usually contains many natural imperfections and is much stronger than calf leather.
Kangaroo Leather
Kangaroo leather is durable yet soft. It does not take very long to break it in either, making it another great option. The material is very light and full of fibers, which makes it strong.
It is a bit easy to scratch but still an excellent material for hunting boots.
Nubuck Leather
Nubuck also comes from cows, but it is the grain portion of the hide. It is sanded some to make it soft, but since the grain side is out, it is much more waterproof than all of the other options we listed so far.
Suede Leather
Suede is a bit fragile since it is sanded down a lot. It can come from a variety of animals, although it does tend to absorb water.
Pull-up Leather
This type of leather is oiled and waxed heavily. It is very waterproof and requires some maintenance. It is usually better for casual boots, instead of hunting ones.
Where to Wear Leather Hunting Boots
Leather hunting boots are excellent for any cold weather. Some of them can even protect you in the most frigid weather. Many are insulated and waterproof, meaning they are perfect if you need to walk around in the snow.
They can also be worn in wet terrain, as long as they are thoroughly waterproofed. They would be perfect for trekking in muddy, rainy weather since your feet would be kept dry.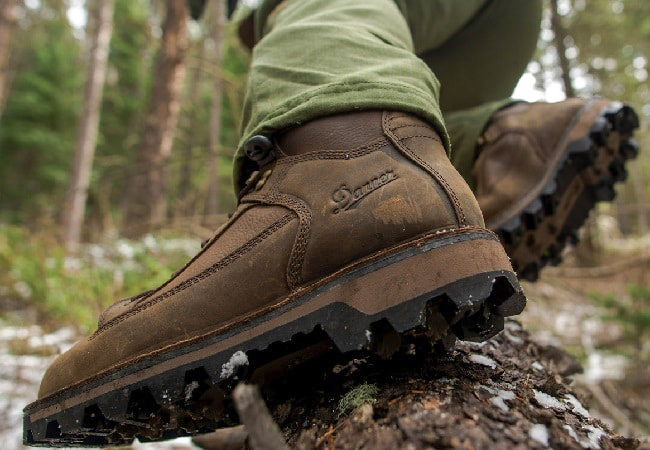 If they are tight at the ankles, that makes them even better for mud since your boot will not get pulled off.
Of course, you can take them hunting in just about any type of weather. You would only not want to wear them if it was warm outside since you would likely sweat a lot.
You may also want to take them mountain hiking. They should be durable enough to withstand the toughest trails. That way, you can have more uses for them when hunting is not in season.
Many users also say that they wear them to labor-intensive jobs, especially if they have to be outside a lot during the winter. The hunting footwear is great at protecting your feet; plus, they keep out moisture and usually have breathability if you sweat.
Overall, there are many places that you would be able to wear your new purchase. When trying to break them in, it may be a good idea to wear them whenever you go. That way, they break in and form to your feet much faster.
Frequently Asked Questions
How to best take care of my leather boots?
You will want to clean them and oil them often. They do not require a lot of maintenance to keep nice, but you will want to take the extra steps to ensure they last you many years. We covered this topic thoroughly in oil for leather boots.
Our full-grain leather boots better than top grain leather?
Yes, they are. Full-grain is more waterproof and durable, as it contains more of the natural fibers present in the animal's hide. If you want the best leather, you will want to search for full-grain. Top grain is also good, but not nearly as strong.
Should I choose leather boots for snow?
Usually not. The snow may damage the material. However, if a majority of the boot is made from other waterproof materials, it may be fine.
Are the best leather boots for hunting insulated?
Of course. Our top pick for leather boots is insulated since you want the best possible protection from the cold. They will use your natural body heat to keep you warm without being too heavy.
Are leather boots a good scent-free option?
Usually, they are. It will depend on the type of oil and conditioners that you are using. Some can control your smell more than others can.