Insulated hunting boots make a huge difference when you are outside in cold weather.
You want equipment that keeps your feet dry, meaning you will want to invest in the best footwear you can find. Plus, you can find options for waterproofing as well.
Depending on the weather or environment you plan on hunting in, they may be a requirement for you.
Otherwise, your hunting excursions might be cut short when your socks get soggy. Luckily, I have all of the best waterproof options in this guide for you.
Be sure to keep reading if you want to learn more about the boots I recommend!
What are Insulated Hunting Boots?
They are boots explicitly designed for hunting and outdoor use. The additional insulation and waterproofing on them allow you to stay comfortable and dry, even when you are in the muck and rain for many hours.
Suppose you have had your footwear let cold water in before. In that case, you will understand the importance of having quality waterproof gear. It is essential if you do not want frostbite.
In short, insulated hunting boots keep your feet warm and dry. That way, you can focus on the game without worry about being outside for too long.
You can hunt without them, but you might not have the best experience. When your feet get cold and wet, you will wish that you had a pair.
You can stick to a budget that suits your needs. In fact, you will not have to empty your bank account for a quality pair of insulated footwear. I have many different prices on this list.
Top 12 Best Insulated Hunting Boots
The best insulated hunting boots protect your feet are snug, so they do not slide off and comfortable to wear.
The additional insulation should help keep your feet dry. So, no matter the weather, you will be able to stay outside for long periods.
Below I have the best options, so you will want to check them out if you are in the market for quality hunting boots. Let's get started!
LaCrosse Alphaburly Pro 18″ 1600G Hunting Boot
These insulated hunting boots have a quality rubber sole that protects the bottom of your feet. The opening at the top measures about 17.5 inches, according to the brand.
That sounds large, but it ensures that you can easily get your feet inside.
The boot's shaft is 18 inches, which is excellent for keeping your legs and feet out of water. The brand also says that they use a premium rubber material layered over a 3.5mm neoprene core.
This design creates a very waterproof pair of boots. The core is flexible and does not have a scent.
The company also added a liner that increases air circulation. It helps to dry up any moisture or sweat that happens to get inside.
Once you have it on, you will be able to tell that they are durable on top of that. Users say that their pairs have lasted between 4 and 5 years, even with heavy use.
Users also say that they feel a bit heavy, but you will get used to them. The material, thick rubber soles, and added insulation lead to them being very warm.
You can select these as your reliable winter hunting footwear or even take them ice fishing. There are no real downsides to this piece of equipment.
Irish Setter Rutmaster #4884 1200G Insulated Hunting Boots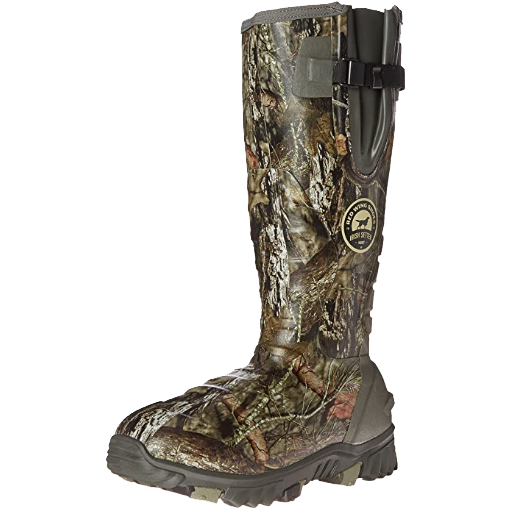 The brand makes this product from 100% vulcanized rubber and 3.5mm neoprene, materials that make for excellent waterproofing. The sole is rubber, along with a 17-inch height, which work together to give you the support you need while on the move.
The brand uses its "UltraDry" waterproofing technology to keep your feet reliably dry. Plus, they also use something they call "ScentBan," which helps fight off odor-causing bacteria.
They do fit snug, but this can be beneficial. For instance, if you step in thick mud, it will not pull off your footwear.
Because they are a bit tight at the ankle, you will probably want to buy them around half a size bigger than you think you need. That way, you can fit socks inside of them. Many users have trouble putting them on and taking them off, so you will want to keep that in mind when deciding what size to get.
Once you get them on, there is a tab on the side to lock them into place. This provides you some extra insulation and helps keep out water.
Guide Gear 2400G Insulated Rubber Boots
You can get these boots in two different styles.
The first is the Realtree Edge design, which depicts a natural tree pattern to assist with camouflage. The second is Mossy Oak, which is a little darker than the first pattern.
The rubber sole is thick and flexible, so your feet are protected without hindering your movement. However, the ankles are very tight. You will need to make sure you get a slightly bigger size, especially if you want to wear warm socks with them.
Since they use 2400G insulation, you do not want to wear these if you plan on hunting in weather over 25 or 30 degrees- your legs and feet will get way too warm, and you will sweat.
However, these are perfect for being outdoors when it is cold. You can be sure you will be kept comfortable.
Users mentioned that the camo layer does tend to wear off quicker than it would on other brands, so you will want to keep that in mind while ordering.
Although, this mainly affects the appearance of the footwear and not how well that it functions.
TideWe Insulated 800G Rubber Hunting Boots
The brand says that their cold-resistant insulation traps your body heat inside of the boots, leading to you staying warm and comfortable. They also stated that these boots are comfortable for hunting between -50 degrees F to 40 degrees F (-45 degrees C to 4 degrees C).
This hunting gear is extremely waterproof. The premium rubber and neoprene layers provide additional waterproofing and durability, which you will be happy to have in the cold. The sole is made from thick rubber that is designed to help prevent slipping.
The sole even includes features for cushioning and absorbing shock. The pattern on the footwear comes in Realtree or Mossy Oak.
Users say that this pair will fit you true to size, so you should not worry about going up a size. They also brought up how they were flexible and easy to maneuver while wearing. Overall, these are good quality hunting boots.
The only downside seems to be that the top is not as durable as the brand states. It may tear easier than you think when in heavy use.
Rocky RKYS053 1000G Insulated Hunting Boots
There are two different patterns to choose from with this option. You have the choice between Apx and Realtree Xtra. The boot's top should almost reach your knee, which makes this an excellent product if you expect you to trek through thick mud or a swamp.
The material is also scent proof, which prevents your sweat from leaving a smell behind. The 1000G Thinsulate material is excellent at keeping you warm and dry as well. Users mention that the neoprene is very thin, so it might not be as durable as you need them to be.
There were some issues with the boots leaking after normal wear and tear, as they tend to crack at the front of the boot. Overall, most users seem to agree that these boots do not last very long.
That can be an issue if you are looking to invest in your hunting equipment so that they have a long lifespan. However, the price is great if you are looking for a deal.
ArcticShield Waterproof Insulated Neoprene Rubber Boots
This product comes with pull tabs, making it a bit easier to put them on and take them off. The order also comes with removable insoles designed by the brand to help cushion your feet and absorb shock.
The soles are made from durable rubber, while the rest of the boot consists of 7mm neoprene, providing you with quality insulation.
You have your choice of two different patterns: a traditional camouflage for one and a pair that comes in all black.
These boots are cost-effective and highly reviewed online. They tend to run a little big, so you will want to go down half of the size if you have narrow feet. However, if you have wide feet, they will fit you just fine without changing the size.
The trend does wear out quickly. If you need a boot for heavy use daily, this may not be your best option. Although, it would be perfect for hunting trips.
Users brought up that they could have used more insulation. You may want to wear thick wool socks with them if you plan on using them during the coldest months.
LaCrosse Alphaburly Pro 18″ 800G Insulated Hunting Boot
This LaCrosse item comes in 6 different patterns and colors. They are Forest Green and then a selection of 5 alternative camouflage designs. You will likely be able to find something you like in this assortment.
They come with an adjustable neoprene gusset, which can be used to make taking off the boot easier. The company also made sure to add extra layers of rubber on the sole's toe and heel. That way, you get more support and protection in those areas.
The 800G Thinsulate is perfect for many different hunting conditions, although you will still want to wear thick socks with them if you are going to be outdoors in the winter for long periods.
The brand designs the liner inside of the footwear to increase air circulation and keep out moisture. It dries quickly, helping to keep you comfortable.
Users review this item very highly. The insulation is high-quality, keeping people warm even in the coldest temperatures. They also do not feel too bulky when you have them on, so your movement is not halted.
However, you will want to ensure that you are getting pairs that are the same size. For some reason, a few users have received mismatched footwear from this brand.
Irish Setter MudTrek 17″ Waterproof Insulated Rubber Hunting Boots
This item comes with 400g Primaloft insulation and scent banning systems. The sole is entirely rubber, giving you the protection that you need outdoors. This company has a reputation for delivering the highest quality hunting boots.
The insulated footwear comes in one design, but they are extremely waterproof. The company wanted to be sure that you would be able to hunt even in the rainiest or coldest conditions.
This product does come with a buckle at the top, allowing you to easily adjust the width to better suit your leg's size. Plus, if you have trouble getting into hunting boots, the buckles make it a lot easier.
The footwear's inner area is made from polyurethane, which molds to the shape of your foot easily.
Guide Gear Giant Timber 1400G Insulated Waterproof Hunting Boot
This option is great if you are trying to stick to a budget. They are lace-up, which makes these hunting boots easier to put on and tighten to your leg.
However, if you do not have them snug enough, some water might still be able to get inside.
Users say that the boots do not feel too heavy when you are wearing them. They also mentioned that the footwear does seem to be true to size; you will not have to order a size bigger or smaller for them to fit properly.
The quality of the materials is also excellent. The most significant issue that users seem to have with this product is that the fit can rub against your ankles. Since they are cumbersome in the heel, this may become uncomfortable after a time.
Still, the insulation will keep your feet very warm, especially if you pair them with your favorite set of comfortable socks.
Although, users do mention that they wish they had more to offer in the way of waterproofing.
They tend to leak when exposed to water for long periods of time. You would not want to take this boot fishing because of this.
Rocky Retraction 800G Insulated Hunting Boots
With this item, you receive a shaft that will reach about to your mid-calf. The company uses 800G 3m Thinsulate. Plus, they guarantee that their product's construction is waterproof.
Users appreciated that they do not require as much breaking in as other options usually do. They said they were comfortable and easy to wear without much thought.
The gear will keep you very warm, even in the coldest temperatures. You will likely get too hot if you try them out in weather above 40 degrees, however.
Many users did feel that they were not waterproof enough. You will want to take these boots into swamps or creeks, as the water will soak right through to your feet.
Danner Pronghorn Insulated 1200G Gore-Tex Hunting Boots
This Danner product is a bit pricier than the other items I listed above. They include full-grain leather and nylon. Plus, the sole offers better stability and traction, even on rough terrain.
Users seemed to love this boot. They said that it would keep you warm, runs true to size, and is very comfortable to wear. This brand was popular in the past, but they likely have changed the design and material they use to make their insulated hunting boots.
In the past, those who have had this brand thought that the current product was not as high of a quality as the models they owned when they were younger. If you used to own a set, knowing their previous quality can be a deal-breaker for some.
Still, they are loved by many who have them. They are a great boot, although I do wish that they were not so pricey. I would have ranked them higher if they were.
Kamik Icebreaker Cold Weather Insulated Hunting Boots
These boots are made from 100% waterproof rubber, everything from the synthetic sole to the top. It includes a drawstring to tighten it to your leg, which helps keep in body heat.
The outsole is self-cleaning and durable. Also, the 8mm Zylex® removable liner will keep your feet insulated and dry. They haven't specified the insulation weight, but in my opinion, it's no more than 200g.
The design is great if you often have trouble getting into other hunting footwear. You can undo the drawstring, which leaves you with a pretty big gap to get into. Users felt that this feature made it much easier to put them on and take them off.
They also last a long time. If you want something durable and comfortable to wear, this option will certainly keep your feet dry.
The only issue that customers had was with the sole. There were instances where it separated from the rest of the footwear or had cracked. However, these boots seem to be perfect for most people.
Different Types of Insulation Materials for Hunting Boots
Do you know what to look for in your hunting footwear?
There are certain materials that you want since they often mean that the item is well waterproofed. Others help to increase insulation and more, so you will need to be familiar with them.
I gathered the best materials for insulated hunting boots. That way, you can quickly read over them without having to do your own research.
Thinsulate Insulation
Thinsulate is a type of thermal insulation; it is synthetic and produced by a specific brand. The word is a combination of thin and insulate, describing the thin layer of material that can easily keep your body heat trapped inside.
This material is currently known as the warmest thin insulation. If you were to compare it to down, which is much thicker, Thinsulate provides you with 150% more warmth.
On top of that, Thinsulate is water-resistant. That way, you can also stay dry while you are out hunting. The company makes it from fibers that repel water and keep you warm- which is just about everything you would want in material for your footwear.
You will want at least 400G worth of Thinsulate. It keeps you warm during hunting season, although higher amounts are better suited for colder weather.
Primaloft Insulation
Primaloft was originally a synthetic microfiber for thermal insulation developed for the art. However, it is not used in hunting footwear, among many other items. You can find it in sleeping bags and even some gloves. It works well at keeping you warm.
This material is similar to down, although it weighs much less. It is perfect to use in wet, cold weather. The brand that makes this material is trendy – for a good reason. They have been creating a high-quality synthetic insulate for many years.
Overall, Primaloft is another waterproof option when it comes to keeping your feet warm while on a hunting trip. I are sure that you would enjoy the benefits this material has to offer.
Wool
Wool is breathable, which can help keep your boots from smelling. You will often want to wear wool socks with your hunting equipment since they can go a long way in keeping you warm and comfortable.
Wool also keeps you warm when you are wet, as it is very resistant to water. This material comes from an animal, which lives outdoors and spends a lot of time in the rain.
Those animals evolved to be warm even when wet, so any products from them will help keep you comfortable as well.
With hunting footwear, you will usually find wool as a component inside of the boot. It might be as a slip in layer or something built into the wall of the shoe. Either way, you will be cozy.
Shearling Insulation
Shearling is a type of insulation that comes from a lamb. It resembles suede or leather and has wool on the other side. It is very soft and comfortable, especially when your feet are against it.
With hunting equipment, you want to be sure that you are staying warm and dry. Many types of shearling materials are waterproof, for the same reasons that wool is resistant to water. Suppose you notice water spots appearing on any of your shearling items. In that case, you can usually brush them off once the item has dried.
It does tend to be costly and bulky, especially when compared to synthetic materials.
Aerogel
Aerogel is a very advanced option when it comes to synthetics. It is made by a liquid gel that replaces gas, keeping it light. The gel is so lightweight but also an excellent thermal insulator. If you are going to be standing for hours, you may want to consider this.
The gel is comfortable and does not add any weight to your footwear. Over time, your foot will also shape the Aerogel, making it more comfortable.
Different Insulation Weights
Insulation for your hunting gear comes in different weights. Each option is better suited to different temperatures and activities.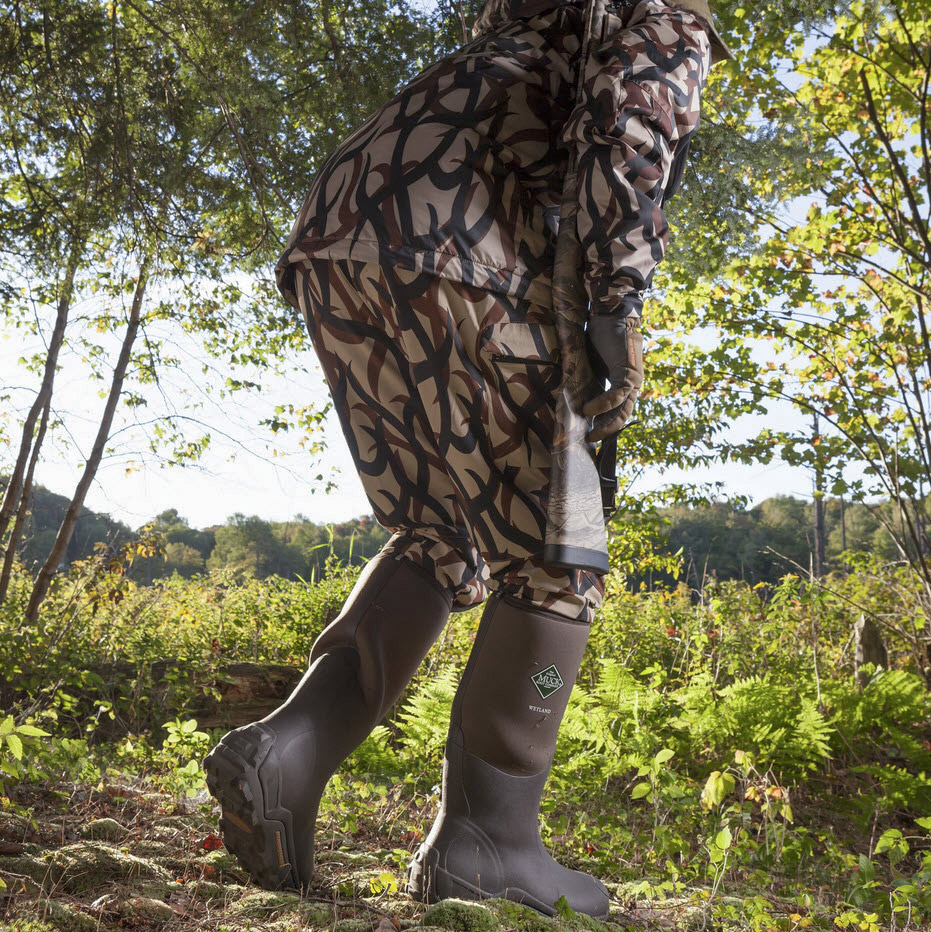 For instance, if you are going to be hunting in the winter, then you will want to have footwear with more grams of insulation.
Some weights can even keep you warm during the coldest nights of the year. The following are the insulation weights that you can expect to come across while shopping:
200g is the lowest level of insulation you can normally find. It is best for cool weather with small amounts of activity or cold temperatures where you are very active.
400g is the best insulation weight for cold temperatures where you are moving around somewhat frequently.
The 600g insulation weight is best for colder weather where you are not moving often.
An 800g insulation weight is best for frigid temperatures where you are barely moving. Between 600 and 800G tends to be the best for mid-season hunts. Possibly also late season hunts if you are always moving. If you want something higher, you will need to be certain you will not overheat yourself.
A 1000g insulation or anything above that is pretty heavy insulation, best for extreme conditions where you are not moving.
In short, the higher the grams of insulation, the warmer that your feet will be. You will want to consider what you are hunting, the environment, and how much you can expect to move before you know what amount you need.
The Anatomy of Insulated Hunting Boots
You may also want to be familiar with the parts of your gear. Knowing it can be helpful in determining what products are high-quality and what ones are lacking.
Many layers make up the footwear, especially the hunting boot types that are meant to help you stay outdoors for long periods at once.
The best footwear for you will have quality parts that keep you warm and dry and are not out of your price range. The following is what you need to know:
Insole
The insole is the inner peace of the shoe that is underneath. It supports the bottom part of your foot and may also be called a footbed.
This part is designed to give you additional comfort or warmth, so it comes up a lot when researching hunting footwear.
The most significant benefit of the insole is that it can make your boots more comfortable. They might also provide you with some shock absorption, depending on the material used to make it.
You will want to ensure that you get a durable insole that will not wear out with frequent use.
Insulation Layer
The insulation layer is on the inside of your hunting footwear. It traps the heat from your body inside, keeping you warmer. This part is all referred to as the mid-layer by some.
Above, I covered the insulation weights and what they mean. In general, the larger the number, the warmer the insulation will keep you.
However, if you are moving around too much, you will trap more heat inside the boot, making you too warm.
You will want to find a type of insulation that suits your purpose. You are not constantly on the move with hunting and might need to spend time in one area.
Midsole
The midsole is part of a hunting boot's structure. It is between the outsole and insole. Since it is between the two, it is the midsole. This area will cushion the shock from the ground.
The midsole can get heavy, especially in hunting footwear. You will want to find one that provides you with the protection you need while not being too heavy.
Outsole
The outsole is often referred to as the sole; it is the part that makes contact with the ground. It can be made out of various materials, including rubber, plastic, or leather.
When it comes to hunting gear, you will probably want rubber.
Rubber can provide you with additional traction while you are outside. Plus, it is great for absorbing shock and is very durable.
You will want a thick outsole with your equipment since it will likely be seeing heavy-duty use.
If you are always on the move, you may wear out your outsole's tread faster. That means that you will need to ensure that you buy one with a quality durability level.
Upper
The upper is the area above the sole; it will be made up of the heel, vamp, ankle, and more. In general, the upper is everything that goes over your body while you are wearing the shoes.
With hunting material, you will want to ensure that the upper you are getting is waterproof. Without this feature, you will constantly deal with wet socks and feet – which is not fun.
Most waterproof pieces of footwear are made from rubber. Rubber is easy to clean; it's flexible, and does not allow any water inside.
The only areas you may have an issue with a 100% rubber boot would be the seams.
Frequently Asked Questions
There are many questions regarding any type of hunting gear – hunters want to make sure that they are making a purchase that will last. I answered all of the most popular questions here.
What is the difference between waterproof and insulated boots?
Waterproof boots will keep out moisture. If you plan on trekking through muck or water, you will need this feature to keep your feet dry. Otherwise, water will leak through to your socks and make you miserable.
Insulated means that the footwear is going to keep you warm. Insulation traps your body heat in the shoe, which is needed if you plan on being outdoors in the winter.
You can have both of these features together or separate.
Are insulated boots good for snow?
Yes, but only if they are waterproof. Insulated boots can still let in water as the snow melts, making you cold and uncomfortable. Any footwear that you want to use in the winter should be waterproofed to some degree.
Having wet feet in the snow could lead to frostbite, so you should always ensure you are wearing the right equipment.
Should I go for lightweight or heavyweight insulated hunting boots?
That will actually depend on how you plan on using them. The heavier the boot, the more grams of insulation weight it will have, which means it will be warmer.
If you plan on hiking in 40-degree weather, 800G of insulation is going to make you sweat. So, you would want a lightweight pair of boots. A heavy boot would better be suited for working in low temperatures.
What's the best insulation material for hunting boots?
Thinsulate, by far. The material is extremely thin, which means it keeps your boots light and warm. Plus, it costs less than any natural animal byproduct, typically by a very noticeable amount.
On top of having amazing thermal insulation properties, Thinsulate also is water-resistant. The brand makes the material from hydrophobic fibers that keep out moisture and keep you very warm under any condition.
How to verify if the insulated boots are also waterproof?
There is a very easy way to tell if your footwear is waterproof. Remove the liners, then fill it up until there is one inch left from the boot's top. Let it sit like that for at least a day.
When you come back to it, check if there are any leaks. If not, your boot is completely waterproofed. You will then want to make sure that you dry it out carefully.
If there are leaks or wet spots outside the boot, it is not entirely waterproof.