Fixed blade knives are probably one of the most useful items you can have in your hunting gear.
But a good fixed knife is also great for a whole range of tasks around the campfire and outside in the wilds. Think of things like chopping wood, preparing food, cutting rope, opening cans and containers, and much more.
Your choice of fixed blade knives should be primarily focused on two factors – tang and size. Let's take a look at these separately so that you can decide what kind of knife you actually need.
Top 10 Fixed Knives Reviews
Choosing a hunting knife has a lot to do with your gut feeling and the quality of the information you receive.
So, if you're thinking about getting a fixed blade to take on your next expedition, here's my top ten list of the very best fixed blade knives available right now.
1. Gerber Strongarm Fixed Blade Knife
The Gerber StrongArm model is one of the best fixed-blade knives a hunter can have. It's a strong, durable, and multi-functional survival knife made in the USA.
This handy fixed blade knife is manufactured from 420HC steel. The plain edge blade has a ceramic coating, and it's 3.8 inches long. The overall knife length, on the other hand, is 9.8 inches.
The handle has a rubberized, rough grip filled with glass fiber for strength. It features a striking pommel for breaking hard surfaces. The knife is relatively heavy, weighing 7.2 ounces.
Also, Gerber gives a revolutionary sheath design along with the knife that can be used vertically or horizontally on a belt or worn on the leg.
2. Buck Knives Compadre Fixed Blade #104
The Compadre is one of the best fixed-blade cutters by Buck Knives. It's manufactured in the USA, and the brand wears the American icon proudly. They also offer a lifetime warranty on the product.
Anyway, it's a full tang knife with a 4.5 inches blade and an overall length of 9.5 inches. The blade is of high-carbon 5160 spring steel and is coated with Cerakote Cobalt.
It also features a camp-designed Micarta handle, ensuring a perfect and secure grip. To sweeten the deal, this Buck knife comes with a genuine leather sheath.
3. Smith & Wesson SW7 Fixed Blade Knife
Here's a top-rated fixed blade knife that's great for hunting and other outdoor activities. The SW7 Smith & Wesson knife is composed of 9Cr17MoV high-carbon steel and is 10.6 inches long.
It's a highly durable and strong tanto blade with 5.2 inches in length. It feels heavy (it's 8.4 ounces), too, and comes razor sharp.
The handle has great size, and it's good-looking but also comfortable. It's a rubberized material and two-finger grooves that allow a strong and firm grip.
The only complaint people usually have is the sheath that comes with the knife.
However, you can easily fix the issue by cutting off the plastic molding tabs from the sheath since they make it harder to grip the knife and remove it from the sheath.
4. Benchmade Nimravus Fixed Knife #141
The Numravus 141 is a wonderful semi-serrated fixed blade knife. The length of the whole knife is 9.45 inches. It's possibly my favorite fixed blade knife from the list.
The blade has a tanto point, making it very durable and good for various tactical hunting tasks such as piercing or cutting. It features a 154CM stainless steel blade with a length of 4.5 inches, made in the USA.
I really enjoy the aluminum handle. It presents the spirit of nature and camping. Also, the knife includes nylon and molle-compatible sheath.
5. Gerber Ghoststrike Fixed Blade Knife
A compact skeletonized fixed blade knife from Gerber constructed from 420HC steel with a black ceramic coating. It's anti-corrosive and non-reflective.
The overall fixed knife's length is 6.9 inches. The blade is drop point and is 3.3-inches, and the whole knife weighs just 3.6 oz.
The comfortable, textured rubber handle is known for its superior grip in the most slippery conditions. The knife comes with a sheath that you can change to either a concealed or open carry system.
6. Ka-Bar Becker BK2 Campanion Fixed Knife

Here's an excellent fixed-blade hunting knife from Ka-Bar, made in the USA. It's remarkably heavy with a weight of 16 ounces. But I think that expresses its worth.
It's a drop point blade from 1095 Cro-Van stainless steel with a length of 5.25 inches. The overall knife length is 10.75 inches. The knife is durable, high-quality, and perfect for every hunting task.
The Ka-Bar knife has a Zytel-made handle and has a lanyard hole. It comes in a black nylon sheath.
This Benchmade fixed blade knife brings you full-tang simplicity. It's an easy-to-clean compact little knife with a CPM-S30V stainless steel blade. It's also superbly well-balanced and keeps a good edge.
It has a small but incredibly thick and razor-sharp blade with a length of 2.67 inches. On the other hand, the overall length of this multi-functional fixed hunting knife is 6.3 inches.
The G10 handle is stable at temperature extremes, so it's perfect for the outdoors. It's a specifically designed hunting knife with a drop point blade for skinning and slicing meat.
8. Schrade SCHF30 Fixed Blade Hunting Knife
This affordable yet remarkably beautiful fixed hunting knife is perfect for all outdoor survival and camping activities.
It has a clip point blade with a length of 4.9 inches made of 8Cr13MoV high-carbon steel and a slender, stonewashed finish G10 handle. The overall length of the knife is 9.7 inches, and it weighs 6.3 ounces.
Although slim, the thermoplastic elastomer handle is very comfortable in hand. If this wasn't enough for this price range, the knife comes with a thermoplastic sheath.
9. Buck 105 Pathfinder Fixed Knife
Buck Knives offer this simple and small fixed blade knife for those who need something smaller for working with small game.
This sharp clip point knife is manufactured with 420HC steel. It features a 5-inch blade that is perfect for all your hunting needs, from piercing to slicing and skinning.
The Pathfinder has a sturdy design with a total length of just over 9 inches and a weight of 4.5 oz.
The black phenolic handle offers comfort due to the palm grooves and the aluminum finger guard. An attractive aluminum pommel adds to the knife's overall balance.
10. Puma SGB Big Bear Hunting Knife
This is a beautiful and high-quality fixed blade knife with a brown jigged bone handle with an excellent four-fingers gripping ability.
It's a clip-point hunting knife with a total length of 10 inches and a blade length of 5.5 inches. The German Cutlery stainless steel blade is full tang, so it's superbly strong.
The knife comes with a molded full-grain leather sheath.
Fixed Knives Types
Choosing a good fixed-blade knife means that you understand the purpose of its usage. It should enable you to complete your desired task perfectly, whether it's cutting, slicing, or skinning.
In addition, here are the various types of fixed knives you can use:
General Purpose: All-round hunting knives that are used for various hunting tasks. Preferably short and sharp.
Camping: Usually a drop-point knife, camping knives are multi-purpose blades for various camping tasks, such as chopping and slicing.
Skinning: Used for cutting the skin of an animal. The best-quality skinning knife has to be short, sharp, and curved. The handle needs to have a good and tight grip.
Gutting: Speciality knives used for gutting, i.e., for removing the external organs of animals.
Throwing: Knives used as a throwing weapon to hunt a small animal, or just as an art of knife throwing. They have to be light and well-balanced.
Capping: Specialized knives used to skin the head of a large animal, such as a boar or a deer, and keep it as a trophy.
Boning: Used as specialty knives to remove the meat from the bones.
Cutting: Knives used for cutting or butchering the meat. Usually used as kitchen knives.
Fixed Knives Blade Tangs
A tang is actually the blade projection of the knife, which holds the blade firmly to the handle. We'll quickly cover the four major fixed knife tangs: full, extended, partial, and skeletonized tang.
Full Tang Fixed Knives
In a full tang fixed knife, the blade runs inside the entire length of the handle.
Full tang knives are made of a single piece of steel that makes up both the blade and tang. These knives are much more durable than any other kind.
They are ideal for tasks like hammering tent pegs, chopping wood, and butchering kill. If you're aiming to use your knife for a lot of heavy jobs, a full tang is your kind of blade.
Extended Tang
If the full tang knife ends at the end of the handle, the extended tang continues past the handle. On a high-quality fixed hunting knife, the extended tang may function as a hammer.
It's a good and stable tang, but I'll advise you to stick with the full tang if you are just starting.
Partial Tang
Partial tang means that the blade's metal goes only through a portion of the handle. This can be an indication of poor quality and an attempt to cut manufacturing costs.
A partial tang fixed knife will probably be enough for display purposes at home. But if you depend on a knife for bushcraft and hunting, I'll advise you to stay away.
Skeletonized Tang

Skeletonized tang has parts missing. It can be either circles or other holes, but some portions are disposed of. They are not as strong as the full tang fixed knives and are more easily to break.
Fixed Knives Blade Shape
The list of different knife shapes and available options may seem quite overwhelming at first.
I think it's important to point out that there are just a few basic designs that need our most avid attention. Some of them include the straight back knife, the clip point, and the drop point knife.
Straight Back
Straight back knives are probably the oldest and most basic knife design, which has over the centuries been developed and modified to create the vast array of cutting tools we know today.
They are used as regular all-purpose knives, good for chopping and slicing.
Drop Point

Drop point fixed blade knives are the results of trial and error until we arrived at some of the finest knives available on the market today.
The point is strong and sharp, thus providing excellent control when carrying out precision-cutting jobs. Used mostly as a hunting and skinning knife.
Clip Point
Clip point knives are one of the most widespread knives, very popular among hunters. The point is very sharp but a little weak.
These knives are usually lighter, thus providing excellent control and balance. Used as a general-purpose knife.
Tanto Point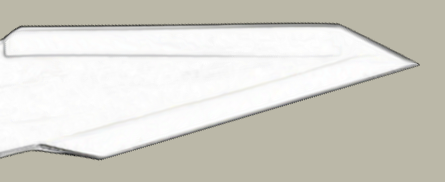 Tanto point fixed blade knives are usually very durable, and strength is their biggest advantage. The tip can be straight or slightly curved, but the edge is always sharply angled.
Used mostly as a survival knife for piercing through hard objects.
Spear Point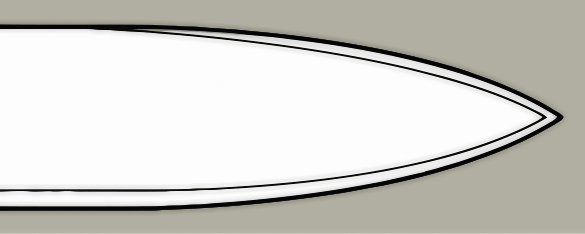 Spearpoint knives are very sharp, thus used mostly as throwing knives. Fixed spear point knives are usually very durable and provide exceptional strength. Excellent for stabbing and piercing.
Trailing Point

Trailing point fixed blade knives have a long cutting edge because the point trails higher than the center axis.
They are usually lightweight, providing excellent control for skinning.
Sheepsfoot

Used mostly as a regular camping knife, sheepsfoot knives have a curved profile, sharply dropping to join with the cutting edge. As a matter of fact, this makes them the opposite of straight-back knives.
Sheepsfoot knives are mainly all-purpose, good for cutting, slicing, and chopping as well.
Other Fixed Knives Blade Shapes
Some of the most famous blade shapes and designs include Wharncliffe, the hawkbill, and the gut hook knife (mainly used for gutting and field dressing).
Of course, some knives have been designed as specific tools for particular tasks.
Make sure you read the full guide on blade shapes and designs to learn the advantages and disadvantages of different blade shapes.
Fixed Knife Blade Material
The two most common materials used in blade manufacturing are stainless and high carbon steel. Each has its advantages and disadvantages. Basically, which you choose is a tradeoff according to how you intend to use the knife.
Stainless Steel
Stainless steel contains chromium for improved rust resistance. This makes the fixed blade easier to sharpen but also softer.
Stainless steel keeps its shiny appearance longer, but the softness means it loses its edge quicker than high carbon steel. They also tend to be more expensive.
Sharpening aside, the high rust resistance means that this kind of blade requires a low maintenance level.
High Carbon Steel
High carbon steel blades are hard and durable. They can be sharpened to a high degree and retain their edge longer than the stainless variety.
Because it contains no chromium, carbon steel fixed-blade knives are less rust-resistant. This means you need to keep your knife dry and clean when not in use.
One big advantage of high carbon steel knives is that they are generally more affordable than stainless.
Best Fixed Blade Knives Size
Any experienced hunter would never ignore the possibility of carrying a selection of knives with them. But you should always have one main fixed blade knife that you trust and rely on.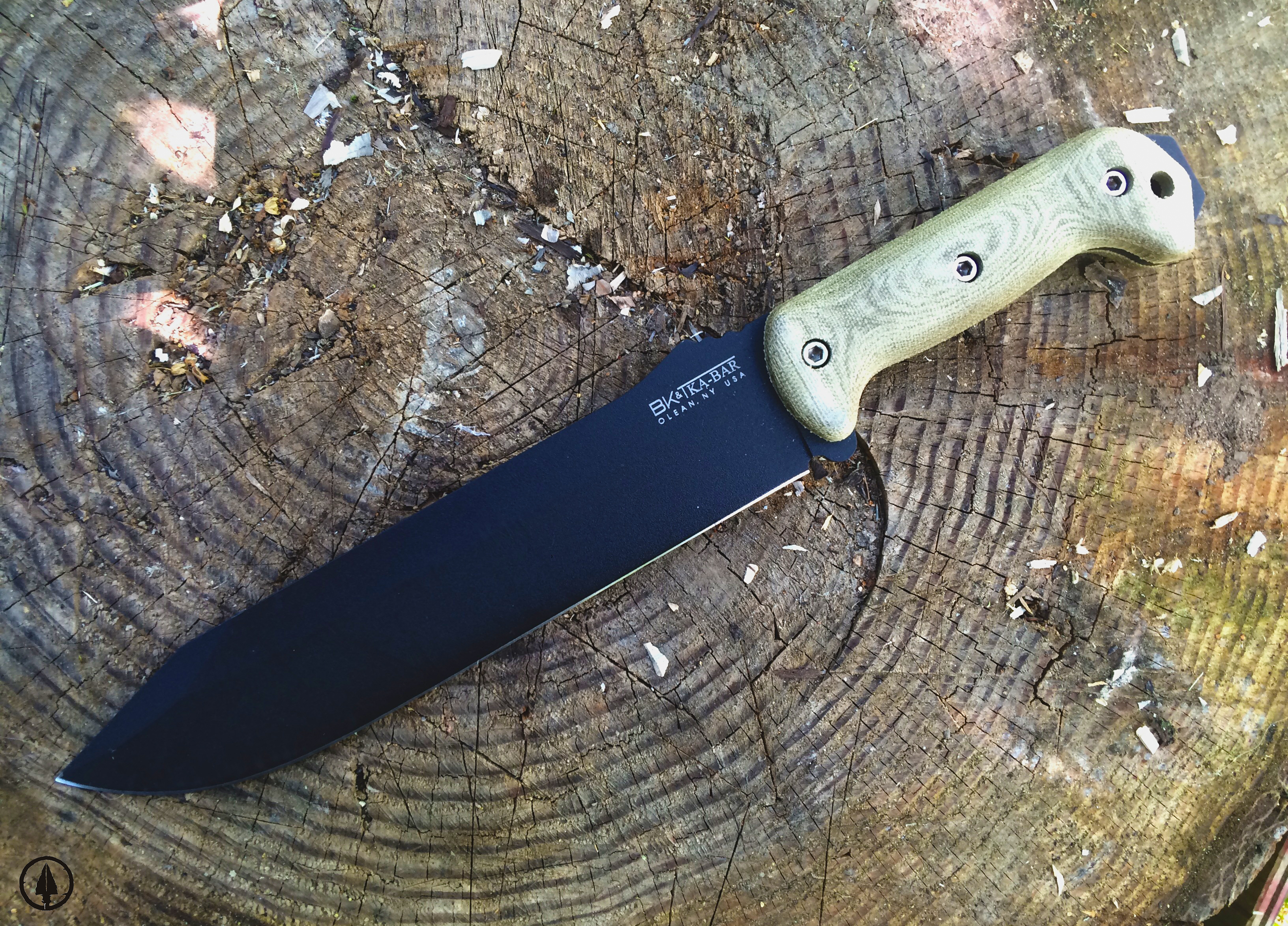 The perfect size for your fixed blade knife will be based on the tasks you're going to carry out with it. Here are some of the primary size measurements you should have in mind:
Knife Length
Fixed knives longer than ten inches overall are heavy on your belt. They will also take up rucksack space when you're not carrying it.
That said, longer fixed knives are best for clearing bushes, chopping and splitting small sticks and logs, and prying things open. They are also better for self-defense purposes.
Shorter fixed knives are better for lighter jobs such as a skinning game, carving meat, and scraping. The smaller blade will be easier to carry, and it will occupy less space in your pack.
Weigh up these pros and cons when picking out which fixed blade knife is best for your needs.
Knife Weight
The best weight for your fixed blade knife is all about balance. You certainly don't want to cart more load around than is strictly necessary, especially on long hunting trips.
The same principles apply here as when picking out a longer or shorter blade. Deciding on the best weight depends on what you want to use your knife for.
A lighter fixed blade knife will take less energy to carry and cost less effort to use. It is also usually better for detailed tasks.
A weightier blade can generate more impact when performing more challenging tasks.
Think carefully when picking out your fixed blade knives. I suggest you purchase one less than thirteen ounces in weight for lighter tasks. Only go heavier if you are sure you'll be performing more substantial work.
Knife Blade Thickness
The thickness of the blade will determine the fixed blade knife's strength. The thicker it is, the stronger it will be. It will also be heavier.
The best fixed-blade hunting knives are usually strong and heavy but within a certain scope. On the other hand, a thin, light knife is more comfortable to carry.
It will, however, be less able to withstand impact and is prone to damage. Once again, which you choose will be determined by your intended application.
Don't fall for the trap of thinking that the thicker the blade, the better. This may be true for multi-purpose survival knives used for digging, chopping, and hacking.
For more common fixed knife uses like hunting, everyday carry, and utility knives, thinner is better. Slimmer blades are quick and easy to sharpen and offer improved cutting performance.
Fixed Knives Handle Material
Aluminum
Modern knives often sport aluminum handles. Aluminum is light, and when texturized, makes for an excellent grip. It tends to become really cold to the touch, so it is not recommended for severe weather conditions.
Example knife: Benchmade Nimravus 141
Synthetic
Celluloid is the most common material for fixed blade knife handles. It can be produced in any color and can imitate almost any natural material.
Synthetic handles can look exactly like ivory, wood, agate, and pretty much anything else. The advantages here are low cost and aesthetic, but also strength and durability.
Other common synthetic materials are Kraton and Micarta. Kraton is a synthetic rubber. On the other hand, Micarta is a laminate made from a blend of resin and fiber.
Synthetic handles are by far the best option in terms of value for money, strength, and reliability. Choose a textured handle for plenty of grips.
Example knife: Tops Baja 4.5
Wood
There are many forms of wooden handles. The first is what is known as stabilized wood. This is soft timber, like Buckeye, hardened with a polymer resin.
Harder woods like the box, elder, rosewood, and snakewood, to name but a few, are also popular.
Wood is extremely durable, and it's beautiful too. It gives the nod to tradition that a lot of hunters find pleasing. It is also fairly inexpensive.
Example knife: Third H0257J
Rubber
Rubber provides a great grip and a comfortable feel for your fixed blade knife. Also, harder rubbers can be incredibly durable.
Keep in mind that rubber is cheap to produce, and knife manufacturers generally use it to keep costs down.
Example knife: Buck 674 BuckLite MAX
Titanium
Titanium heavier and more durable metal than aluminum. But for the weight trade-off, you get a lot of extra strength.
Out of all metal alloys used for the best fixed-blade knife handles, titanium is the most rust-resistant. Unlike other alloys, it has a warm feel, so worth considering for use in cold conditions.
Example knife: KUBEY KU046Ti
Zytel
Du Pont developed this unbelievably strong thermoplastic. It's almost totally resistant to impact and scratching. As a bonus, it's inexpensive and widely available.
Example knife: Coast LX320
Stainless Steel
This material isn't only for blades. Your entire knife can be of stainless steel. In fact, some of the best fixed-blade knives have a stainless steel handle.
While some hunters find it cold and clinical, others like the unified look of a handle and blade of the same material.
Stainless steel is easy to clean, corrosion-resistant, and fairly durable.
Example knife: Gerber Paraframe
Hollow Handle Fixed Knives
There's a lot of controversy among outdoor enthusiasts about how useful hollow handle fixed knives are. A lot of experienced hunters consider them a tradeoff.
Of course, knives with hollow handles will never be as robust as those with a full tang. But some people think they're worth buying because they are lighter to carry.
If you have trouble deciding, think about what you'll use the blade for. Hollow-handled fixed knives are perfectly capable of coping with lighter tasks.
But if you're attempting heavy-duty work, be aware there's always the risk they could break.
My advice is – stay away from hollow handle knives for now.
Which Fixed Blade Knife is Best For You?
Remember to focus on the basics and consider the particular tasks you are most likely to use the knife for.
Consider your environment and understand that a fixed blade hunting knife will probably serve you best in the wilderness.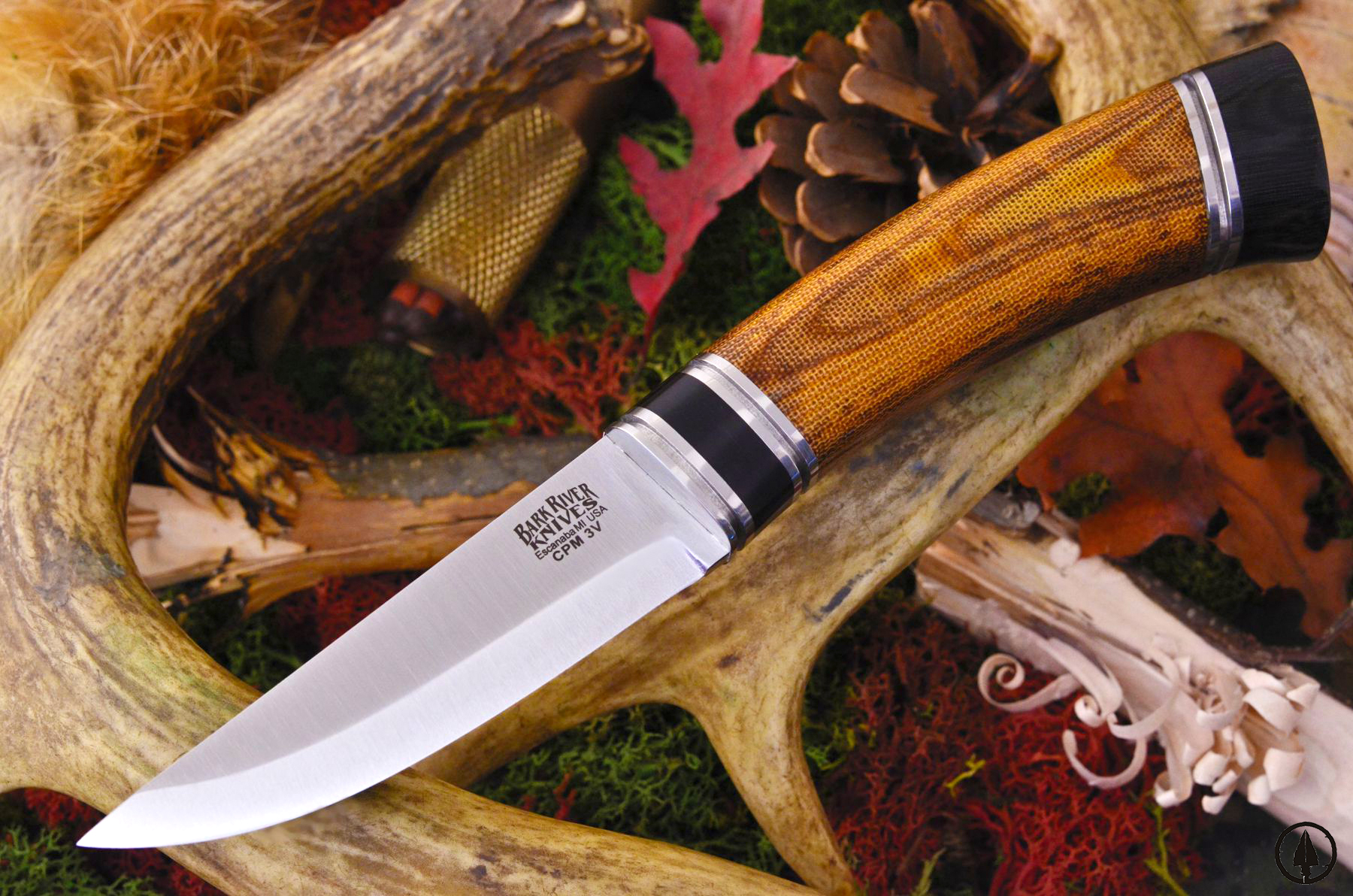 Make sure you check your local "Ownership and Carry Laws" before making your purchase. When in doubt, contact your local police department.
Wrapping It Up
Fixed knives are the essential equipment of every experienced hunter. Whether you use it for skinning or gutting, owning the perfect and the best fixed blade knife for the job is crucial.
Pick your knife depending on the task you have to finish, the length, and the weight. Also, focus on the basics and what do you need your knife for. Consider the environment and what is that you need your fixed knife for.
So, there you have it. I hope my list of the best fixed-blades has given you a better idea of what is available and which is most suited to your hunting needs.
In my honest opinion, every single fixed blade knife in this review is a good choice, and you won't go wrong whichever you decide to spend your hard-earned cash on.