Traditionally, skinning knives have narrow-tipped blades for precision cutting. They also have a deep belly; which provides the longest cut for every stroke, making them efficient to use. Some of them have a gut hook which greatly simplifies the skinning process.
If you intend to dress small game such as rabbits or birds, or want to remove the skin for taxidermy purposes, you should choose a smaller and more precise blade. Both caping blades and clip-point blades will work for this job as you'll be able to make fine cuts without damaging the hide or the meat.
Top 10 Skinning Knives Review
As soon as the prey is down, the hunter's real work begins. Some people balk at skinning their prey, but the correct tools for the job help a lot. The main thing is to have a sharp, first-rate skinning knife. You'll get the job done quickly and safely without damaging the meat or the hide.
There are a few front-runners that come to mind in the knife market today. Tried and tested makes such as Buck and Gerber have been around for many years. You know you're getting quality craftsmanship with a knife from them. Spyderco skinning knives are also becoming more popular. Other well-known brands are Browning, Case, and Cutco. Have a look at our reviews of the top 10 skinning knives for this year (in no particular order – I think they're all great!)
1. Red Deer Doe Valley Skinning Knife
A superb, full tang skinner, the Doe Valley from Red Deer comes with a 5.5 inch, 440 stainless steel blade, a genuine, all-leather pouch with handy belt loop attached. The natural wood handle speaks for the quality craftsmanship here, and the brass pins in the hilt are a really nice touch. The perfect knife for when you have to get right into all those arduous skinning tasks. Highly recommended.
2. Spyderco Tenacious Plain Edge Folding Knife
This folding knife has an overall length of 7.76 inches, with a blade length of 3.39 inches. It weighs just 4 ounces. The blade is 8Cr13MoV stainless steel and sharpened along its entire length. It holds a good edge but does need to be sharpened a little more often than knives with harder steel blades. The black handle is made with G-10 glass reinforced resin. Made in China.
3. Browning Ultra Bush Craft #3220260
This fixed drop point skinning knife features anti-slip grooves on the spine of the blade, which is 4 inches long. The overall length of the knife is 9 inches, and it weighs just over 11 ounces. The blade is full tang. The handle is made of black laminate with an index finger groove for good grip. It has a lanyard slot and is supplied with a leather belt sheath.
4. Benchmade Saddle Mountain Skinner #15001
This is a larger knife, with an overall length of nearly 9 inches and a weight of just over 5 ounces. The high-quality CPM-S30V stainless steel blade holds its edge remarkably well and is corrosion resistant. Should it need sharpening, Benchmade will do it for you, under their LifeSharp service deal. The blade is full tang and well balanced, making it easy to skin the animal and cut up the meat. The handle is durable and waterproof. Comes with an attractive leather sheath to sweeten the deal.
5. Kershaw Fixed Blade Skinning Knife #1080
Here's another quality, American-made, fixed blade knife that has been field-tested by hunting professionals. Coming in at just 6 inches overall length it's shorter than most of the others we've reviewed. The blade is 2 3/8 inches and is manufactured from high-performance stainless steel (Sandvik 14C28N). It boasts a textured G-10 overlay handle and comes with a sheath. The weight is 4.2 ounces.
6. Gerber Winchester Skinner Knife #22-49447

Don't get confused about this excellent skinning knife. Gerber and Winchester are sister companies trading under the mantle of Finnish knife legends Fiskars, and the quality is what you would demand from such a renowned bunch of blade manufacturers. This skinner has a blade length of 4.74 inches and overall measures 10.43". The blade is surgical steel, full tang. Comes with a textured handle and a durable nylon sheath.
7. Case Ridgeback Hunter Skinning Knife
This is another proudly American-made knife. The knife measures 8 ½ inches overall and weighs 4.2 ounces. The fixed blade is made from surgical grade stainless steel, which stays sharp for longer than normal steel. It also means the blade is corrosion resistant and very strong. The knife has a black synthetic handle, and it also comes with a nylon sheath and a Limited Lifetime Warranty. This is a great buy for hunting, hiking, and camping.
8. Puma SGB Skinner Stag Hunting Knife

All the way from Solingen in Germany, this excellent quality skinning knife from Puma has a blade of 1.4116 German cutlery steel and an overall length of 9.4". It's a classic trailing point that weighs in at 5.6 oz, comes with a genuine stag handle, and a high-quality leather sheath. Maybe not for everyday skinning tasks, but certainly a knife for those extra special trips.
9. Buck Skinner Fixed Blade Knife #0103
Buck uses 420HC steel for all its blades and skinning knives. This means that you get the wear resistance of high carbon alloys without the corrosion. It also means that the blade is very easy to sharpen. This knife's blade has a narrow tip and a wide, curved belly. It is 8 ¼ inches long and has a weight of 4.3 ounces. The shape helps the hunter to sweep through the deeper skin layers without doing any damage to the hide. The handle is shaped for comfort and a secure grip with an aluminum guard. The handle is Dymondwood or Phenolic, and the knife comes with a leather sheath.
10. Elk Ridge Infinity Field Skinner Knife
This knife is 5 3/8 inches long from handle to tip. It has a two-inch skinning blade featuring a notch cutout and a gut hook. The blade is top quality stainless steel. The knife has a funky camouflage veneer, a thumb ridge, and an orange rubber-lined finger hole to prevent slipping. There is a lanyard hole and it comes with a black nylon belt sheath. If the knife is safely inside the sheath, you can use the handle notch as a bottle opener.
I hope this review has been useful as your source of the best skinning knife for your needs. Just remember that the individual hunter needs to choose a skinning knife that best suits their needs. The right tool for the specific job you have in mind is always the way to go. I advise trying out a few different types and models before settling on which to keep as a favorite in your hunting kit.
Fixed Blade vs. Folding Blade Skinning Knives
A lot of hunters prefer fixed blades to the folding kind. The choice is based on personal preference, however, and there is no clear way to say that one is better than the other. Some hunters like to carry both fixed and folding blades to simplify their work. They use the folding knife for the initial belly incisions, cut down and around the legs, as well as around the anus. This way the edge on their fixed blade knife can be reserved for the hide removal.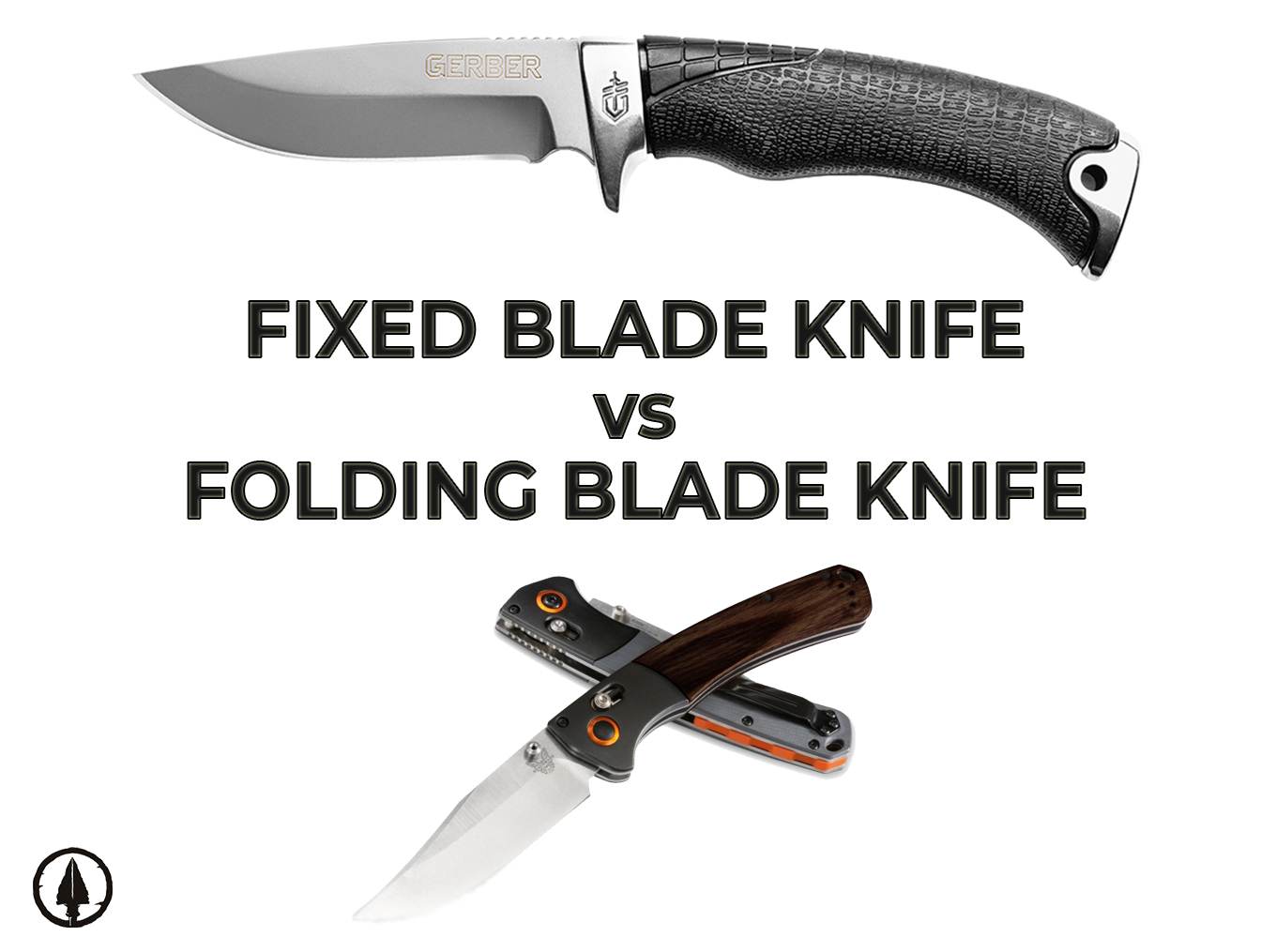 Fixed blade knives are known to be rugged and durable, however, they aren't as portable and compact as folders. Choosing a folding knife also means that you'll have to decide on a locking system. Lock-back knives exhibit a lock bar which is located at the knife's rear. They're a common choice among hunters but other options like frame locks, liner locks, and button locks also exist. The most important thing is to establish what style or option works best for you. Remember to keep the locking system clean to ensure its efficiency.
Gut Hook Skinning Knives
This is a special blade type whereby the spine has a semi-circular sharpened notch cut into it. The gut hook is more of a blade feature as opposed to an actual blade shape, and are basically point skinners with a hook added to the back spine.
The hook comes in very handy in the process of field dressing. It can be placed in a small cut in a carcass's underside and then pulled like a zipper to open up the skin. The relatively small hook opens the animal's abdomen without slicing into the muscle—which could affect the meat's quality.
Skinning Knife with Replaceable Blades
If you want a razor-sharp edge to make every single cut, then a knife with a replaceable blade is your best option. They are very popular among anglers, hunters, and others needing a precision cut. However, the average outdoor enthusiast is better served with a standard knife.
The major benefit of a replaceable blade is that it doesn't require sharpening, which is advantageous if you'd rather not sharpen your knife in the field. Simply pop on a new blade and you have an instant razor-sharp edge. Be aware though that replaceables aren't designed for twisting, prying, or pounding with the blade as they are less durable than a standard knife. On the plus side, replaceable blades are usually more reasonably priced than standard blades.
Few Skinning Tips
Before closing, I have a few tips for you on skinning your animal. It's important to use the knife sparingly. You should be able to skin a medium-sized animal using just twelve knife strokes. The carcass is first hung up by its back legs, often from a tree branch, then the skinning knives are used to open the hide and separate it from the legs.
The hunter then pulls the hide off the carcass, working it loose with his hands and using the knife only when needed to help. Most of the skin is torn off the carcass, rather than cut, so the knife is only needed to cut tough membranes and to remove the head.
Some types of animal, for example, wild boar, require more knife work because of the fat layer under the skin. However, most of it is torn, rather than cut off.
Smaller animals like rabbits just need a single incision to open the gut and remove the entrails. The knife is used again to remove the head and feet, and the hind legs are then pushed from under the skin through the gut incision. After that, it's a simple matter to pull the rest of the skin off with your bare hands.